Shabuoth is coming and with it, all the cheesy and creamy recipes afloat including this sexy Rum & Vanilla Cream Cheese Creme Caramel, perfect for the occasion!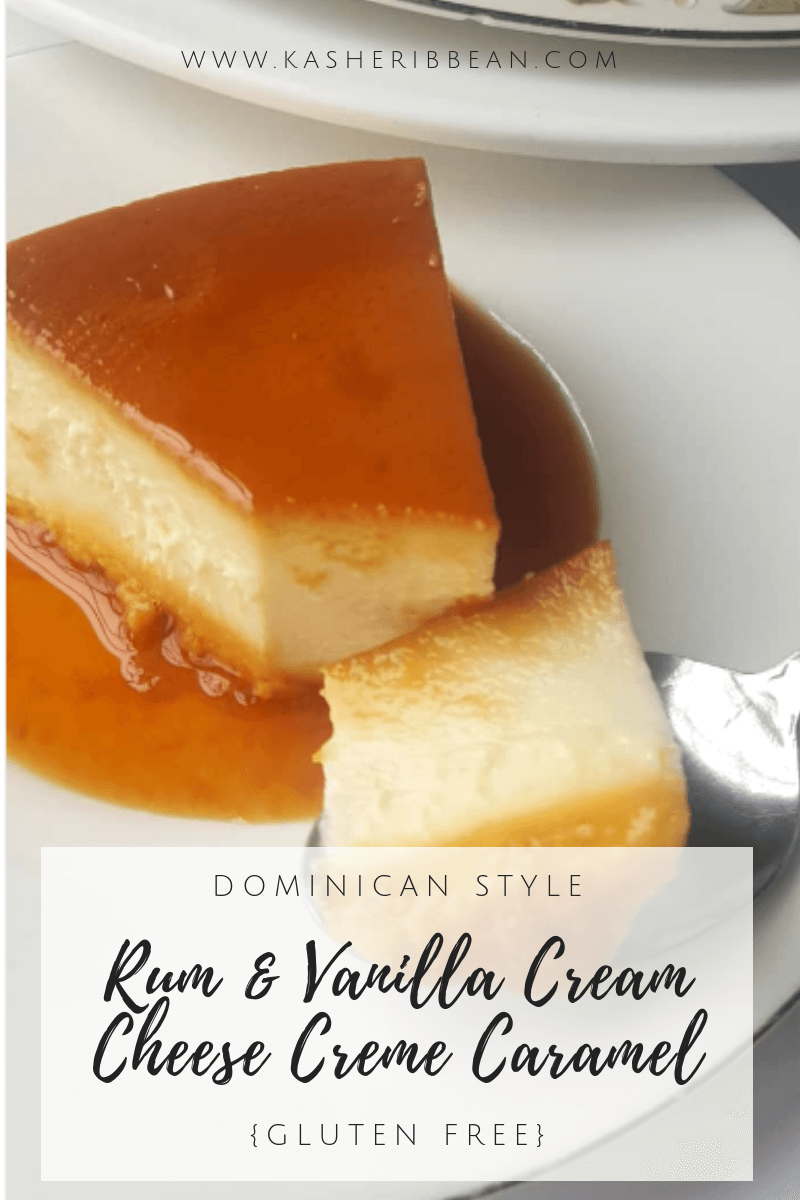 It feels almost surreal that is almost Shabuoth again!! My God! Am I the only one who feels the years is just flying?! Nobody got time to waste, so I want to keep it simple and precise with a classic recipe like the popular Rum & Vanilla Cream Cheese Creme Caramel.
As you may know, Flan or Creme Caramel is a custard-based dessert, easy to make and if done right, brilliantly decadent to say the least. And, because this one is a Cream Cheese Creme Caramel, you can pretty much skip the caramel, make a cookie base for the bottom, bake and you'll have Cheesecake! (Consider that a bonus recipe 😛 ) If you prefer a non-dairy version, check out our Coconut Creme Caramel (So good!)
You may also like 20 Side Dishes to bring more deliciousness to your Shabuoth dinner & 3 Full Menu Ideas for your Shabuoth Table
Flan or Quesillo?
Well, this is certainly a topic of debate. While I was taking classes one of my instructors explained Flan was a custard dessert, made out of eggs and sweetened milk, while quesillo, even though it was essentially the same, had the addition of cream cheese. It made sense to me since "quesillo" derives from "queso" which means cheese. But from time to time I find people that argue vehemently they are the same, and the terms can be used indistinctively so I just opted to call it Creme Caramel and not argue about it; you call it however you want, and simply enjoy 😉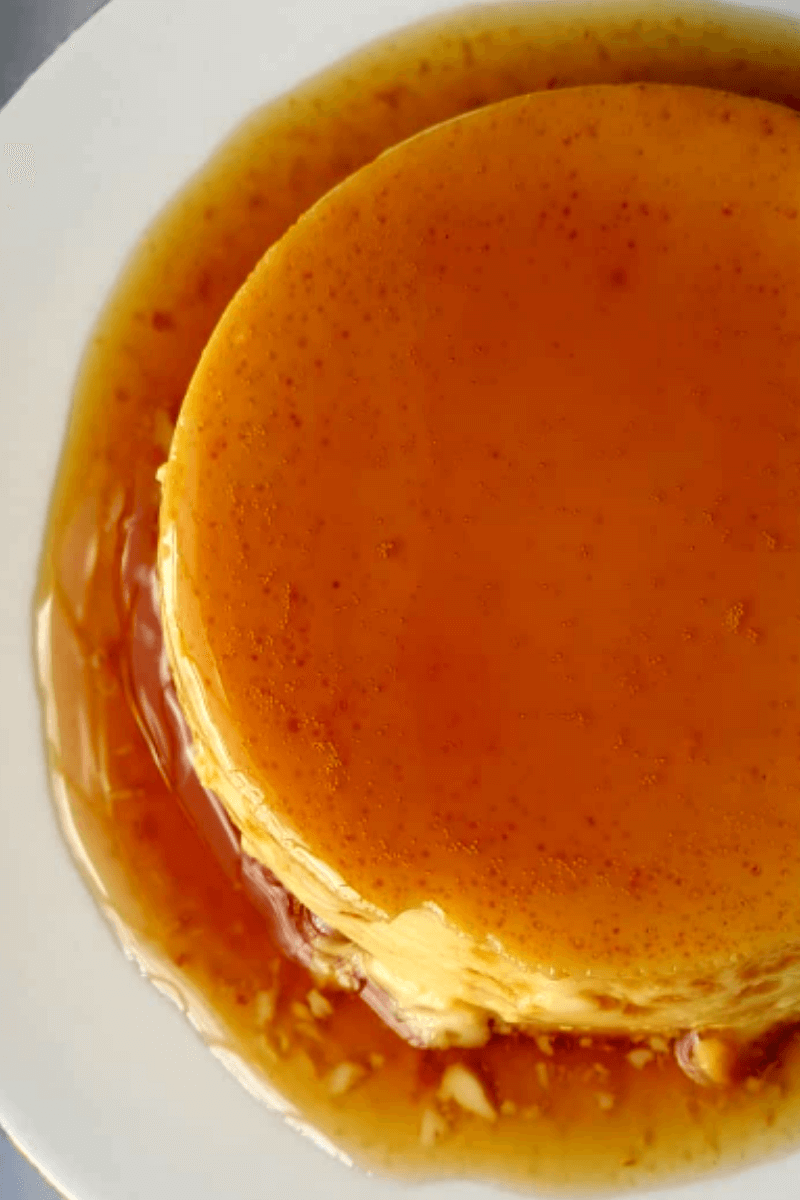 How to make Rum & Vanilla Cream Cheese Creme Caramel
To make Rum & Vanilla Cream Cheese Creme Caramel first you start by preheating your oven. It is important that you preheat your oven at 180°C (350°F) and then reduce the temperature to 163°C (325°F) once you are ready to start baking the custard.
Also, you need to make the caramel to coat the pan. Simply add the sugar and water to a small pot and start cooking on medium-high. Make sure you swirl constantly and keep an eye on it; because once it reaches a light amber color it tends to burn in a blink. If this happens to you, discard the caramel and start over, you definitely don't want that bitter taste on top of your luscious Rum & Vanilla Cream Cheese Creme Caramel.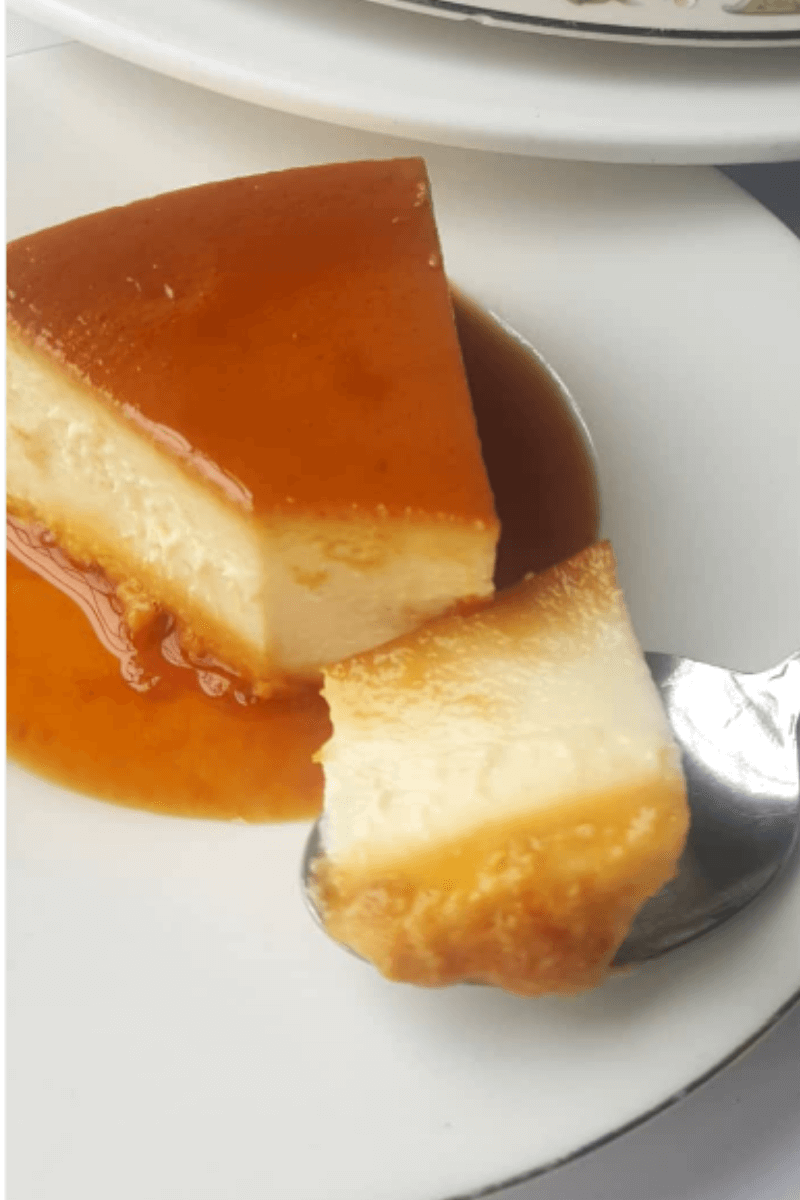 You can either mix the ingredients for the custard with a whisk or a blender. Either way, make sure you strain with a fine sieve before pouring in your prepared pan.
The purpose of the rum in the creme caramel is mainly to mask the eggy smell and flavor, so if you are serving to children, you can use a non-alcoholic rum extract like the one I use from LorAnn.
Bake on bain marie and covered with aluminum foil or a silicone mat, to avoid overcooking the top (that will later be the bottom). I usually bake for 35-40 minute, or until the edges are set and the center is a little jiggly. This will ensure a heavenly creamy texture.
Have you made this Rum & Vanilla Cream Cheese Creme Caramel or any other from the blog? Use the tag #kasheribbean to share on social media and, don't forget to follow on instagram and pinterest to keep up with our easy recipes from us and the blogosphere!

Ingredients
For the Caramel:
100 gr Granulated Sugar
30 ml Water
For the Custard:
400 ml Full Fat Evaporated Milk
400 ml Condensed Milk
400 ml Eggs
200 gr Cream Cheese
40 ml Rum or 1 Tbsp Non-Alcoholic Rum Extract (Optional but recommended)
1/2 Tbsp Vanilla extract
Pinch of Salt
Instructions
Preheat oven to 180°C (350°F).
In a small pot, place the sugar and water and stir to dissolve. Cover with a lid and cook over medium high heat, swirling occasionally until the caramel starts to form and you see an light amber color. Continue to cook to achieve a caramel color. Quickly pour the caramel in the pan and swirl to coat the bottom.
In a blender, add the ingredients for the custard and pulse for a few seconds. Strain the custard mixture through a fine sieve and into the prepared pan.
Transfer a bigger pan to the oven, place the prepared pan with the custard inside and add enough water to come halfway up the sides of the pan.
Cover the pan loosely with a silicone baking mat or aluminum foil and bake for 35-40 minutes or until the custard is set on the edges and a little jiggly on the center.
Remove the pan from the hot water, and remove the baking mat from the top and let it reach room temperature before refrigerating until cold, preferably overnight.
To release from the pan, first run a sharp knife on the edge of the pan and invert carefully onto a serving plate.
Serve cold.
https://kasheribbean.com/rum-vanilla-cream-cheese-creme-caramel/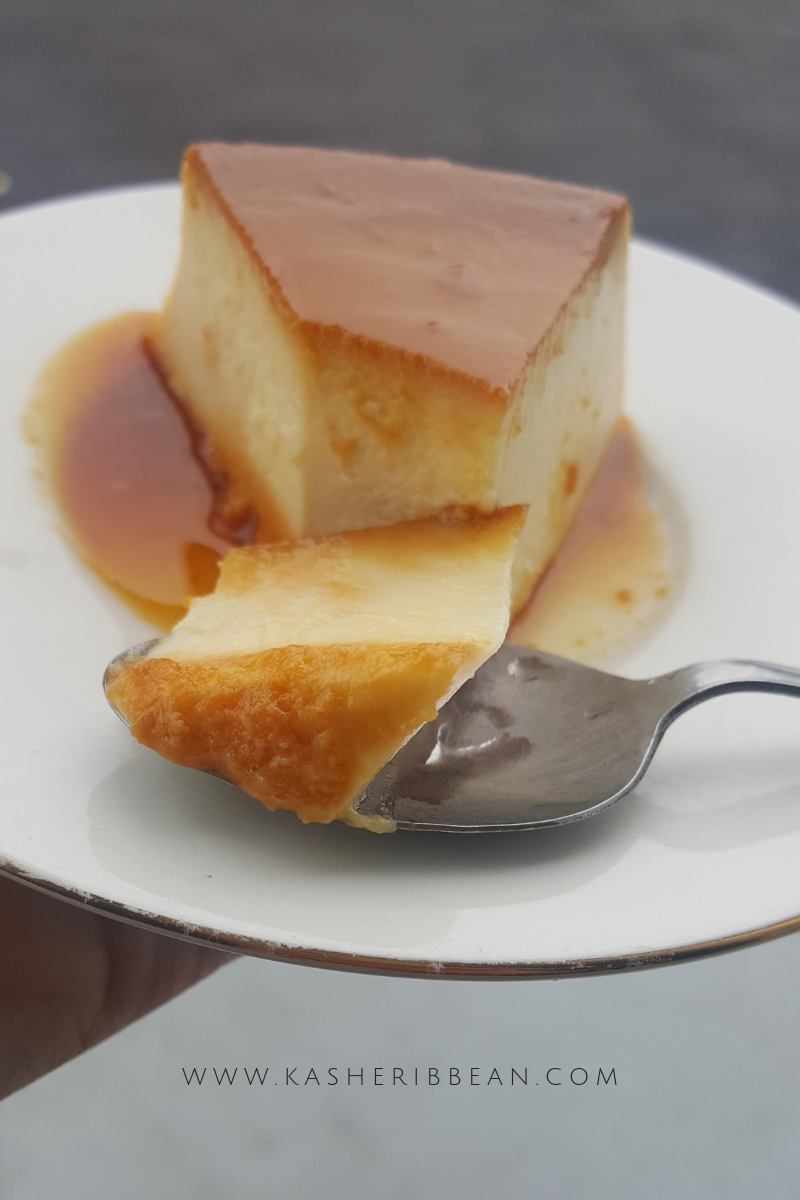 Cream Cheese Creme Caramel if my favorite dessert of all time! Which one is yours? Let me know in the comment section below so we can try as well!
Until next time!