Jump to recipe
Last shabbath I was in a hurry and wanted to prepare a salad that would be satisfying, yummy and shabbath friendly (aka. holiday worth); plus, needed to be something different to the salads I make over and over again. I opened my fridge and grabbed what I felt would go well together and the result was this Barley, Chickpeas & Roasted Beets Salad. Perfect as a side dish, or by itself as lunch or dinner.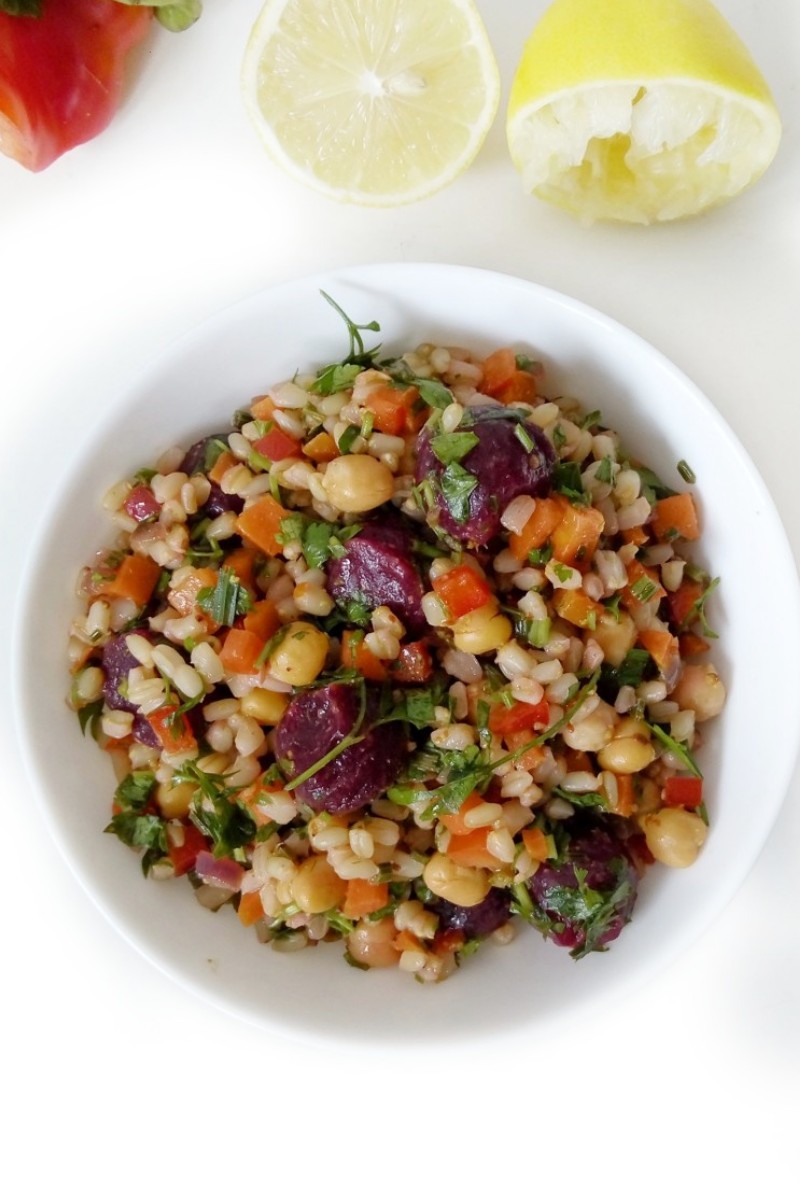 This Barley, Chickpeas & Roasted Beets Salad is perfect in every way: is hearty, full of flavor, satisfying, full of nutrients and so fresh.
In this salad I used roasted beets that I had ready on the fridge. This gave a hint of flavor quite unexpected. Honestly, this combo wasn't like anything I've tasted before. So delicious.
For roasting the beets you just need to wrap them in aluminum foil (you can technically just put them without peeling in he hot oven) and roast in the preheated oven at 475°F for about 40 minutes (the time will depend on the size of the beets. You can cut them in half to reduce the time). They are ready when they are fork tender with a little bite in the center (don't overcook. Remember they will continue to cook while they are cooling down). Get them out of the oven and let cool down until they are easy to handle. Peel the skin off and cut in the desired shape. I used a parisienne scoop of melon ball to cut mine.
On the other side, we have the barley, the humble ingredient that makes this salad so satisfying. I covered the barley with water and boiled for about 30 minutes on medium high (or until they are al dente). This would be a perfect occassion to use leftover barley if it happens that you have some in the fridge.
Let's jump to the recipe:
Warm Barley, Chickpeas & Roasted Beets Salad with Lemon-Mustard Vinaigrette

Ingredients
1 Tbsp Olive oil
150gr pearl barley, cooked
300gr chickpeas
100gr carrots
350gr beets, roasted
70gr onion, finely chopped
70gr red bell pepper, finely chopped
70gr fresh fill, chopped
100gr fresh parsley, finely chopped
For the vinaigrette:
2 Tbsp olive oil
Juice of 1 lemon
1-2 tsp grainy Dijon mustard
Salt and pepper to taste
Instructions
Sautee onions, dill, red peppers and carrots with 1 tabsp olive oil. Cook this until carrots are cooked through and the mixture is fragrant.
Add to a bowl and mix in the rest of the ingredients together with the vinaigrette.
Mix well and adjust the salt if necessary.
Serve warm or cold. It is super yummy either way.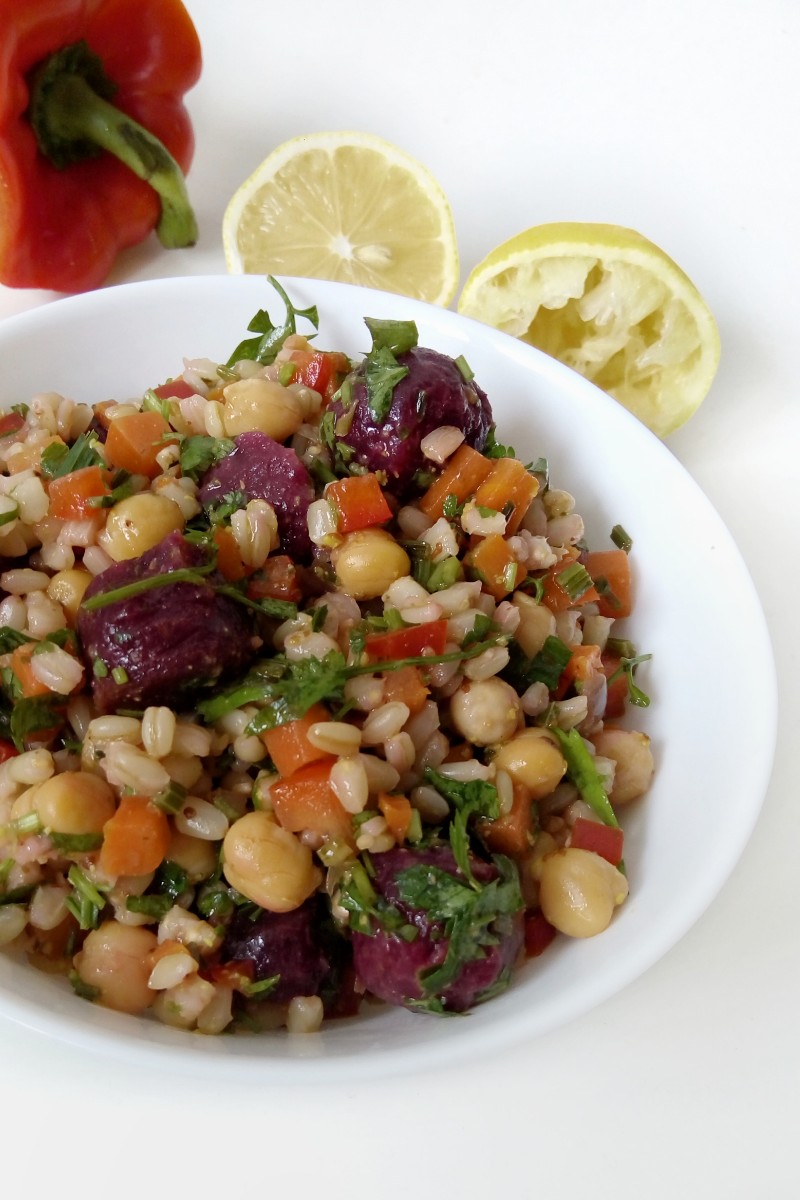 I honestly didn't expect this quick mix and match of veggies, chickpeas and barley taste so good but now that it showed how good it is I will probably be making this salad more frequently, not just on shabbath.
Do you also love salads in winter? What are your favorite ingredients to mix and match for  salad perfection? Lets us know in the comment section below, Instagram or Pinterest! and don't forget to tag us #sisterblissdiary on Instagram when you make this delicious hearty salad.
Until next time!