There are a few things I always cook for shabbath, including two carrot salads, morrocan carrot salad and carrot salad with mayo and almonds. I just love them! When I stepped into the kitched and selected the carrots for the morrocan salad I decided I didn't want to make it as usual, with the same (boring) round or diagonal cut, so I went for the julienne. I thought it will be interesting and eye-catching, and it surely was!
Julienne cut is really easy to make. I would like to explain this process with a few pictures because it is way easier to understand. You will see how easy it is…
As you can see, you have to start by trimming and making flat 4 sides in the carrot piece. Then, you want to slice the carrot lengthwise a couple of time, and finally you want to cut each slice into little julienne.
MORROCAN CARROT SALAD
2 Tbsp. Olive Oil
1 Garlic clove, Crushed or 1 tsp. Garlic powder
1 tsp. Paprika
400gr Carrots, julienne
½ tsp. Ground Cumin
¼ Cup Pasrley, finely chopped (or you can use Cilantro)
Juice of ¼ lemon juice (you can add more if you like)
Salt and Pepper to taste
Preparation:
Start by heating your pan on low heat. Add your oil and paprika and cook for a few seconds until the paprika is fragant. Add your carrots, salt and pepper (I will start with roughly 1 teaspoon of salt) and garlic (this time I used garlic powder) and let this cook with the lid on for about 5 to 7 minutes or until your carrots are al dente (meaning that they still have a little bite on the center). Turn off the heat.
Add cumin, parsley and lemon juice and adjust the salt and pepper if necessary. Mix well and let it cool completely before storing in the fridge.
To serve you can drizzle a little more extra virgin olive oil and more chopped parsley or cilantro. Yum!
For this carrot salad I was loving the julienne cut so I added parsley and spinach stalks instead of the leaves, but you can keep it classic 🙂
Doesn't it look gorgeous?
Well, it was! And also delicious, but soon I realized I had too many carrots trims that I wasn't going to throw away (or course! specially, after reading about how much food waste costs) so, I put them to good use and also made a simple yet delicious carrot-ginger soup with turmeric.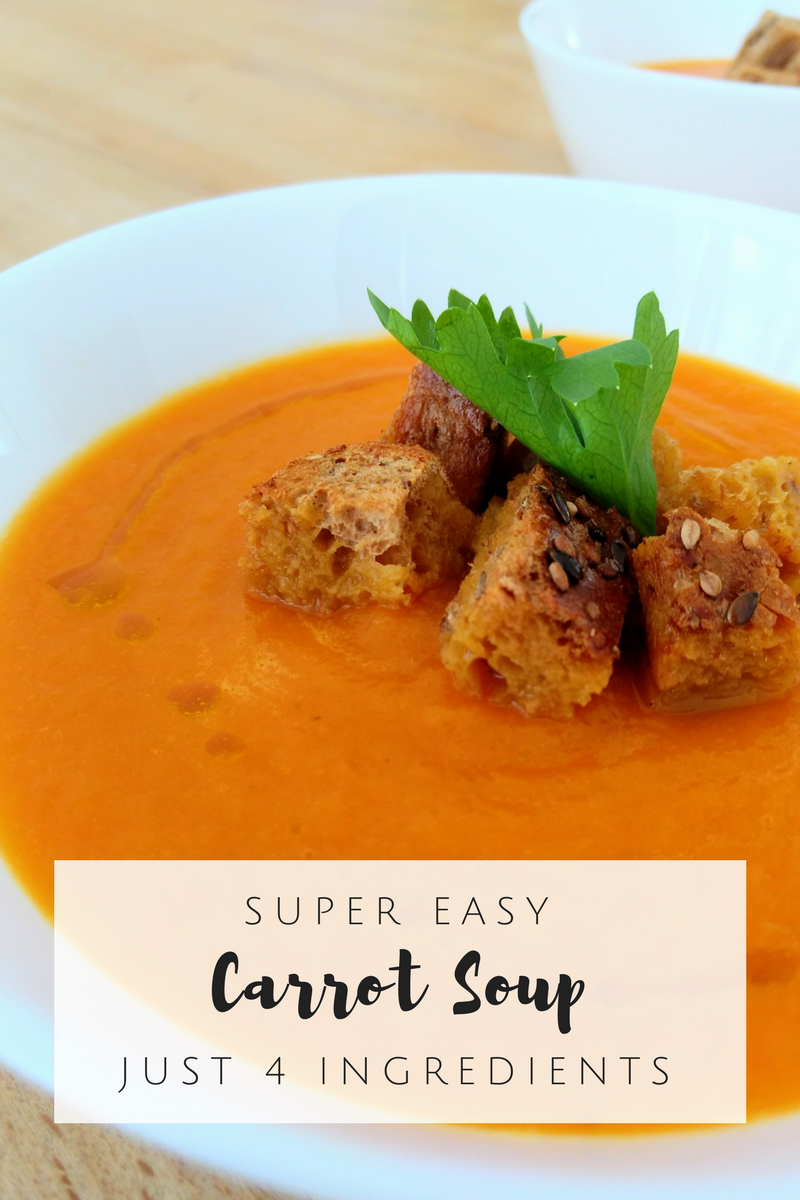 (SAVE YOUR TRIMS) CARROT, TURMERIC & GINGER CREAMY SOUP
Ingredients:
1 onion of aprox. 100grm, roughly chopped
1 ½ tsp salt
1 celery stalk, roughly chopped
500gr carrot
500-700 ml vegetable broth (I used homemade)
10gr Ginger root, peeled
2½ tsp turmeric powder (or more to taste)
2 tsp Garlic Powder (or you can use 2 cloves of Garlic)
Pinch of Nutmeg
Preparation:
Heat the oil in your pan or pot, add your onion with ¼ tsp of salt and sautee on medium high until they are turning light brown. Be careful not to burn them or they will give an aftertaste to the soup.
Add your celery and cook for about 1 minute. Then, add your carrot, ginger root, garlic powder, turmeric, salt and your liquid* (start by adding 500ml and after the soup is blended you can add more if you want it thinner)
Put the lid on and cook until the carrots are tender. About 20 minutes. Lower the heat to a minimum.
Now, blend everything with an inmersion blender and let it heat through until bubbly.
I keep mine vegan and just served with croutons and olive oil but you can add a little bit of cream, parmesan cheese or roasted nuts, to give it a little crunch.
Enjoy!
NOTES:
*If you use store-bought vegetable broth, make sure you use low-sodium and don't add your salt until the end of the cooking time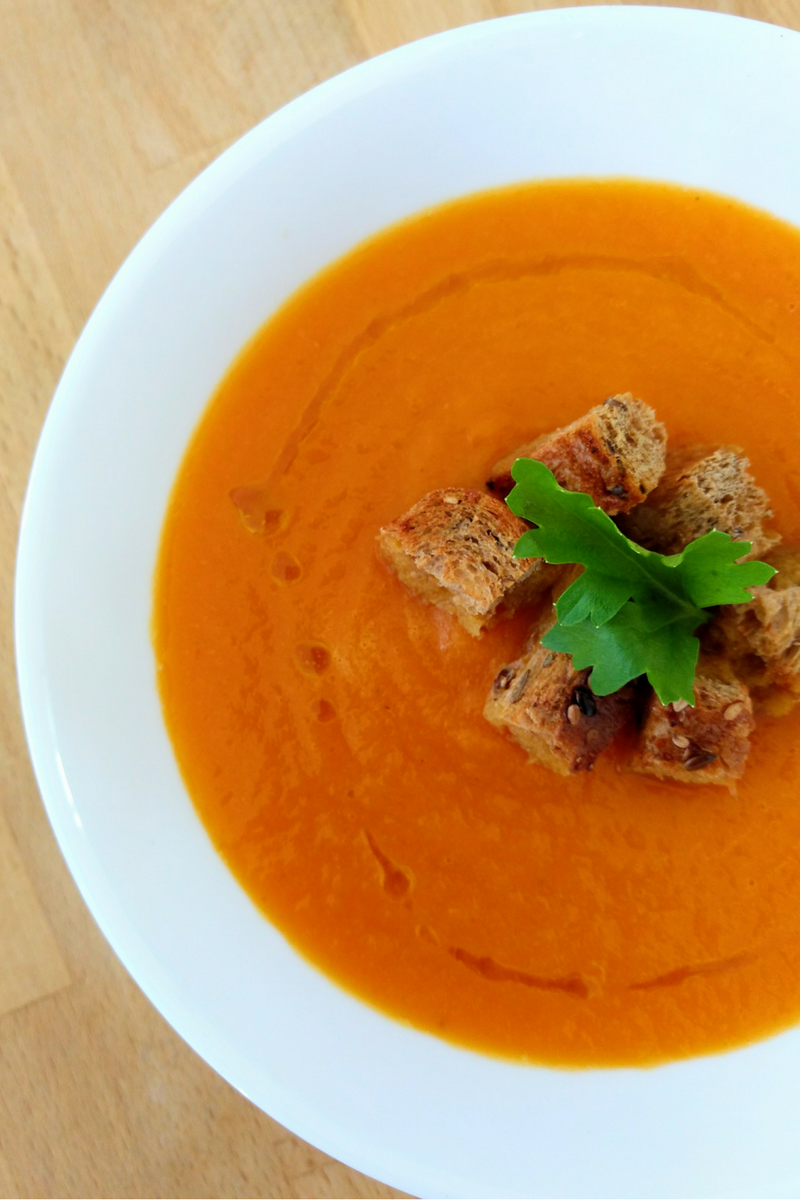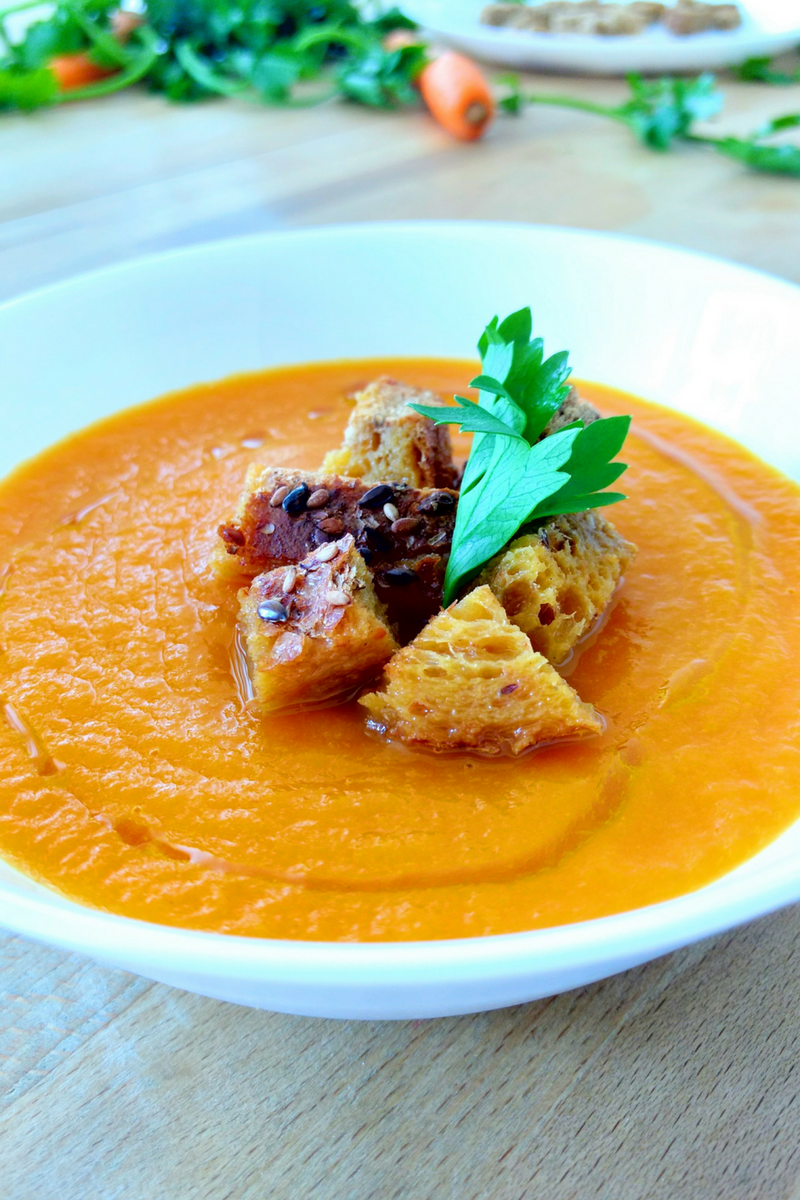 As you can see, it is really easy to make more of your meals by saving those little veggies cuts, you can easily make a blended soup or cook them with your favorite broth, you can make fritattas or roast the veggies to eat as a side dish or mixed with rice or curries. There are tons of preparations you can do to avoid your food go to water and so, make more from the food you buy.
What other dishes you prepare when you have veggies trims at home? Let us know on the comments section below or head to instagram & pinterest, follow and let us know there! 🙂
Until next time!