Jump to recipe
Easy and refreshing Cucumber Salad; perfect for these sunny days!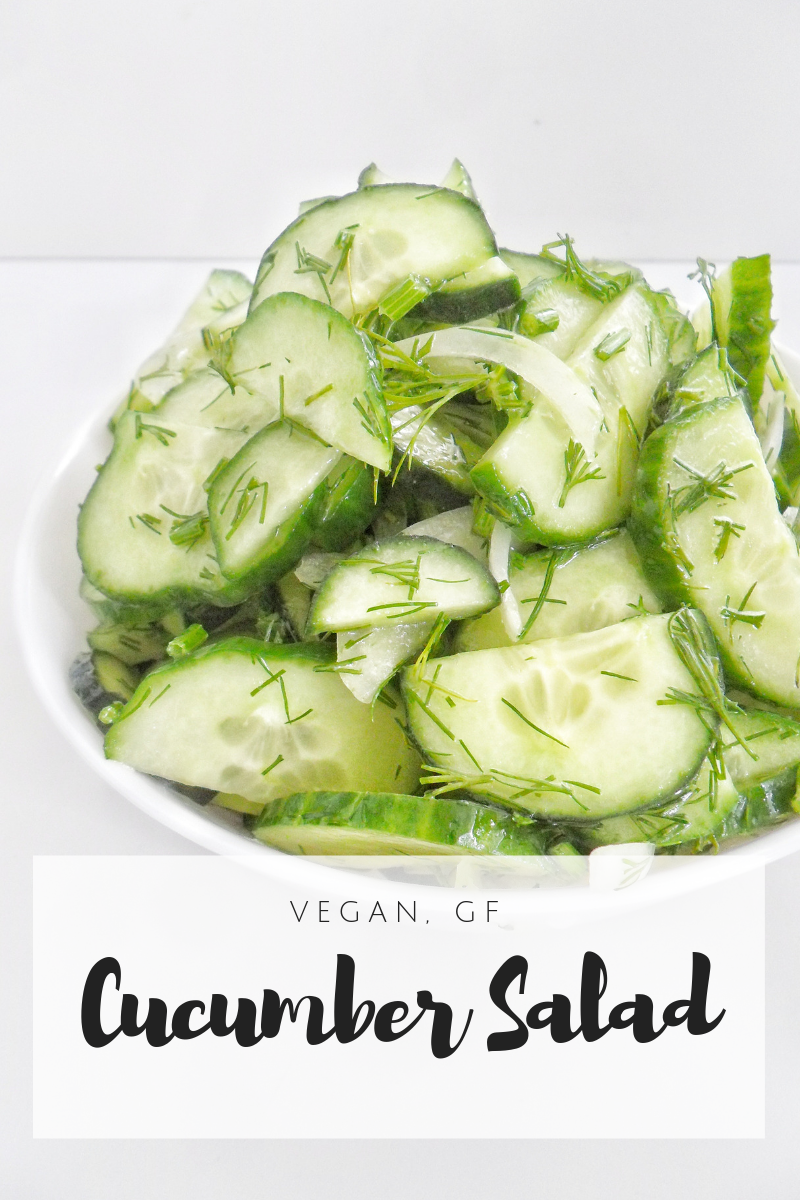 Easier Salad Ever
Growing up when I heard or thought about the word "salad" in my mind I always saw a bowl full of variety of vegetables. Maybe that is the reason way I used to think salads were kind of "complicated". That was until I met my husband.
We were recently married and for our first Shabbath dinner I made a boring salad of lettuce, tomatoes and cucumber (up to that point that would be "a green salad" for me). Next Shabbath, he made the salads and this was one of them. I couldn't believe such a yummy salad can be made with just 5 ingredients!
He also made Moroccan Carrot Salad, Creamy Carrot Salad, Tomato Salad, Beets Salad and others. I couldn't believe my eyes! So easy to make and you can level up a very simple meal, and fill up your shabbath table with a variety of foods without even notice! I love it!
If you love this recipe, you may be interested in Grilled Eggplant & Avocado Salad & Lemony Potato Salad
How to make Cucumber Salad
For this Cucumber Salad you just need 4 ingredients: cucumber, onions, fresh dill, lemon juice, and salt. Optional you can add extra virgin olive oil.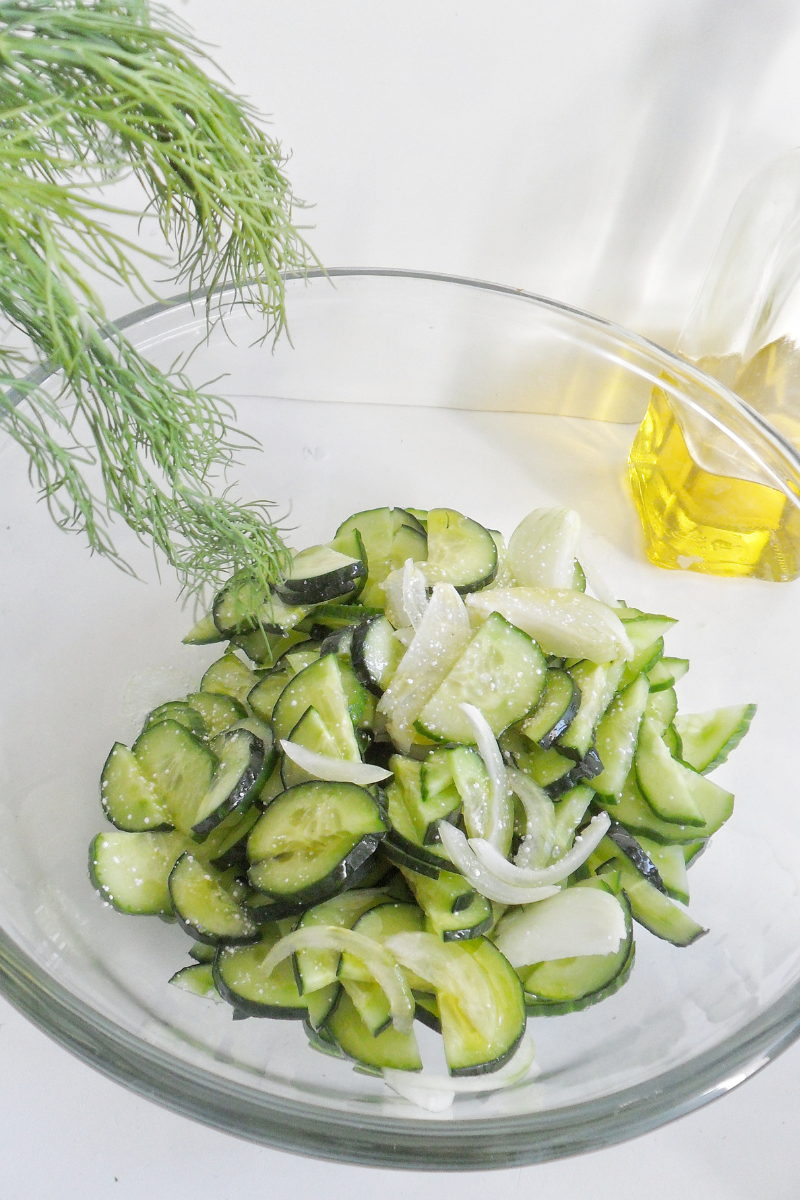 Even though this recipe won't take more than 5 minutes to mix up, I personally like to mix onions with the lemon juice, olive oil and salt and rest for like an hour in the fridge, before adding the sliced cucumber. That way the onion is less sharp and a bit softer. I add in the cucumbers and dill right before serving so the cucumbers are crunchy and the dill is fresh, green and beautiful.
You can also mix all ingredients and let them rest altogether in the fridge. The cucumbers soften up a bit, and the dill doesn't look as green but also have a milder flavor, which some people may prefer.
We usually have the "crispier version" for Shabbath dinner, and the second version for shabbath lunch (because we usually have leftover that has rested overnight on the fridge). Either way is still delicious.
When you make this recipe or any other from the blog, use the tag #kasheribbean to share on social media and, don't forget to follow on instagram and pinterest to keep up with our easy recipes from us and the blogosphere!

Ingredients
300 gr Cucumber (1 Big cucumber), sliced
50 gr yellow onion, julienne
1/8 Cup Fresh dill, finely chopped
Juice of 1 lemon
Salt to taste
Splash of Extra Virgin Olive Oil.
Instructions
Slice the cucumber in half and then in slices. Cut the onion in julienne (thin stripes). Mix in a bowl.
Add lemon juice, extra virgin olive oil and salt to taste.
Sprinkle fresh chopped dill and mix well.
Serve chilled.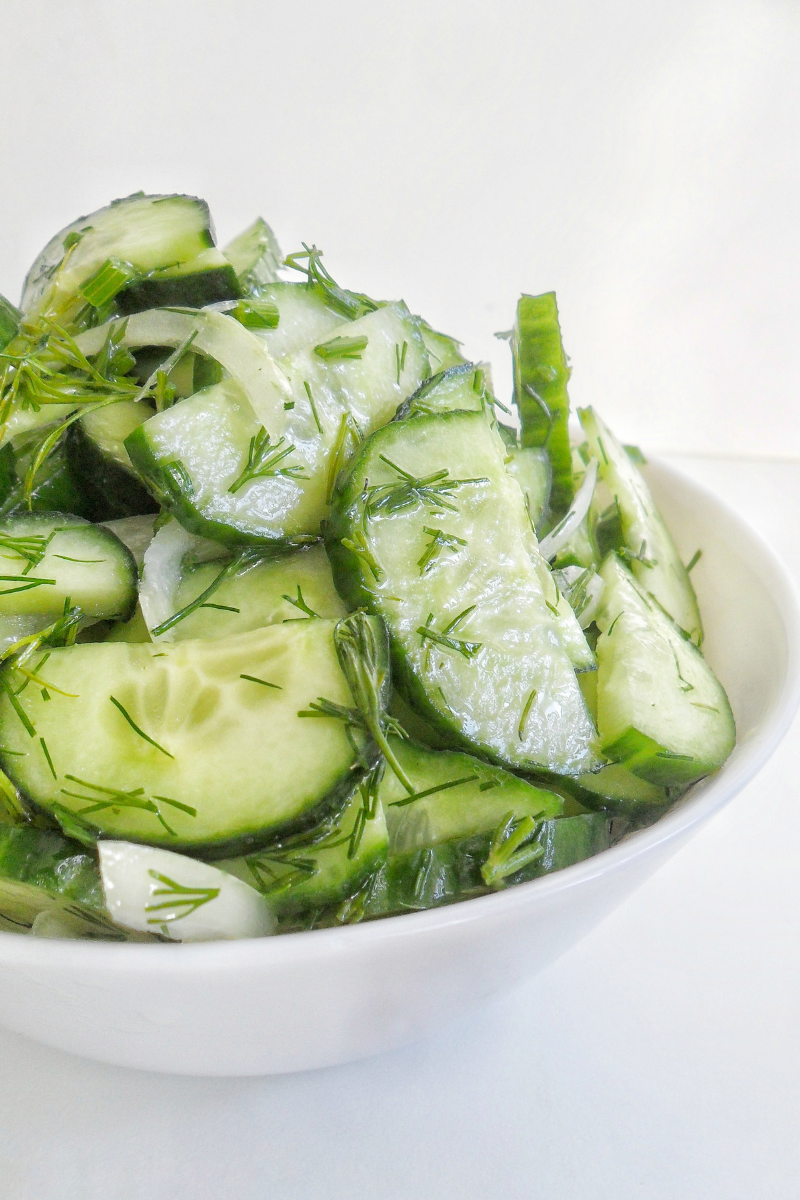 Until next time! ?