The ONE thing I have struggled the most since my "trying-very-hard-to-eat-healthier" journey started is breakfast. Growing up I remember eating a lot of bread and milk chocolate before going to school and the healthiest possible one consisted of oatmeal (that I hated at the time) so, it was definitely a big step for me to get the classic cheese sandwich out of my list for breakfast. Thanks God Pinterest exists to feed my inspiration hunger, but still there are some ingredients out there that I've had bad experience with, like chia seeds, so after spending some time on pinterest looking for recipes that will allow me to eat chia seeds in a less painful and "yucky" way, I came across this Chocolate Chia Pudding…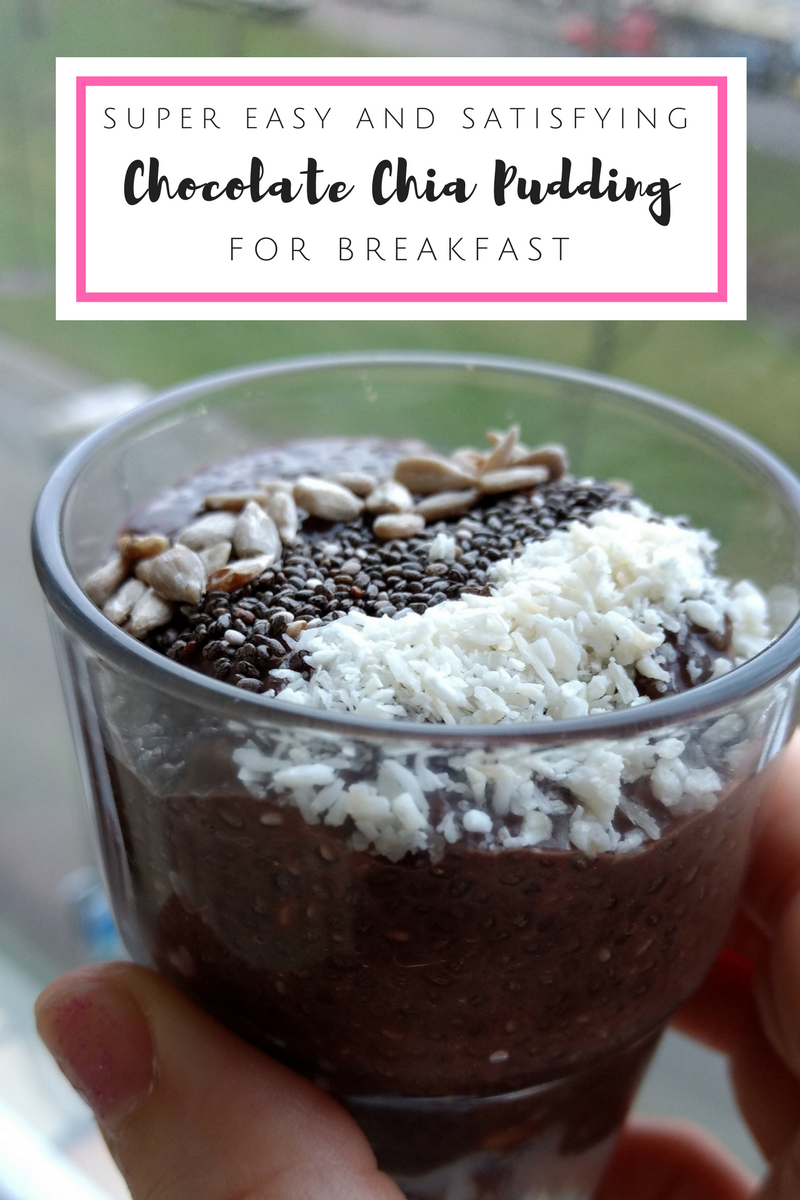 Some people will argue ingredients like chia seeds or others like raw, organic ingredients, are expensive and impossible to buy and probably they are in a way… But when you realize how much you are paying for crappy boxed, fake, processed food, that are making you sick, then, you start to see the real value of them, and that they are not THAT expensive at all.

When I bought my first big bag of chia seeds I hate them, because all I know about them was that they "help you to lose weight" and "you mix chia with water and drink it every day, all day long". But then, magic happened when I discovered that I can use that super power of transforming any liquid into a gel to have the perfect quick breakfast, snack or dessert in the form of a Chia Pudding. What a revelation!

This Chocolate Chia Pudding is perfect for breakfast (or snack!) because a) is super easy to make  (you can literally mix everything up in like 30 seconds and then let sit for 5 minutes to thicken), 

b) You just need a few ingredients:  liquid base + chia seeds + favorite toppings and you are done

c)You can Make it Ahead of Time; You can make a huge batch, let it sit overnight and have breakfast for the whole week in the fridge.

Win, win, win!
CHOCOLATE CHIA PUDDING
Ingredients: 

150 ml (1 Cup) Full Fat Coconut milk (You can use other dairy-free milk of choice but the result may not be as creamy and thick as with coconut milk)
15gr (1 Tbsp) Raw Cacao Powder
15 gr (1 Tbsp) coconut sugar (or sweetener of choice)
Pinch of salt
40gr (¼ Cup) Chia Seeds
1 tsp vanilla extract (optional)

To prepare, just put all of the ingredients in a glass jar or an air-tight container and shake it, shake it shake it! Let it sit in the fridge for 5 minutes (or scale up the recipe to make a bigger batch)

Serve chilled. I served mine with granola at the bottom and shredded coconut, chia and raw sunflower seeds on top. Be creative! The possibilities are endless!


Easy, Right?
What other ideas come to mind when you think of Chia Pudding? Let us know in the comment section below, and don't forget to follow on Instagram and Pinterest so that you know when the next recipes are coming out! We appreciate your support!  


Until Next Time!
🙂