Jump to recipe
Hello, everyone! Today I want to share with you this yummy hybrid: The super creamy, thick and luscious Garlic Hummus with Black Beans Puree as an interesting addition. Finally, another hummus post! Yay! 😀 Alongside our classic hummus, this combo will go well with any chips, toast, veggies or anything crunchy really, plus, you'll get an extra protein boost!
This is a child or grandchild of hummus with ful 🙂
I remember, when we were in Israel last year, specifically when we went to Yerushalayim for the first time, we bought hummus with ful. It was super yummy! and, of course I knew I wanted to make this recipe at home so I asked about the details about it to the vendor, but, back at home and I couldn't find the dried broad beans for the ful, so this draft has been sitting there, in the blog dashboard for over a year.
When I decided I wanted to make hummus with ful, for shabbath, I went to the turkish shop and couldn't find it either. Probably, being late and with a hungry child were factors! But I wanted to dress up the hummus anyways do I picked up the nearest thing I could think off: black beans and make delicious hummus with black bean puree.  Obviously, I don't want to pretend I made the "original stuff", we will end up with more hummus recipes on the blog when I get my hands onto the dried broad beans! 😛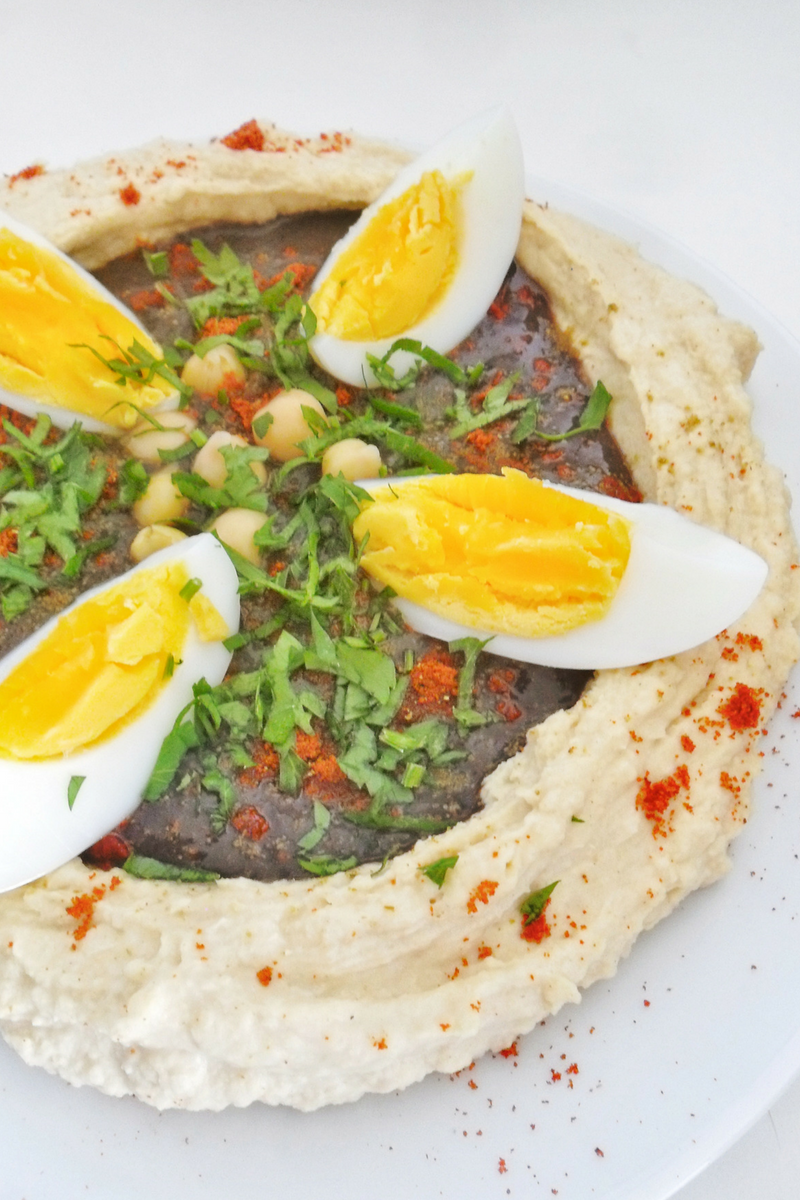 That hummus with black bean puree ended up being a hit and can be a meal all by itself (protein bomb baby!) And the best part? There is no real secret about this hummus with black beans puree. Only thing you need to do really and nail the classic hummus which is not that difficult anyways! So you have a super easy, relatively quick recipe and oh, so delicious!
I don't want to fill this up with the classic hummus recipe so, for more information on how to make it go to this page
Making Hummus with Black Beans Puree
For this obviously, you'll need black beans. To make the puree I just sauteed some garlic cloves and cumin until fragrant, then adding 200grs of very soft black beans that can be either homemade or canned, and finishing up with some lemon juice and some sea salt before pureeing with an immersion blender.
Easy right?
Ingredients
250 gr chickpeas
50 ml tahini
50 ml extra virgin olive oil
3 garlic cloves, roasted
Juice of half lime or lemon
Salt to taste
Chickpea Brine or Water* (if needed, to achieve a smooth consistency)
For the Ful:
200ml black beans
1 tsp cumin (can use more or less according to taste)
2 garlic cloves, crushed
½ tbsp lemon juice
Sea salt to taste
1 Tbsp Extra Virgin Olive Oil
To Garnish:
Paprika
Cumin
Fresh parsley
Hard boiled eggs
Chopped tomatoes
Shallots rings
Instructions
Add all the ingredients for the hummus into a food processor (except for the brine or water), and blend until the desired consistency; scrapping the sides after every few minutes to achieve a thick and smooth hummus.
For the ful: Crush the garlic cloves and sautee on low heat with the olive oil and cumin, until the garlic is cooked and fragrant. Add the black beans.
Season with salt to taste. You can add more cumin if you wish (which is a plus!)
Spread the hummus on a plate and add the ful on top. Garnish with the hard boiled eggs, tomatoes, shallots and onions. Sprinkle with paprika and cumin. Finish with a splash of Extra virgin Olive Oil and finish and some fresh parsley.
Enjoy!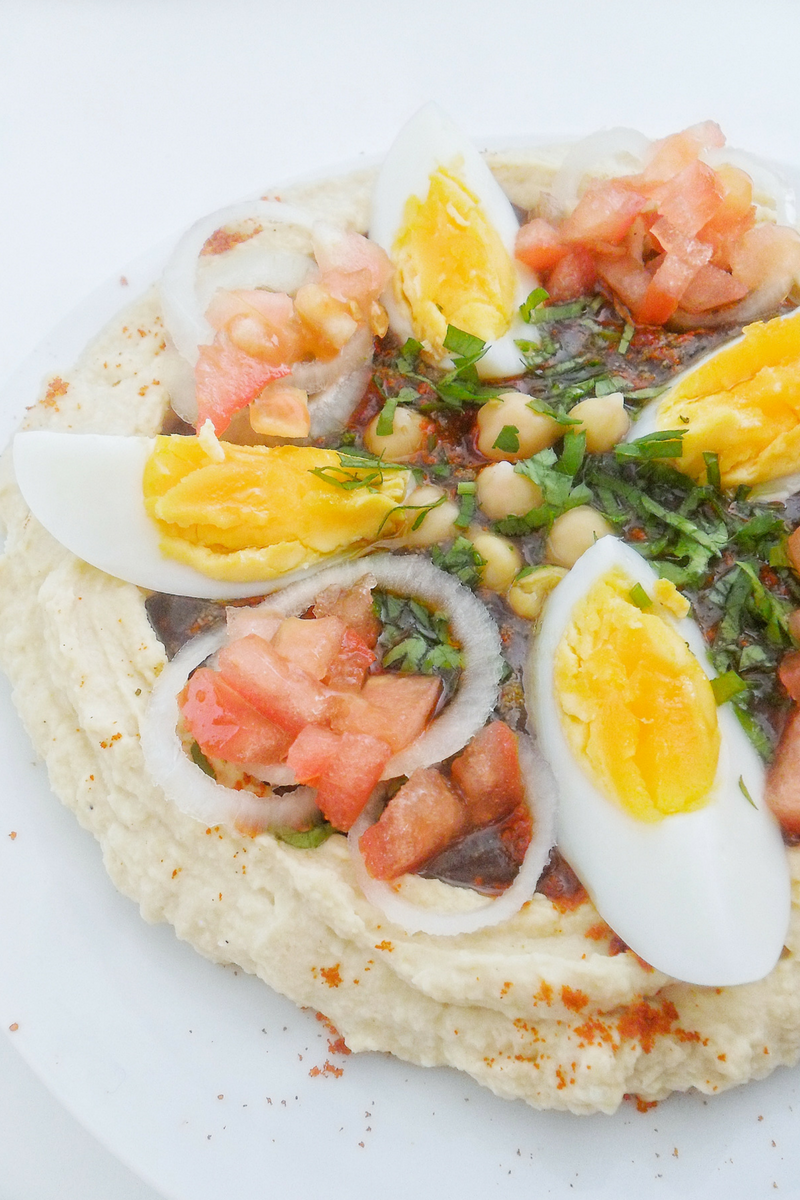 Do you love hummus?Like the idea of adding black beans to the king? What other toppings you add for your hummus? Let us know in the comments section below!And, don't be shy and follow on  instagram and pinterest (we don't bite, yet!)
If you love this recipe and other recipes from the blog, spread the love by sharing with your friends and family! It really means a lot to us!
Happy cooking! 😉