Jump to recipe
Hey, there lovelies! Today I want to share with you my recipe for classic hummus. Super easy to make, thick and creamy. Will be the perfect match for anything you eat with spread!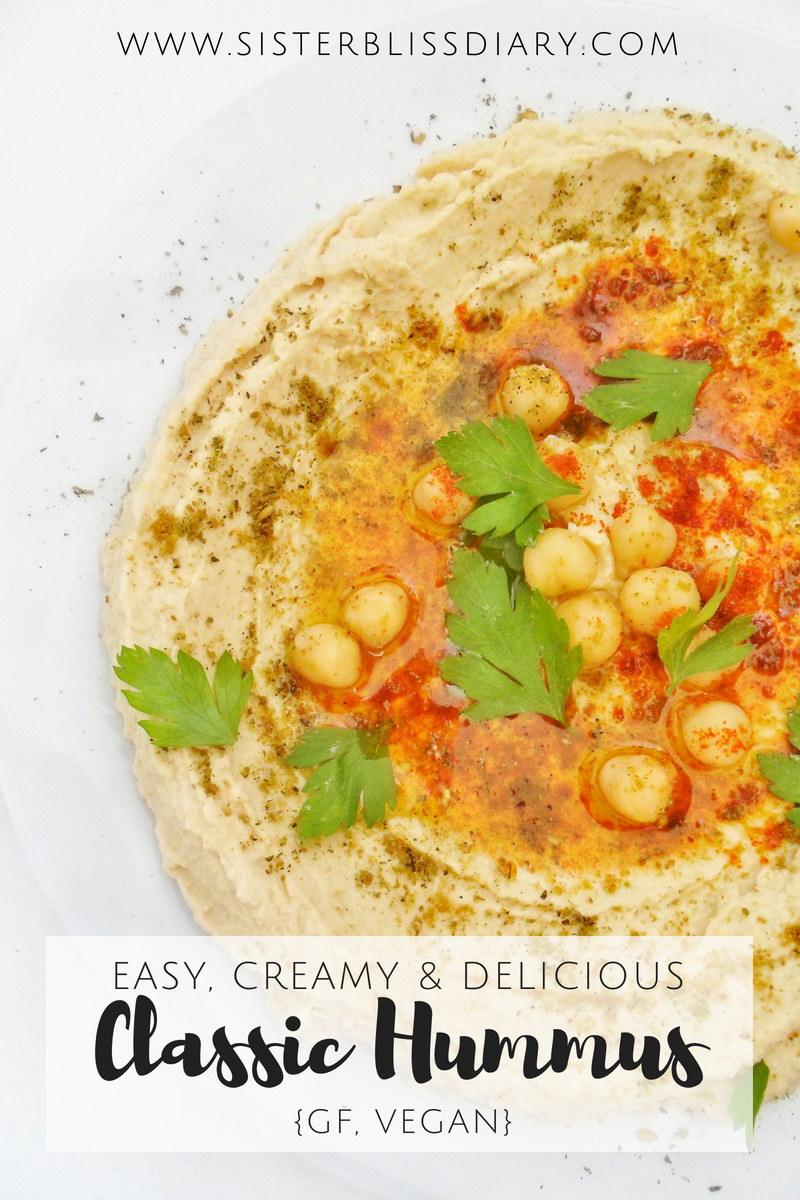 Hummus: Simple yet exquisite
Apparently hummus is "the spread" of the century because is everywhere, and of course, there are reasons for that: It is so easy to make, ingredients are easy to find no matter where you live, it is creamy, it is vegan, has no gluten, dairy or added sugars, I mean… if glory has flavor, it will probably be hummus.
When I tried hummus for the first time I was hooked. I loved the creamy, thick and with simple ingredients. I wanted to do it right away, but well, we didn't have internet back then, and the recipe I found forgot to mention the tahini (sesame paste) so I ended up with chickpeas puree. Still a good, but not hummus.
At that time we didn't have internet at our fingertips as we do now so I just kept changing my ratios of garlic, oil and lemon hoping that some hummus will came out, but obviously that didn't work.
I was about to give up on hummus when I was in my college library one day during my free time, which I used to explored every cookbook and culinary art book I could find there, and I saw this eye-catching book with a title I don't recall. I randomly chose a page and started reading. In a few minutes I read something like this: "Tahini or Tehina, a sesame paste used to make hummus and other middle eastern recipes", and my eyes lit! I went excited to the supermarket to find this "weird" ingredient, and after a couple of visits I found it!… so crazy expensive for my broken college student pocket so I decided to make my own.
Ingredients & How-to
Tahini (Sesame paste)
This was my first batch of homemade tahini. For this one I used unhulled (whole) sesame seeds which I toasted lightly and then, processed in a blender with some oil (Ratio: 1 cup seeds + 1/4 cup oil). I made hummus with this tahini and it was good. It was a total revelation that I could finally make my own hummus and tahini, but still, the flavor wasn't right. It was too strong and kind of bitter at the end because of the sesame seeds I used.
After some trial and error I finally made the huge discovery that they are not just the unhulled (whole) sesame seeds, which are very common in DR, but also the hulled version of the sesame seeds that results in a tahini with a lighter flavor and color which is perfect for making classic hummus.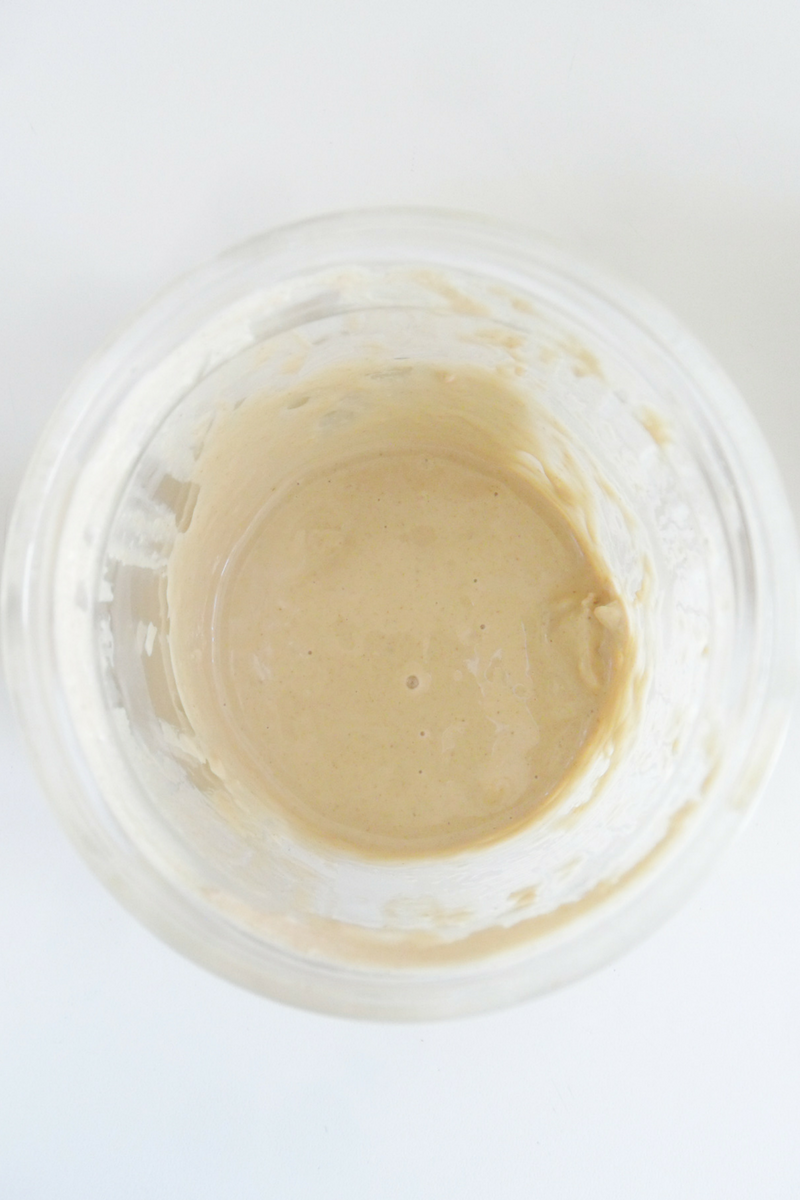 Also, I realized that you don't really need the extra oil because toasting the seeds will bring out some of the natural oils in them and it will blend smooth with some patience and a good blender. In fact, once your homemade tahini has rested for a few hours, you'll see the oil separated on top (and now I am thinking, Why I haven't made sesame oil? Oh, well! lol). If this happens, just mix your tahini well before using.
In case you are freaking out thinking you can't make your own tahini because you don't have a Blendtec or Vitamix, freak no more because I made countless tahini batches in a $25 blender for years!, so it is totally possible as long as your blender can process seeds.
Garlic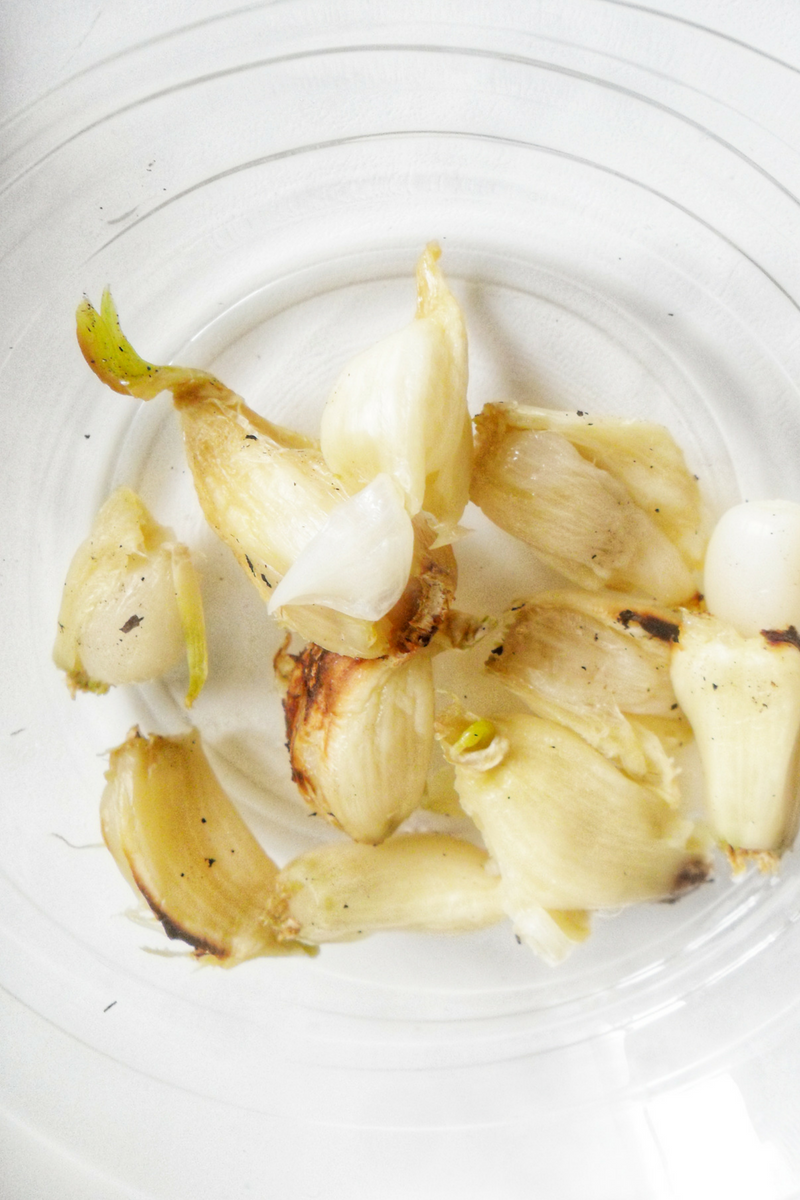 When I first started making hummus, I used raw garlic, which is fine, but now I do prefer to use roasted garlic because it has a deeper flavor without the sharpness of the raw garlic, that will bring your classic hummus to a whole new level.
As I explained in the Cauliflower Mash post, making roasted garlic is as easy as charring, in an open low flame, a garlic head.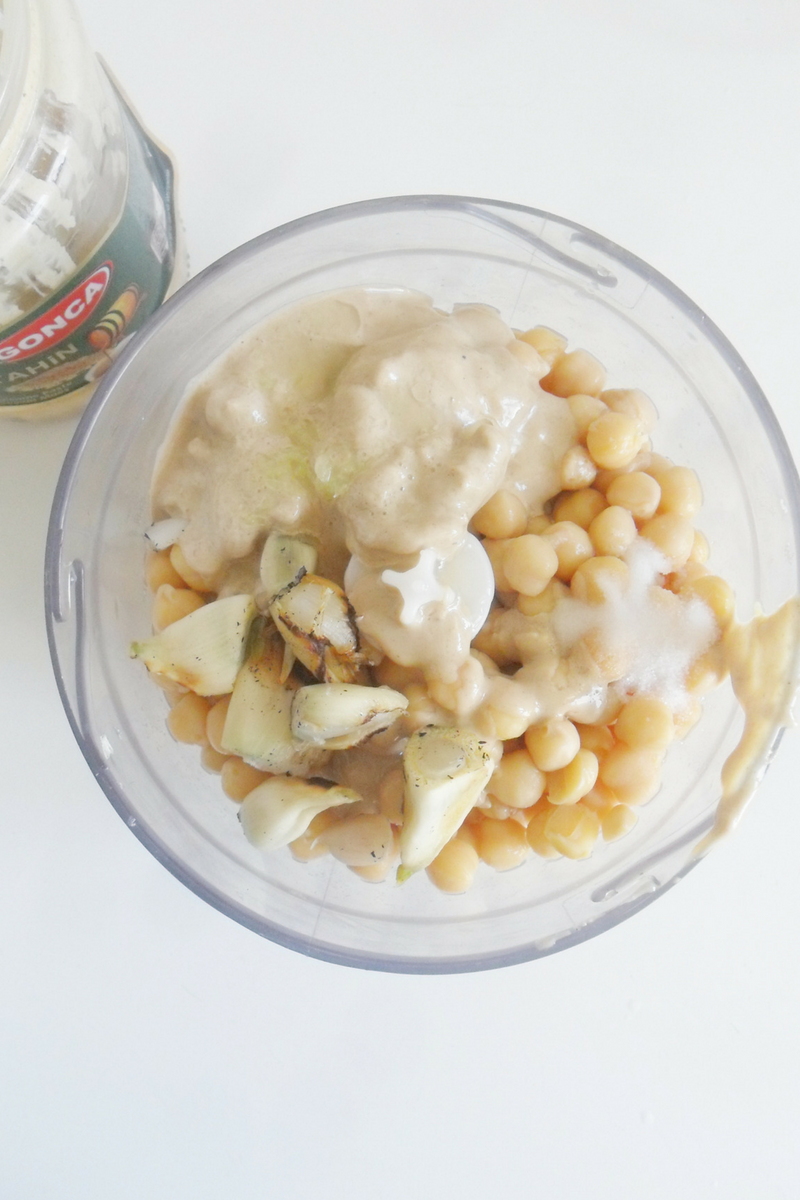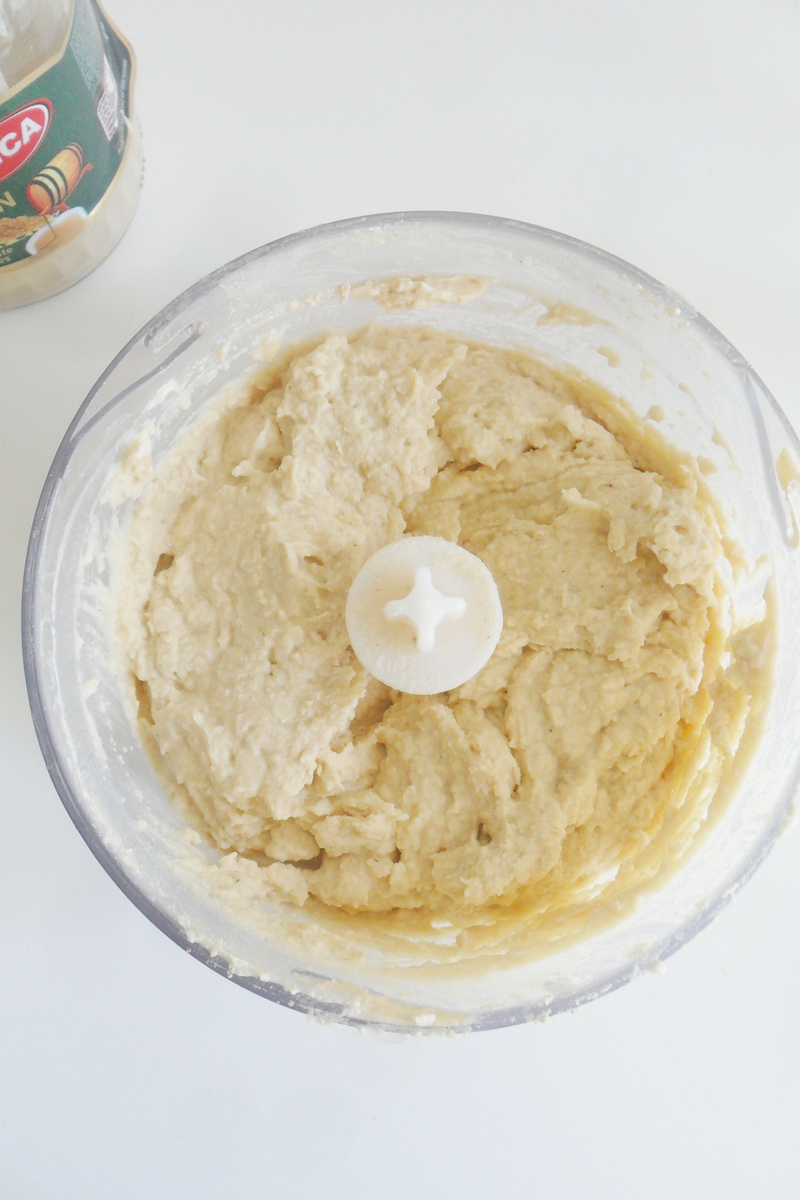 The Rest of the ingredients
For this recipe you will need some lemon juice to bring the flavors together and add some tanginess. And, you will also need chickpeas brine to process the chickpeas. You can use olive oil instead of the brine (aquafaba) but you can save some calories by adding a little bit of olive oil as garnish instead. Finally, you'll need some spices and herbs to brighten up your plate when serving. My go-to spices for hummus are cumin and paprika plus parsley for garnish.
I think is worth mentioning that to make this delicious classic hummus you don't really need to take the skin off the chickpeas. I mean, doing that will literally transform making hummus into a labor intensive task. Just be patient and process until you have achieved the desired consistency and the mixture is smooth.
Ingredients
250 gr chickpeas
50 ml tahini
50 ml extra virgin olive oil
3 garlic cloves, roasted
Juice of half lime or lemon
Salt to taste
Chickpea Brine or Water* (if needed, to achieve a smooth consistency)
Instructions
Add all the ingredients for the hummus into a food processor (except for the brine or water), and blend until the desired consistency; scrapping the sides after every few minutes to achieve a thick and smooth hummus.
Enjoy!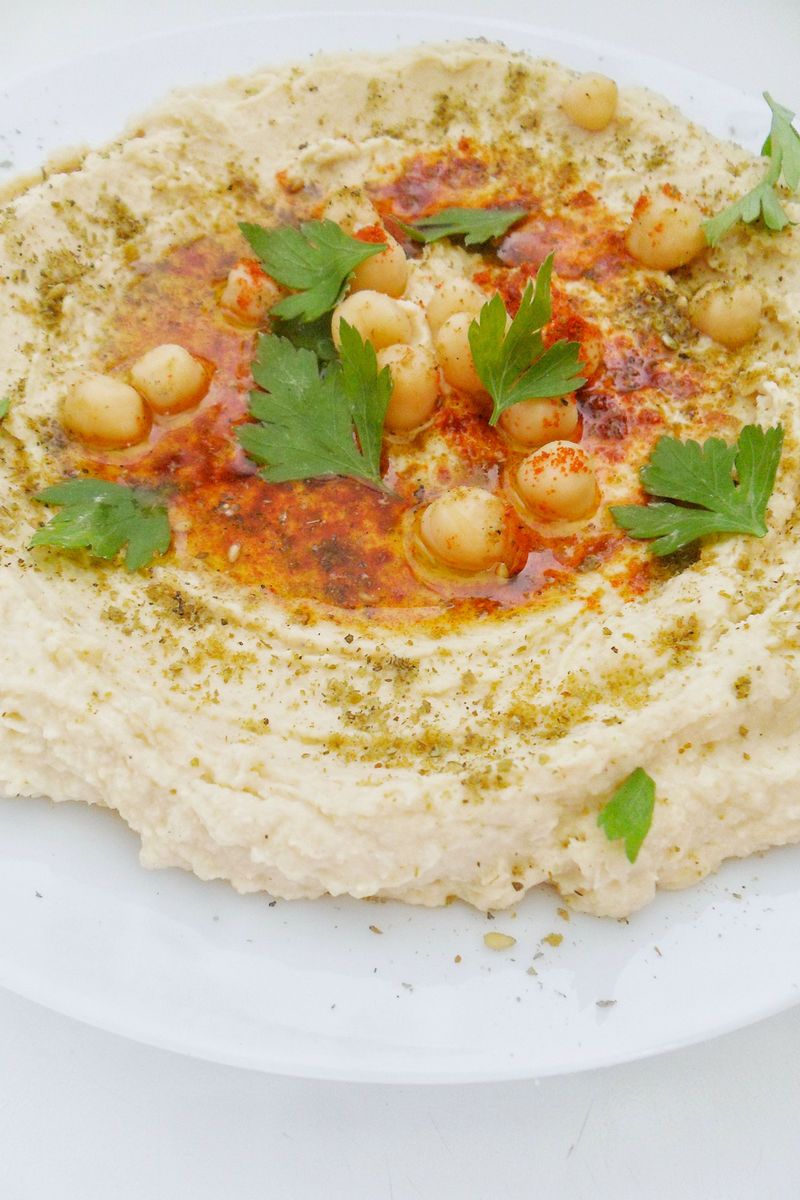 Have homemade thick, creamy, flavorful and hundred times better than store-bought hummus when you want is priceless, and it couldn't be more easy to do. I love to eat hummus with anything crunchy: toasts, chips and crackers, but also baked potatoes or sweet potatoes, cucumber slices, broccoli or peppers. The choice is yours!
Do you love hummus? What do you eat it with? Let us know in the comments section below! Also, don't be shy and follow on  instagram and pinterest and tag us with the hashtag #kasheribbean so we can delight our eyes with your versions of this humble but exquisite middle eastern spread.
If you love this recipe and other recipes from the blog, spread the love by sharing with your friends and family! It really means a lot to us!
Happy cooking! ?