Jump to recipe
Babaganoush is one of those recipes that never gets old for me. Easy. Smoky. Flavorful. I just love it!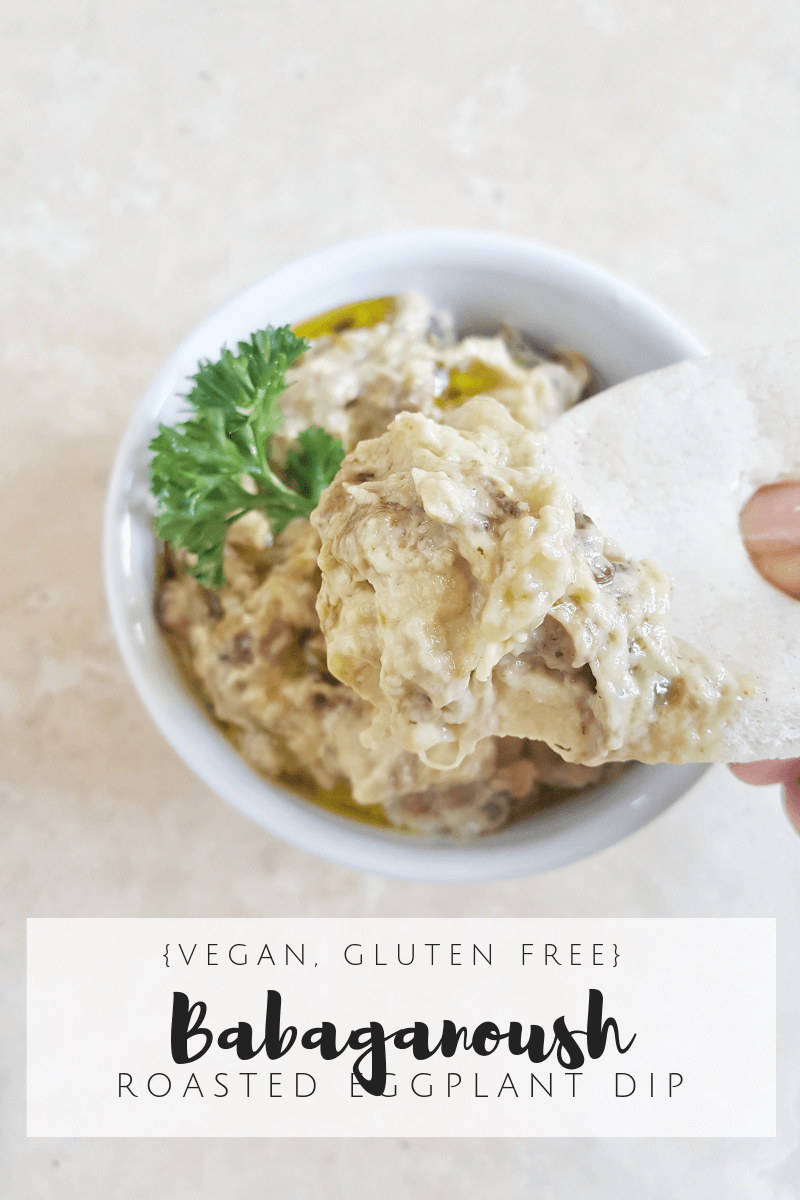 Babaganoush or Mutabal is that middle eastern creamy or chunky eggplant dip (or salad, if you wish) that is usually paired with hummus and variety of salads.
In terms of ingredients I've seen some variations: some people add raw garlic while others add roasted (which I prefer because the flavor is less sharp), some people add greek yogurt (I always wondered why my friend's babaganoush looked soooo white! You got it!), others rely on tahini and others even add mayonnaise for creaminess. Some people mix-in fresh parsley, some people just garnish with it, and so on… but despite all this, I wanted to share my recipe for an Easy Babaganoush, so let's get started!
How to Make it
To prepare this delicious dip I roast my eggplants over high flame making sure I turn a few times so that the eggplants gets all the skin charred (including both ends). This is what adds the beautiful smoky flavor to the babaganoush.
Roasting on high flame can get a little messy, to avoid this, I cover the stove top burner with aluminum foil. Baking the eggplants should be definitely a no-no when making babaganoush. It is simply not the same because the smoky flavor won't be there (which is the main characteristic and a plus!).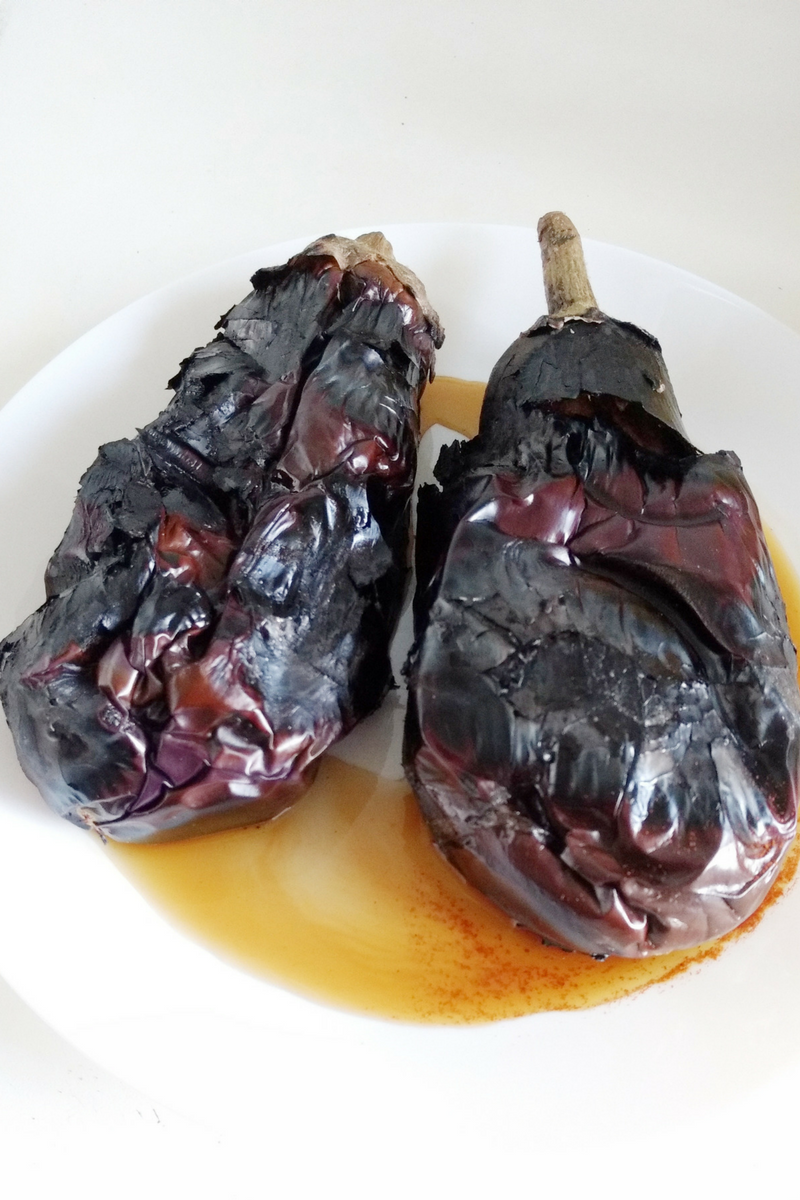 Once the eggplants are all charred and beautifully burnt, transfer to a plate to cool down and then peel the skin off. No need to run under water! (heresy!!). The skin will peel off very easily when the eggplant is cooked and cooled. If you find some places where skin is not peeling off is because that bit is undercooked. You can probably finish cooking that bit on the stove..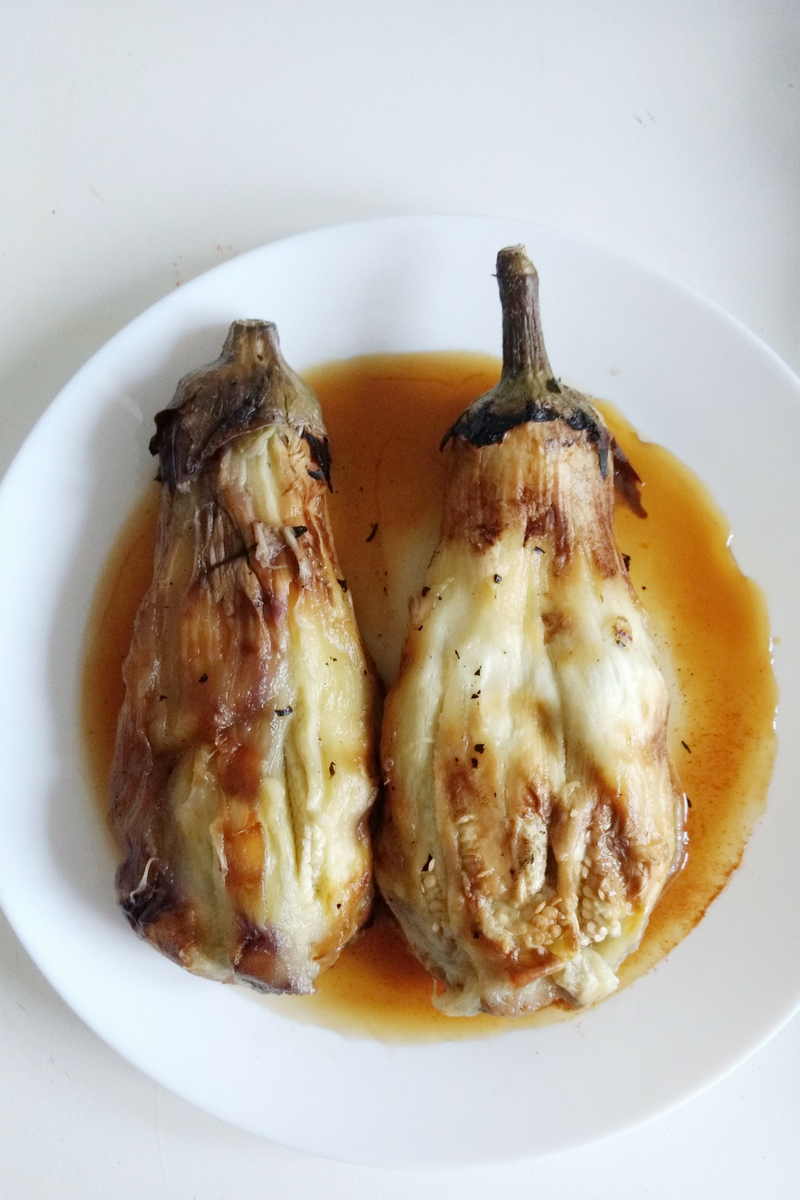 Here it comes a critical step. You need to dry out those eggplants! If you don't you will end up with a soupy mess. Not good! For this step, I just add my roughly chopped or mashed eggplants to a skillet, on medium-high heat, and dry for a good 5-7 minutes, or until I see there is no more excess liquid. Alternatively, you can drain the excess water by transferring your peeled eggplants to a sieve and let it drain for like an hour or so, but who has time for that, right?!!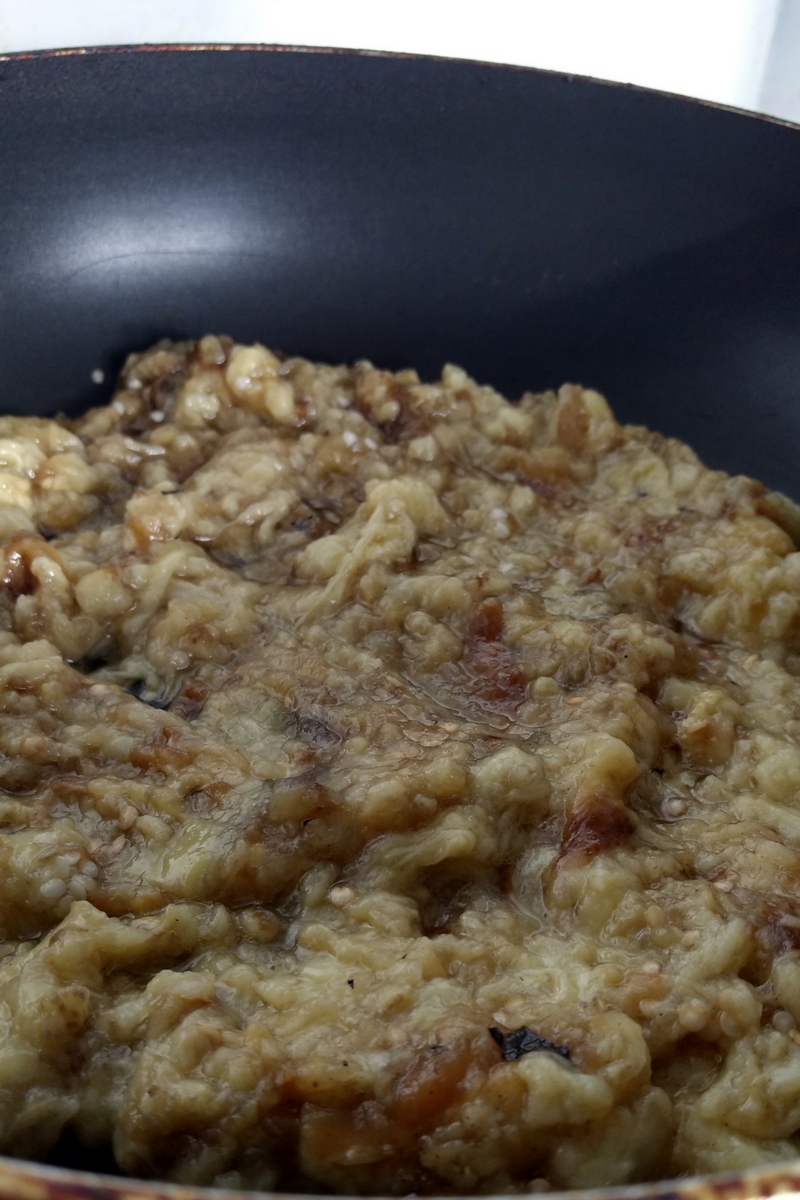 Finishing up the Babaganoush
Once your eggplants are all dried you can mix with the remaining ingredients; mashing with a fork or pulsing in a food processor to get a creamy texture. Super easy right? That is why we love Babaganoush so much!
To add another layer of flavor I add roasted garlic. I buy fresh and roast several garlic heads to always have on hand; because roasted garlic is so good! You can totally add fresh garlic if you don't want to do the extra step, but I suggest you add a bit less than the recipe calls for. For 2 eggplants (500 grs) I add 3 roasted garlic cloves, but if I am using raw garlic I will just add 1 clove or adjust to taste.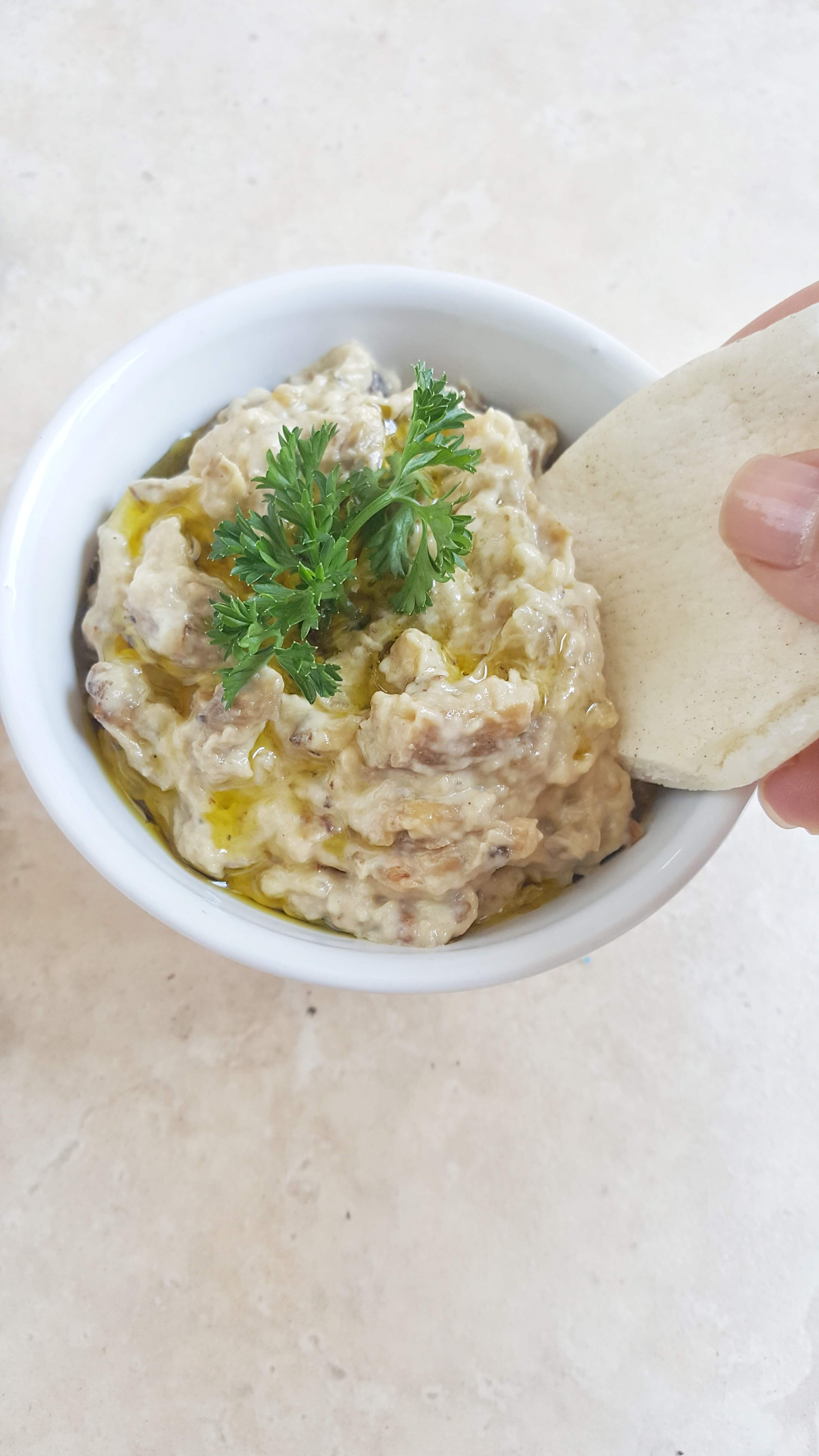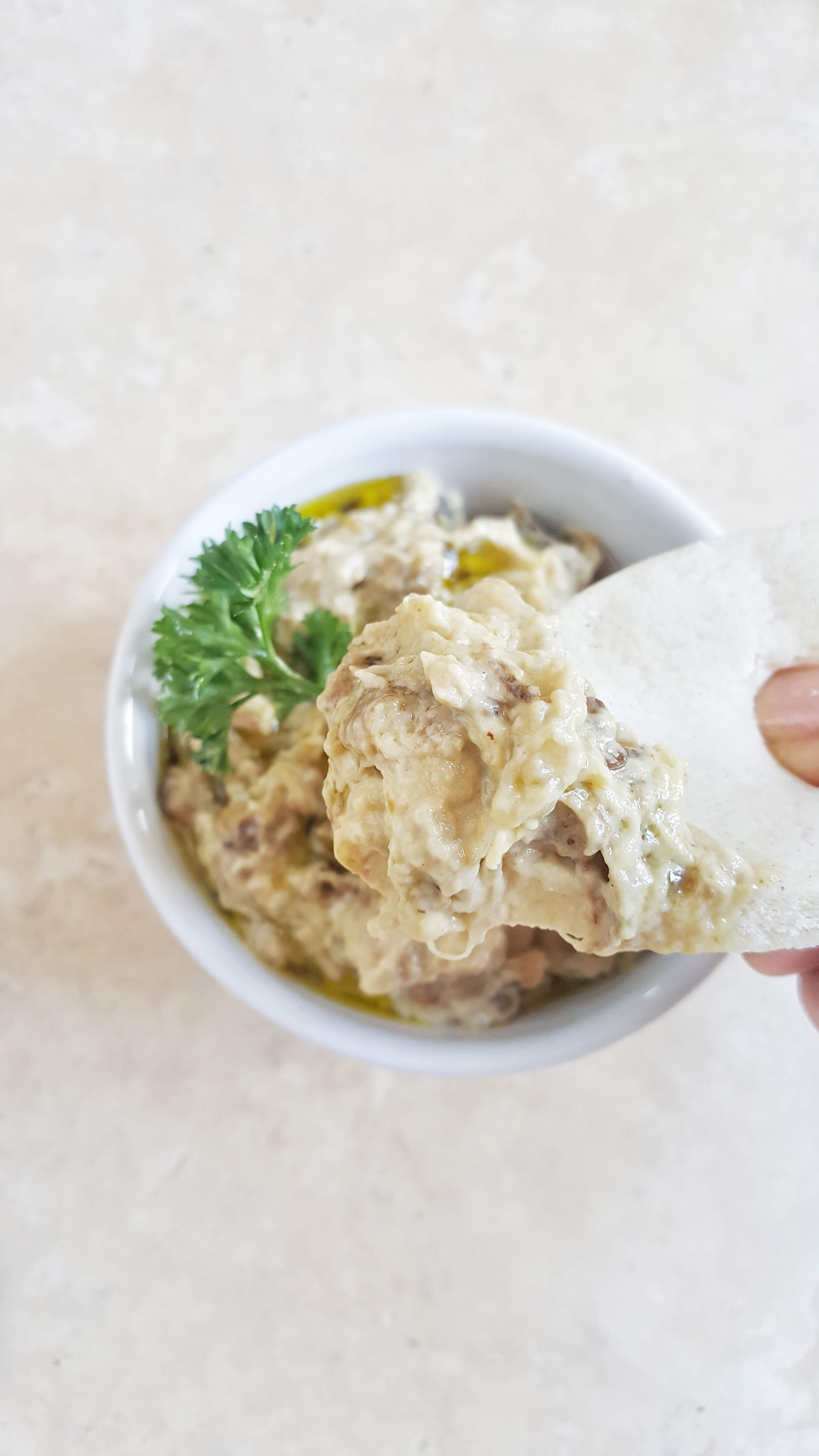 Ingredients
500 grs eggplants (2 large)
2-3 garlic cloves, roasted
2 Tbsp Tahini
2 Tbsp fresh parsley, chopped
2 Tbsp extra virgin olive oil
1/4 tsp cumin
Juice of half lemon
2 Tbsp Mayo or Vegan Mayo
Salt to taste
Instructions
Roast the eggplants over the stove top, turning regularly until is completely charred and cooked through. Transfer to a plate to cool.
Peel the skin off, remove the seeds and chop or mash with a fork. Dry up on a skillet over medium high to remove excess liquid.
Transfer to a bowl and stir in the remaining ingredients. Season to taste.
Top with extra virgin olive oil and some fresh parsley. Enjoy!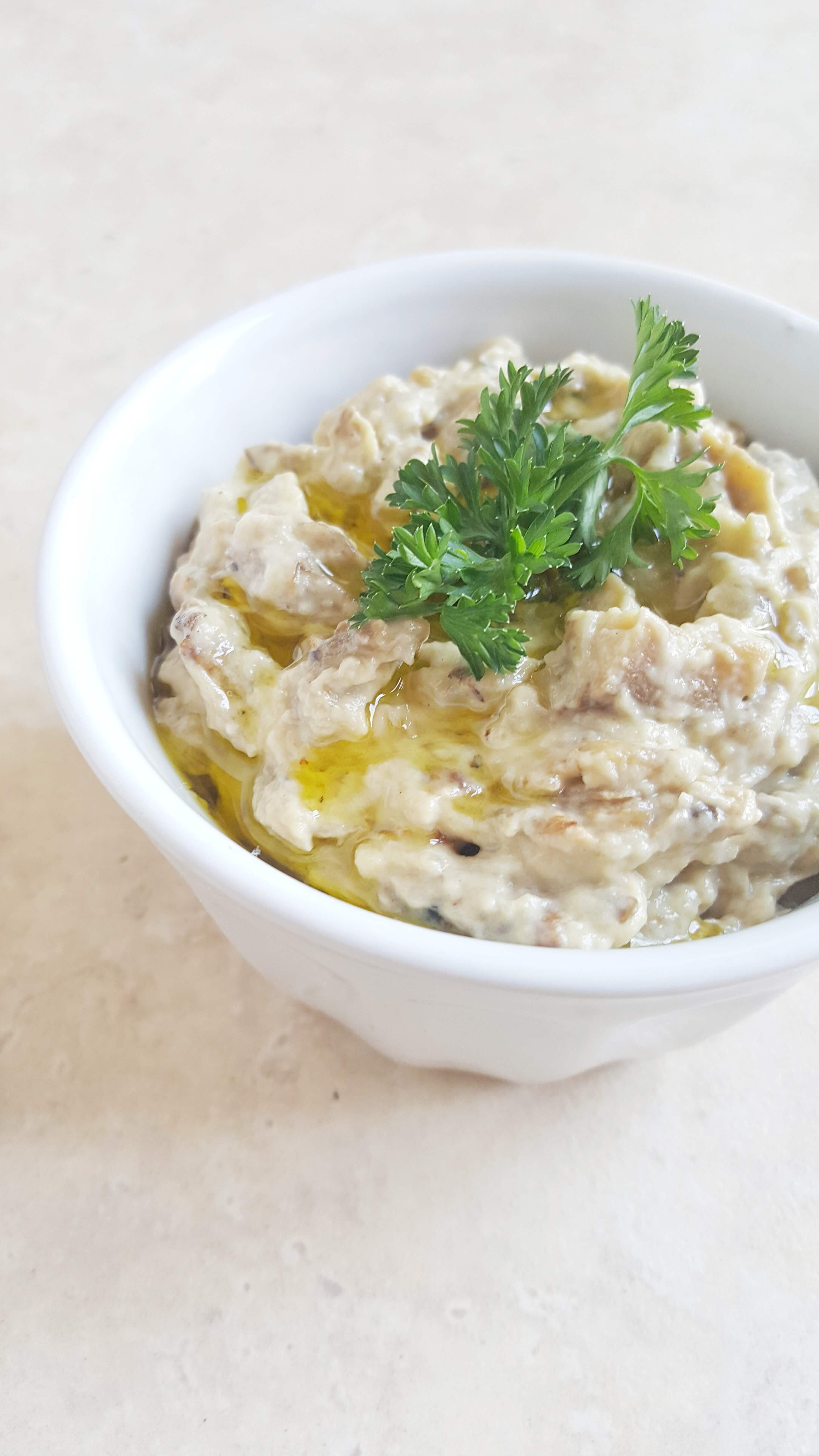 How do you like your babaganoush? Creamy or Chunky? Let us know in the comments section below or head over instagram and pinterest and let us know. We love to hear from you!
And, don't be shy and show us your recipes from the blog with the hashtag #kasheribbean. If you love this recipe don't forget to follow on instagram and pinterest and share with your friends and family! It really means a lot to us!
Until next time!
Hannah