Jump to recipe
Now that Pesach is over, we can indulge with this super green, easy and flavorful Spinach & Pumpkin Seeds Pesto. #Happyhametzweek 🙂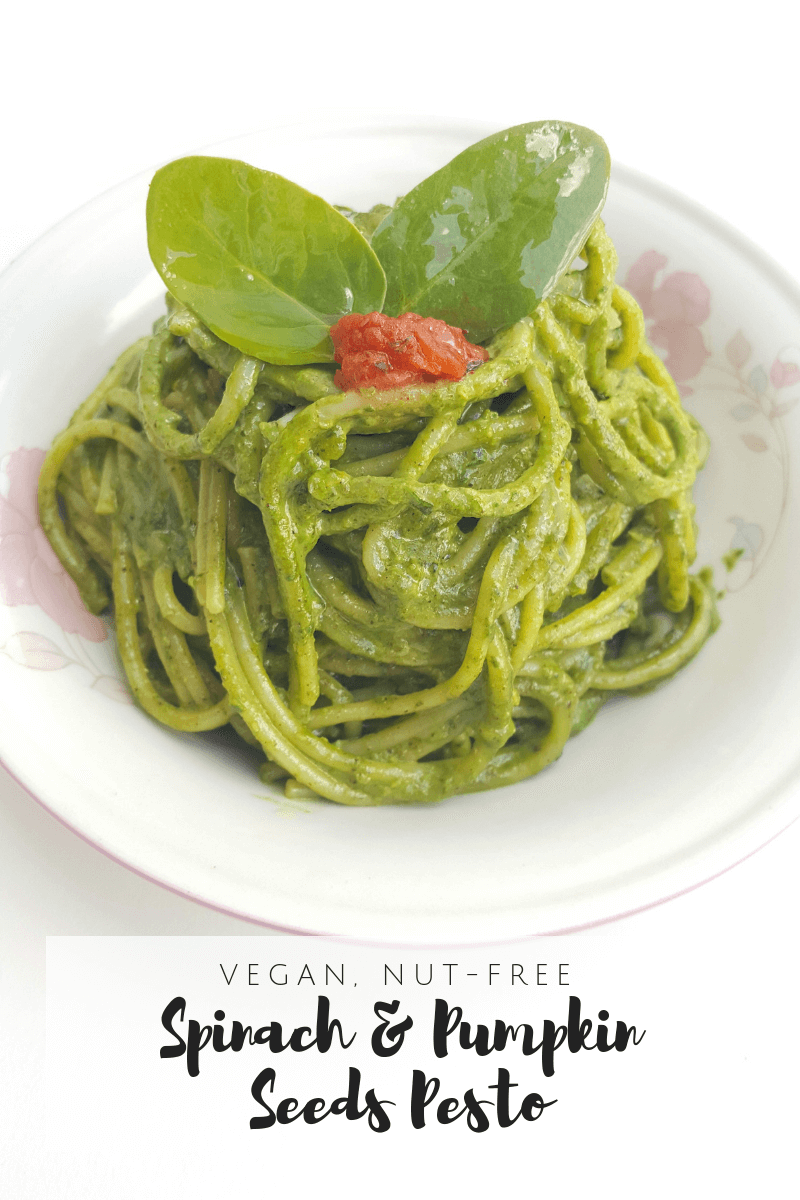 Looking for more pasta posts? Head over our Vegan Mushrooms Spinach Pasta, Avocado Pesto or the mega yummy Sweet Potato and Tomato Pasta Sauce!
I love pesto so much! Made with fresh basil and roasted pine nuts, pesto must be one of the easiest and yummiest sauces of the whole pasta world.
But, what happen if you run out of basil or you just don't want to break the bank buying pine nuts?
Here it comes: Spinach & Pumpkin seeds Pesto
This is where Spinach and Pumpkin seeds come to play. This duo is awesome because with it you can make salads, rice, soups, sauces, snacks and, of course, pesto 🙂
It is also a great solution when you are traveling and need some greens boost in the form of lunch or dinner before heading to the airport 😀 Plus, it is satisfying, vegan and nut-free for those who have nut allergies.
Ready in no time
This Spinach & Pumpkin Seeds Pesto (or any pesto really) needs literally no work and is ready in no time. You just need to dumb a handful of ingredients in a food processor and pulse until the desired consistency.
Because all I have is a mini food processor I did this in 2 batches which was actually a good thing because I processed my roasted seeds separately and get some lovely texture at the end from the bits of roasted seeds. You can also do this with a traditional blender or immersion blender. Use what you have.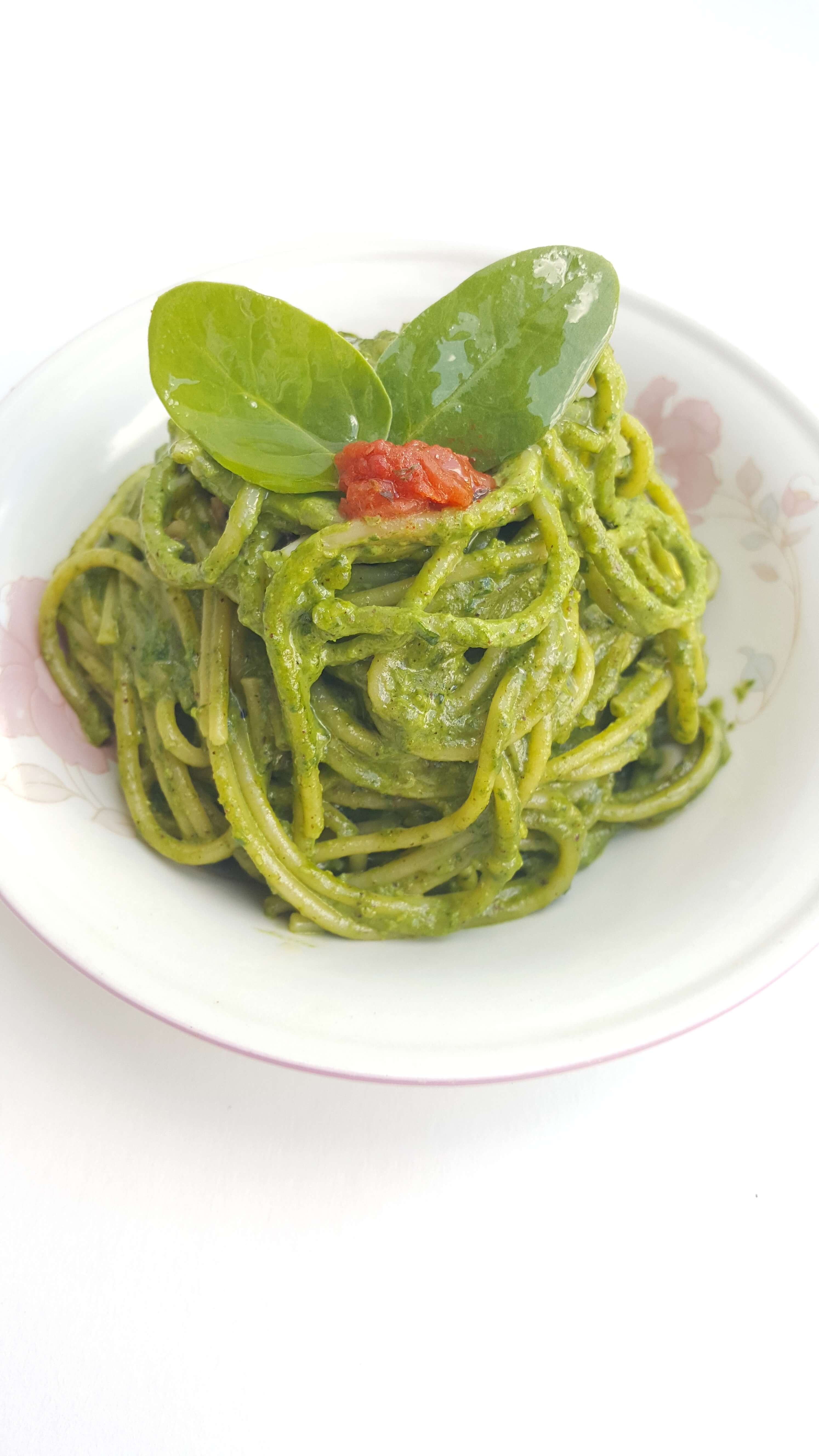 If for any reason you don't like the flavor of pumpkin seeds, you can substitute with more or less roasted sunflower seeds (I find they have a more subtle flavor)
Ingredients
200 gr Fresh spinach
50 gr Fresh Parsley
100 gr Pumpkin Seeds, dry roasted
50 ml Extra Virgin Olive oil
2 Cloves of Garlic
Salt & Pepper to taste
300gr cooked pasta noodles
Instructions
Bring a large pot of water to a boil. Add a pinch of salt. Add the pasta and cook until al dente or the desired texture. Reserve 1/4 cup of the pasta liquid.
In a food processor add spinach, parsley, pumpkin seeds, olive oil, garlic, salt and pepper and process until you have a creamy consistency (not too chunky not too liquid).
Toss pasta with pesto until everything is well combined. You can add a bit of pasta liquid if it is too dry, but usually is not necessary. Serve hot.
With this pasta we bring to a full circle another year of Pesach memories and say adeus to a wonderful Pesach in Portugal.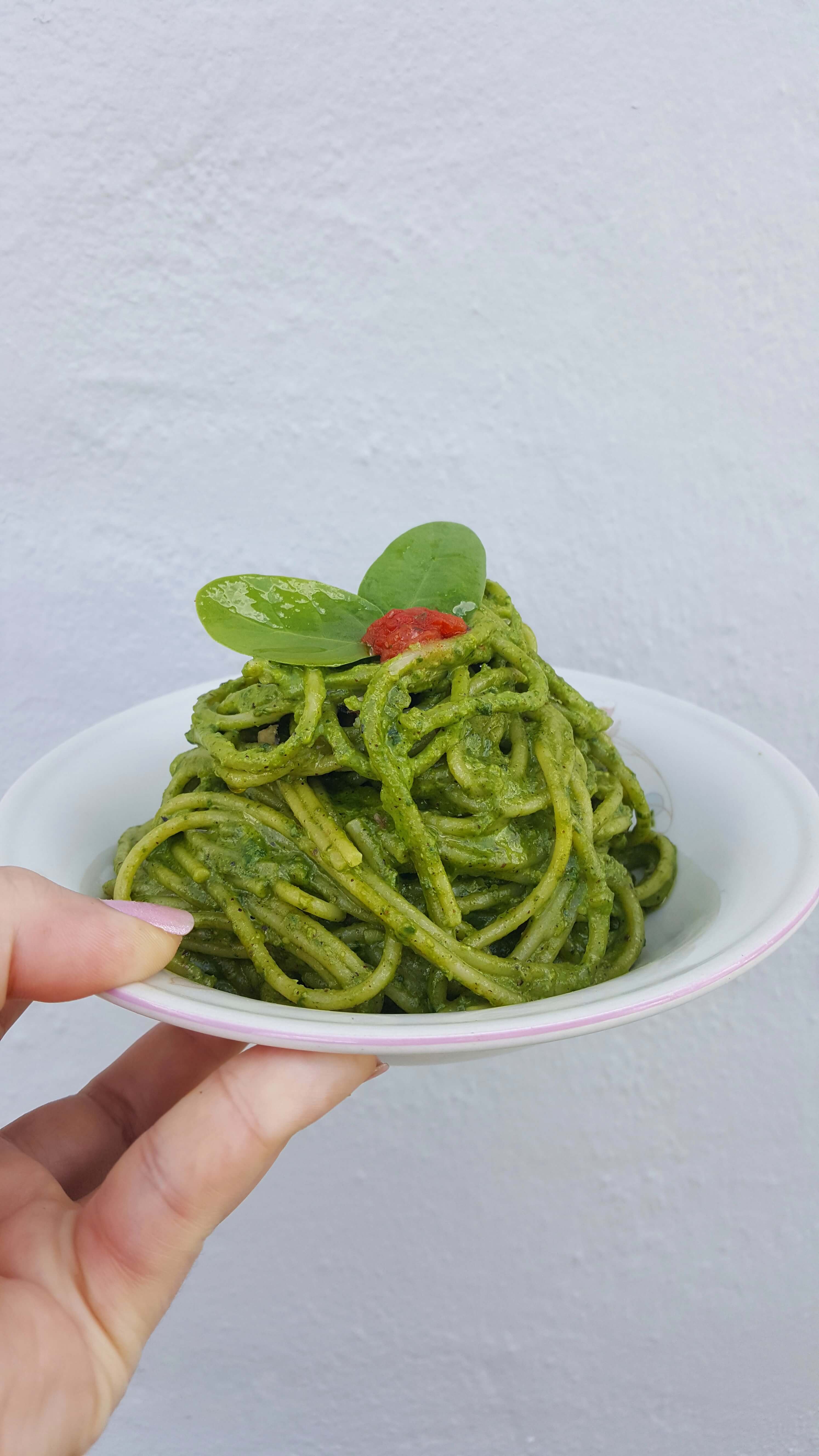 If you love this recipe don't forget to share with your friends and family and tag us #kasheribbean on social media when you make it.
We love to see your creations. Don't forget to follow on Instagram and Pinterest to keep up with other easy recipes we share just there. Have a wonderful week ahead.
Until next time! 🙂