Jump to recipe
I love pasta because it is so versatile and easy to make. You can literally please a crowd with a few ingredients and simple preparation, for the most past it is kids-friendly and also you don't need to break the bank. Need another reason? Now that Purim is over, the pasta frenzy has started (aka. Pesah is around the corner!), so this nice easy recipe is all you need to cook that bit of pasta hidden in your pantry in time for Pesah.  Take note on the simply luscious Vegan Mushrooms Spinach Alfredo before Pesah cleaning drives you nuts.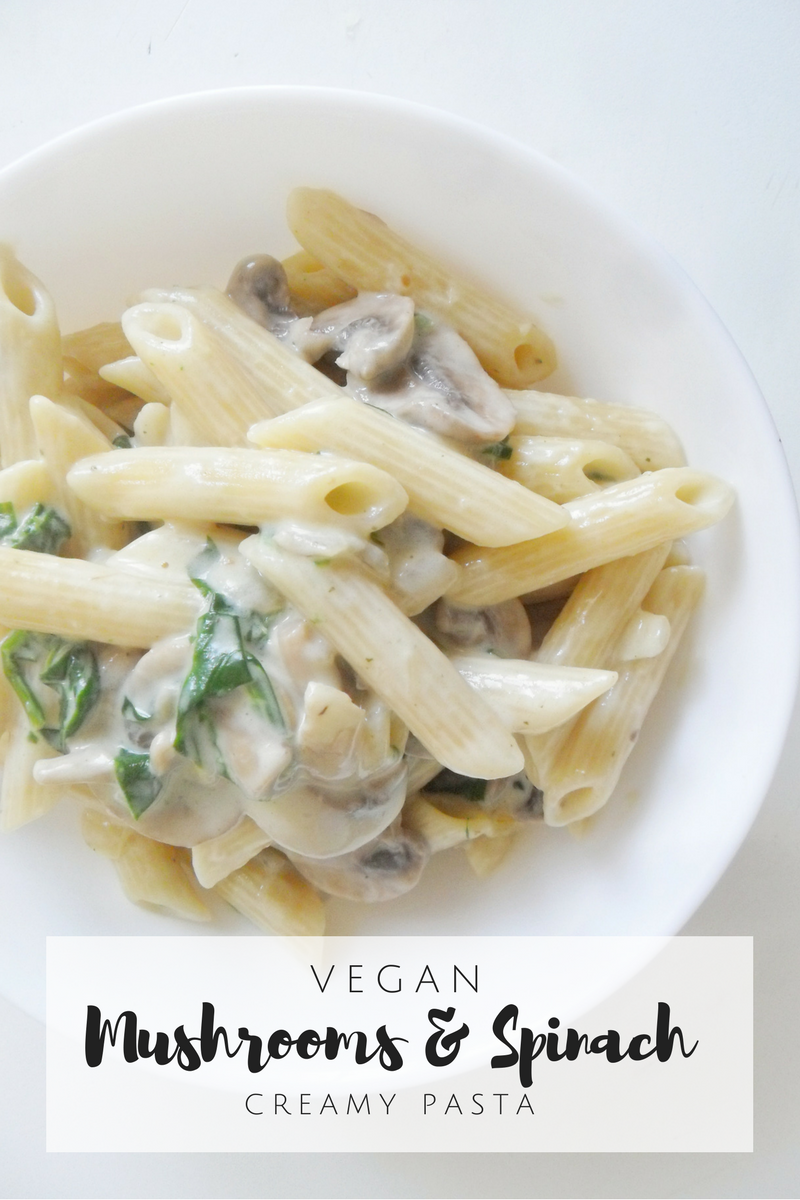 There are a few staple pasta dishes I do at home, mainly because it is just easier to make family members eat what they already know, and within that repertoire I have pasta with dairy-free cream and smoked salmon, that hubby certainly love but, I had some reasons to twist things for this occasion (first, I am trying to incorporate more vegan food into our meals. Second, I had a whole bunch of mushrooms sitting on the fridge and third, I was having a lazy day; enough reason right here, lol…
… And, well, we all agree that sometimes you just need that creamy luscious bowl of pasta no matter what it brings, right? lol so, I added the mushrooms while I crossed my fingers and prayed hubby will like it… oh, oh! 😛
No Cream? No Problem!
For this pasta I used Alpro Cuisine Soy Cream but if you can't find dairy-free cream you can substitute with some dairy-free bechamel. You can easily make the bechamel as follows: Heat 2 Tbsp of olive oil over low heat, add 2 Tbsp of All Purpose flour and cook the flour for 1 to 2 minutes, stirring constantly so the flour doesn't burn, until it has a nutty smell. Still stirring, pour 2-3 cups of soy milk and stir vigorously until the sauce has the desired consistency.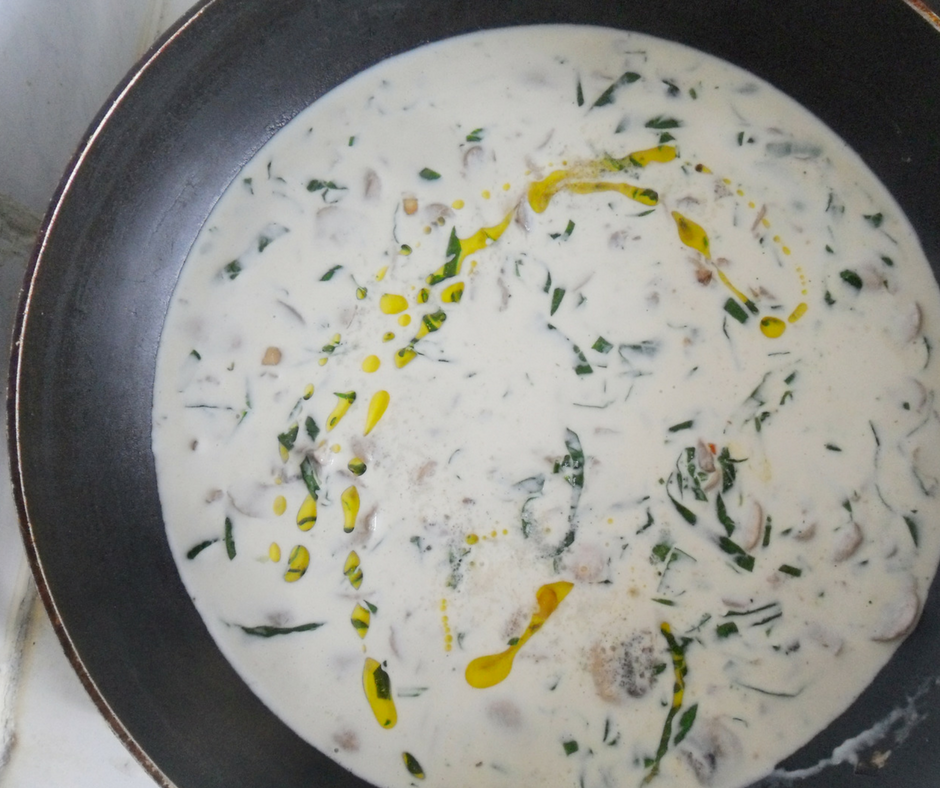 Stirring it is very important because this will prevent your sauce from getting all clumpy but, if for some reason you were distracted and your sauce ended up with clumps, you can strain through a fine sieve once it is finished.  Season with salt, pepper and a pinch of nutmeg and it will be ready to go!
Vegan Mushrooms Spinach Alfredo

Ingredients
1 Tbsp Olive Oil
150gr white onions, finely chopped
450gr mushrooms, chopped
5 Garlic Cloves, minced
300gr Spinach, chopped
500ml Soy Cream*
500gr cooked pasta
Salt & Pepper to taste
Instructions
Sautee onions with the olive oil until slightly golden and fragrant.
Add the chopped mushrooms and cook on medium high until mushrooms are cooked through.
Add the minced garlic, chopped spinach and soy cream or dairy-free bechamel. Season with salt and pepper and let that simmer for 2-3 minutes.
Mix in the cooked pasta, turn the heat off and enjoy (or let stand for a minute or two before serving if you want your sauce to thicken even more).
Enjoy!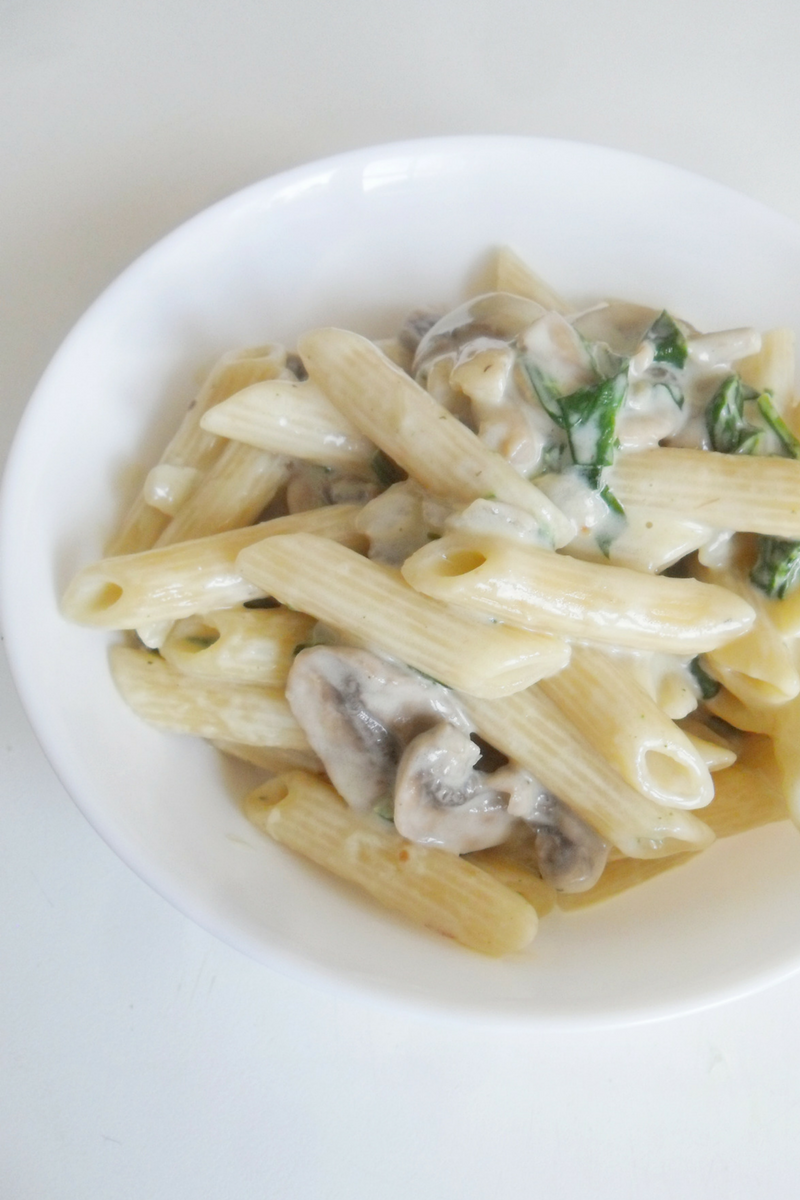 That's it! Vegan Mushrooms Spinach Alfredo! Mega easy right? And not just easy but very flavorful thanks to the umami of the mushrooms. This Vegan Mushrooms Spinach Alfredo proved to be the real deal that day! And, my 3yo, who doesn't normally eat mushrooms, liked it and asked for more 😀
Have you tried Vegan Mushrooms Spinach Alfredo yet? What are you waiting for?! If you love this recipe don't forget to share with your friends and family and, of course, head to instagram and pinterest to say hi! We always love to hear from you!
Until next time!
Hannah