Jump to recipe
Sometimes you just need that sort of "comfort food" at hand, and for me "un locrio de pica pica", a spicy rice with sardines, with some beans do the trick. If you have avocado on the side is even better! 😀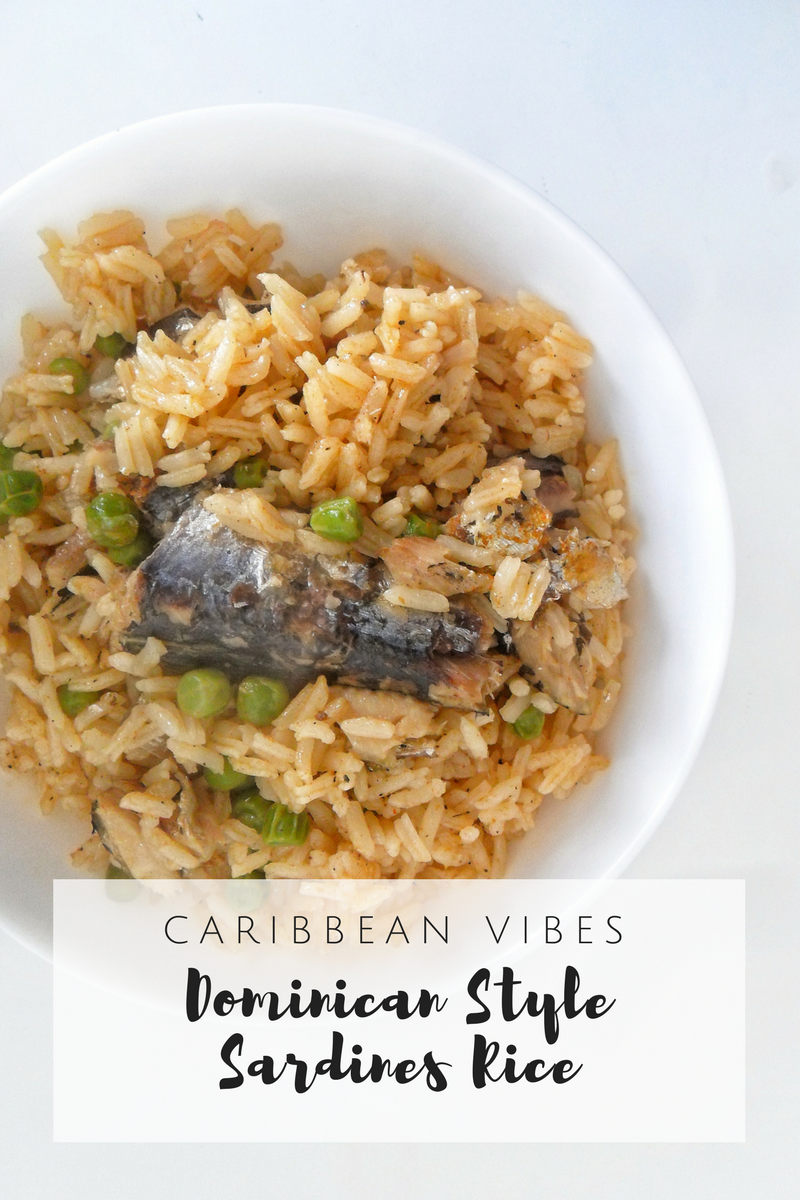 Budget friendly with great flavor
This is one humble dish and for me has always been a favorite, maybe because I have always loved strong flavors (aka sardines, herring, cod fish and weird veggies like "molondrón" (okra) lol) but also because it is highly nutritious and cheap. Win-Win all the way.
In Dominican Republic some people argue if locrio (rice mixed with either meat, fish or veggies) should be eaten with beans on the side or not (Get the recipe for Stewed Kidney Beans). I like it with beans, but also an avocado, some fresh salad and fried ripe plantains are enough Ha! Yes! We dominicans love carbs 😛
Typically in DR this rice is prepared with sardines in spicy tomato sauce (which is an horrendous spicy tomato sauce by the way) but I am not a fan of that awful tomato sauce (yuck!) so I use sardines in oil, discard the oil and add paprika for color and taste.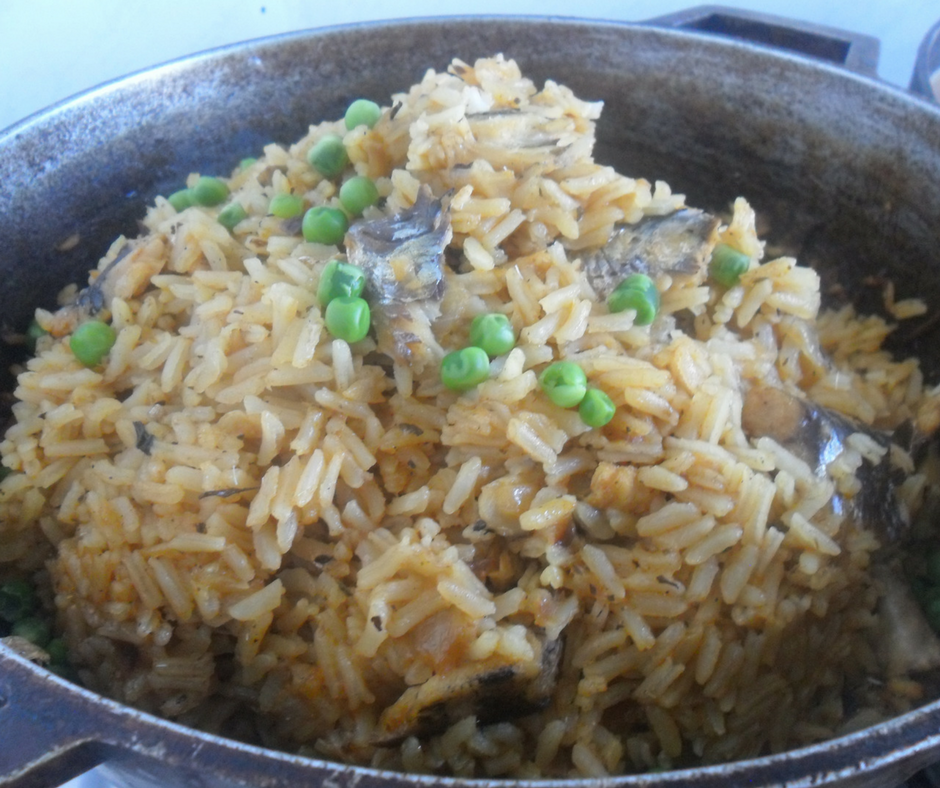 For this recipe you'll need
Notes
Make sure you check the directions on how to properly cook the rice you use at home. Some brands use same rice-water ratio, but for other brands you'll need slightly more water. I usually use 1 cup of extra water (If I use 2c rice I will add 3c water and so on)

Ingredients
2 Tbsp Olive Oil
100gr onions (2 medium onions), finely chopped
1 Red Bell Pepper, finely chopped
5 garlic cloves, minced
1 Tbsp Dried Oregano
2 Tbsp Sweet Paprika (o 1 Tbsp tomato paste)
2 Tbsp capers
10 green olives
4 cans of sardines in oil (usually they come in 100g cans)
3 cups of long grain white rice
4 cups of water
1 ½ Tbsp Red Pepper Flakes (you can add more if you like)
1/2 cup Frozen Green Peas (Petit Pois)
Salt and Pepper to Taste
Instructions
Start by cleaning the sardines. I like to remove the scales, open in half and remove the bone (I have picky eaters! but if you don't mind just discard the oil and add the sardines as they are)
Sautee the onions with the olive oil, until lightly golden and fragrant. Add the bell pepper, minced garlic, oregano and sweet paprika and let cook on medium high for 1 to 2 minutes, stirring constantly to avoid burning the garlic and spices.
Add capers, green olives, rice, water, red pepper flakes and half the sardines. Make sure the water covers completely the rice.
Cook on medium high for about 15 minutes or until the water is almost completely absorbed. Stir the rice a bit (so that the rice on the bottom is on top and vice versa) , cover with the lid, lower the heat to minimum and let cook for another 15 to 20 minutes or until the rice is cooked through.
Add the rest of the sardines and the green peas. Mix carefully and serve.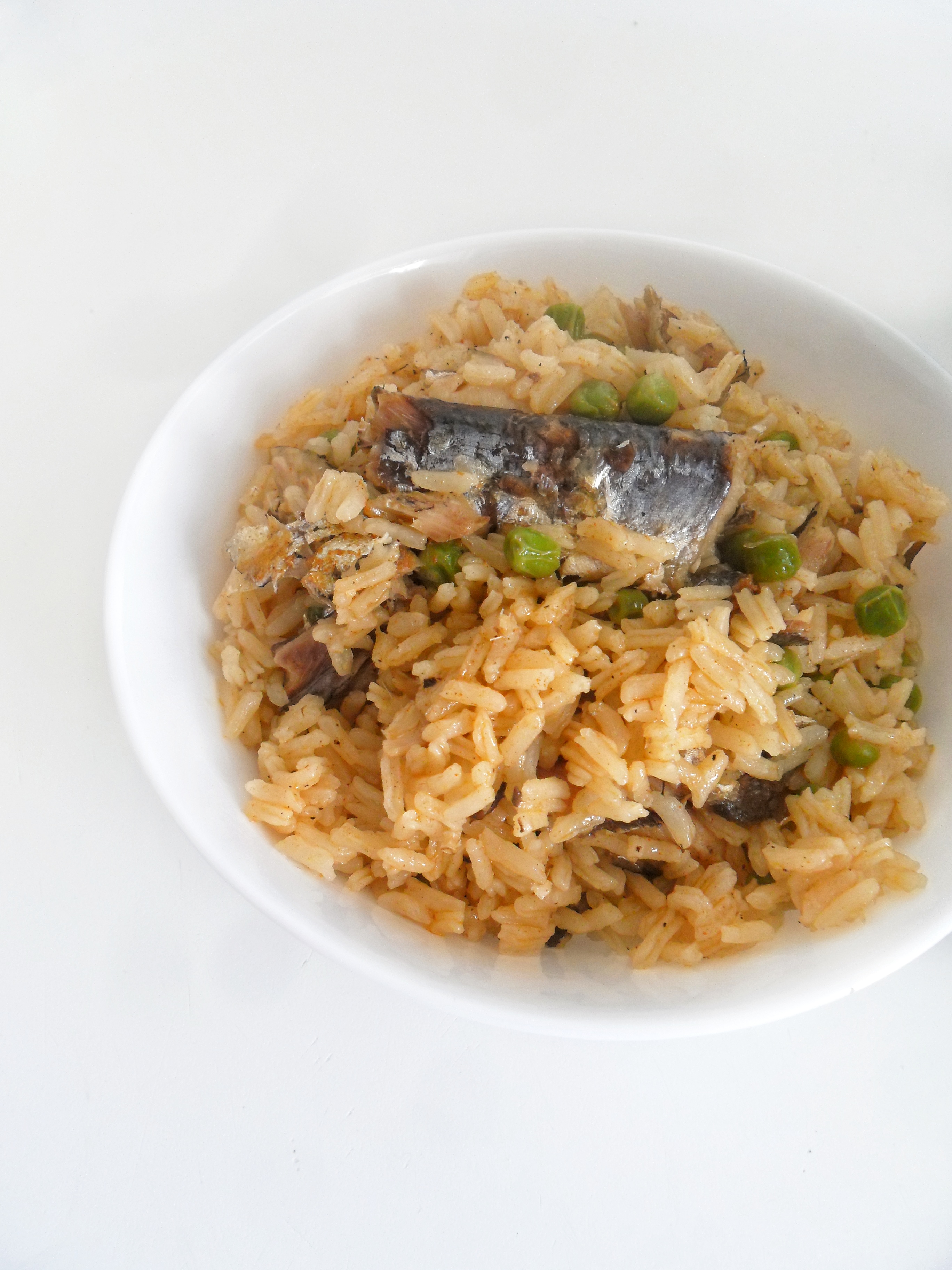 This is how we eat it at home…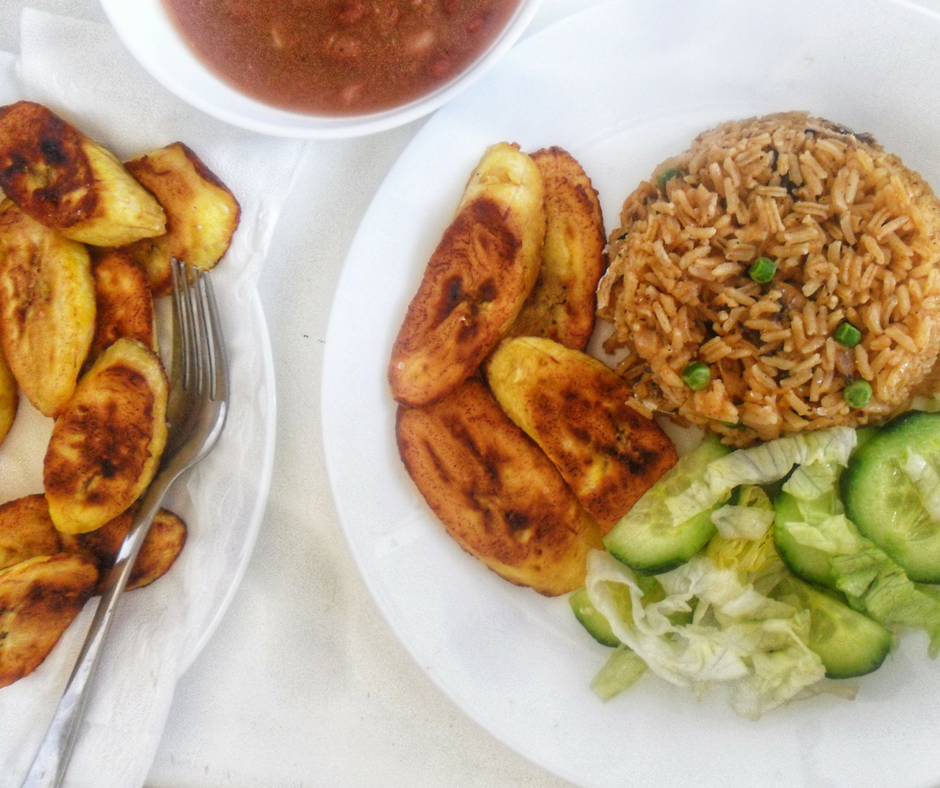 If you enjoy these recipes we share and want to see more Kasher caribbean style recipes, let us know in the comment section below and don't forget to say hi on instagram and pinterest. We always love to hear from you!
Until next time!