These dominican style Stewed Kidney Beans are the perfect companion to fresh and steamy white rice. We chose kidney beans for this particular recipe, because of their robust and earthly flavor as well as their creamy texture. Kidney beans are also full of nutrients, versatile and easily available, but you can also use small red beans, or pinto beans if that's what you have available. 
When buying kidney beans (or any beans for that matter) is important to look for dried beans that are clean and unbroken. Beans and packaging should be free from mold or insect damage, and you should avoid anything with a humid or musty odor. If you can, choose beans packaged in airtight or sealed bags to maintain freshness. Fresher beans will cook fasted and more evenly, and will have better flavor.
Store dried beans in a cool, dry place in an airtight container to maintain their quality and freshness. Cooked beans can be stored in the refrigerator for up to 4 days. If you want to keep for longer, store in an airtight container and freeze for up to 3 months. 
How to make Dominican Stewed Kidney Beans
In order to make stewed kidney beans, you'll need to first soak the beans overnight. Once the beans are all hydrated (they will almost double in size), discard the water, rinse the beans, add the beans to a pot, cover with fresh water and boil the beans on medium-high until they are fork tender. This could take somewhat between 1 hour to 2 hours. Alternatively, you can cook the beans with a pressure cooker, if you have one. 
Once the kidney beans are tender, is time to make the base of your stew with a simple but powerful trio: olive oil, minced garlic and dried oregano. This is seriously the base of any delicious stewed beans, so don't skip this important step!
One unconventional but important addition to these stewed kidney beans are bell pepper cores. If you don't do this already, hear me out and save those beauties, because they take any stewed beans to the next level. I like to clean mine from seeds and the stems, after which I keep in the freezer on an airtight container for future use. 
These are my little secrets to make dominican style stewed kidney beans. Now that you know them, there's no excuse for you to make delicious stewed beans over and over again.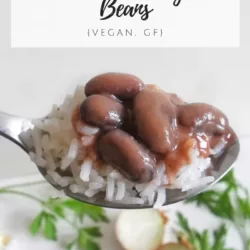 Dominican style Stewed Kidney Beans
Ingredients
1,200

gr

Kidney beans

From 1 Kg soaked overnight, drained and cooked without any salt or seasoning

30

gr

garlic cloves,

minced

3

gr

3gr dried oregano leaved (about 1 Tbsp)

Dried leaves not powder

2

Tbsp

Extra Virgin Olive Oil

30

gr

Yellow onion

about 1 medium

20

gr

Red bell pepper

1

Bell pepper core, seedless

1/2

Tbsp

Sweet Paprika

(optional)

Fresh cilantro

if you can't find it, feel free to use fresh flat-leaf parsley

Salt to taste
Instructions
Add Olive oil to a pot and cook minced garlic and oregano on low, until fragrant. This will take 2-3 minutes.

Add the cooked kidney beans, onion (leave it whole), bell pepper, sweet paprika powder and parsley. Simmer on medium low for about 30 min or until the vegetables are soft.

Take out the onion, bell pepper and parsley, with approximately 1/2 cup of the liquid and beans, and blend until smooth.

Strain the vegetable mixture you just blended over the rest of the beans. Add salt (about 1/3 to 1/2 Tbsp for this amount of beans would be enough).

Continue to cook the beans for a few more minutes until it thickens to your liking (keep in mind they will thicken even more when cool)
Notes
-  1 Kg of dried kidney beans, will yield approximately 1200 gr of cooked beans. You can use it all for this recipe.