Jump to recipe
In this recipe for Caribbean Style Stewed Pigeon Peas we use canned pigeon peas to make it easier and more convenient.  Continue reading to learn how to make this easy version of Caribbean Style Stewed Pigeon Peas.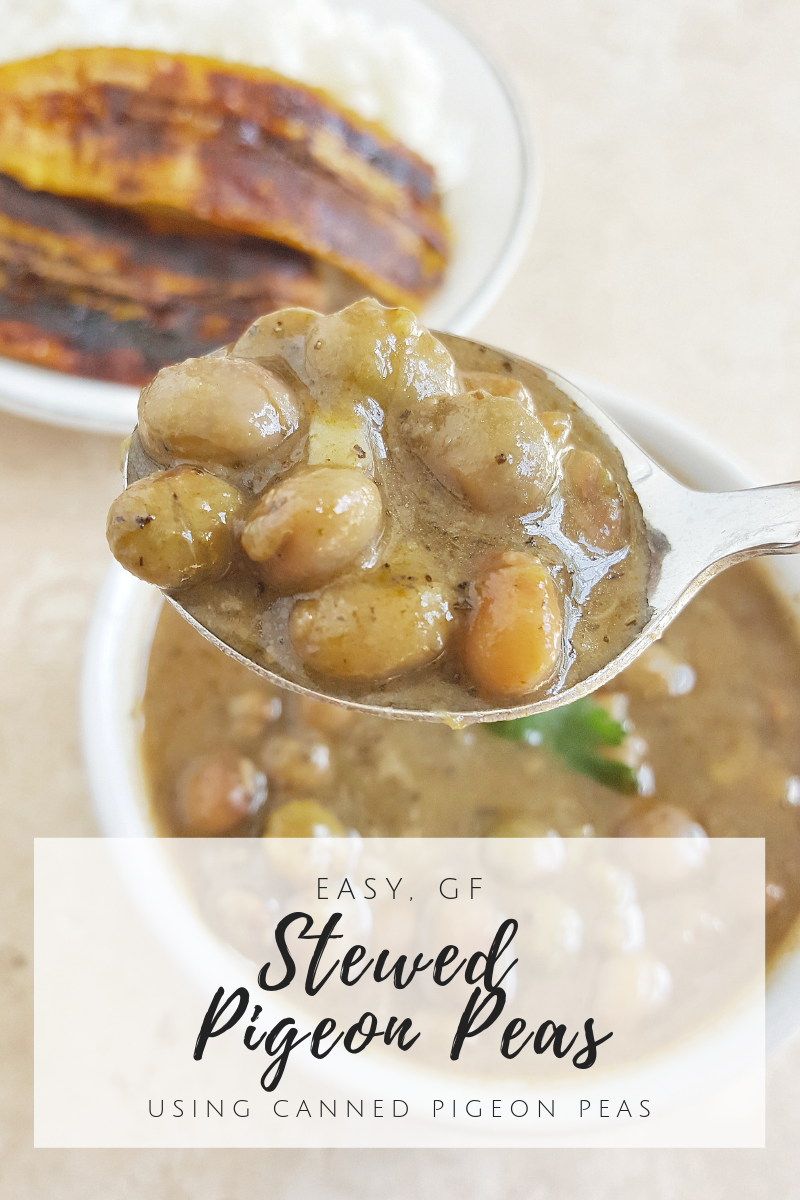 During my childhood I could clearly see 3 categories of people in the Dominican Republic:
The stewed beans lovers, like me and my grandpa;
The pigeon peas lovers, like my sister and my mom; and
The "undecided", who loved pretty much every legume on earth; including split peas, and lentils that I used to hate at that time.
The distinction of what to serve with each was also super evident for me. Stewed Beans was served with rice, meat and often tostones. And, Pigeon Peas was served with fish and pan-fried ripe yellow plantains. When you saw half of the combo cooking in the kitchen, you knew what what coming (and if it was pigeon peas, my sister was happy!)
Now, what happen when you grow up…
You may also like Dominican Style Spicy Sardines Rice & Dominican Style Stewed Kidney Beans
Now, what happens when you grow up is that you move around and travel; and more often than not, you are placed where you can't find all those fresh ingredients that your grandma and mom used to cook with, and that is where canned stuff comes in.
Canned products and I…. It is a love-hate relationship. I will always prefer fresh ingredients; but when your childhood memories kick in you cannot miss the opportunity to cook something good! It is literally a life-saver!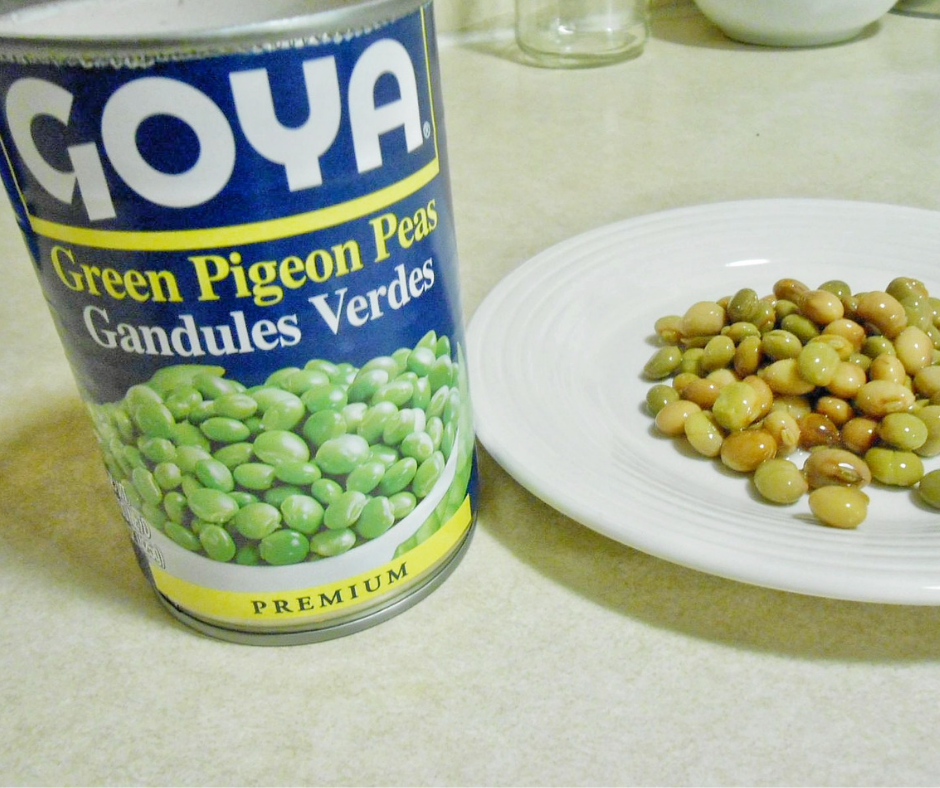 Obviously, you won't find canned Pigeon Peas in every corner of the planet, but I was pleasantly surprised when I found many beloved caribbean ingredients, including Goya canned Pigeon Peas in a little shop in The Netherlands (there are many!) and I could also found it on a few stands during the weekly farmer's market. So, look around specially in little shops; you can be surprised.
Super basic ingredients
In order to make this recipe for Caribbean Style Stewed Pigeon Peas, you'll need just a few ingredients including garlic and dried oregano (flakes preferred, not powder). Also, you'll need fresh cilantro (coriander or chinese parsley), but don't freak out! If you can't found it, use fresh parsley instead! Finally, you'll need the basics of the basics: some onion, bell pepper, tomato paste (which is optional) and salt to taste. If you need clarification about what exactly is Cilantro, check out this post.
As I told you in the very beginning, this is a "simplified" (maybe "over-simplified") version of the Stewed Pigeon Peas, because back in the island you'll also need to add some pumpkin to it. But, as I always say, you gotta work with what you have.
So, they may not taste exactly the same, but as long as you have the garlic and oregano paste, your Pigeon Peas will taste delicious.
The Oregano-Garlic duo is super important in this recipe! To make it, just place oregano, fresh garlic and a pinch of salt into a pilón-mortar and pestle, and make into a paste (Beware: It can take a few minutes!)
Alternatively, if you don't have a mortar and pestle, you could use a garlic press (or garlic crusher – I use one from Ikea that is awesome!) and cook the tiny garlic particles together with the oregano in olive oil, on a very low flame, until everything is fragrant.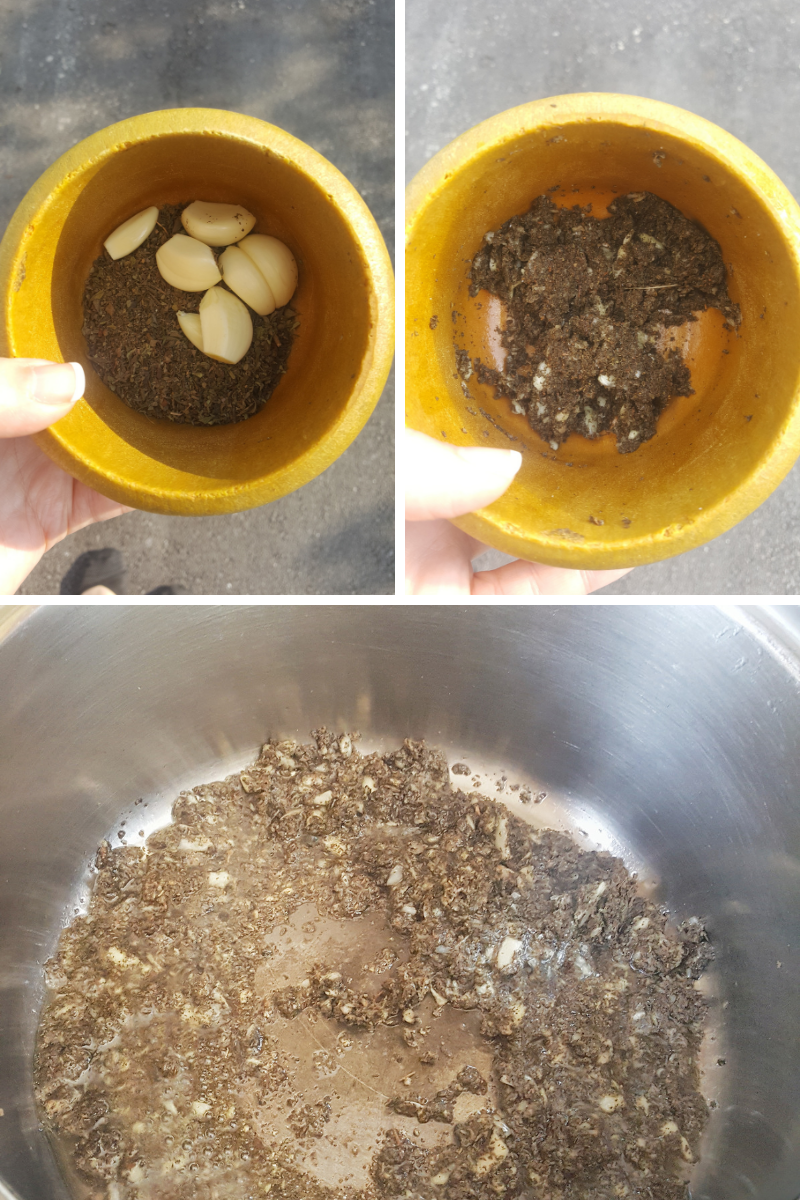 How to Make Stewed Pigeon Peas
Once the garlic-oregano paste is all fragrant, you'll add your canned pigeon peas (if you are hesitant to add the water in the can, just discard and add the same amount of filtered water), and the rest of the ingredients (except for the salt).
You may need to add a little more water to completely cover your ingredients in the pot. Let that cook with the lid on, for 20 minutes on medium low.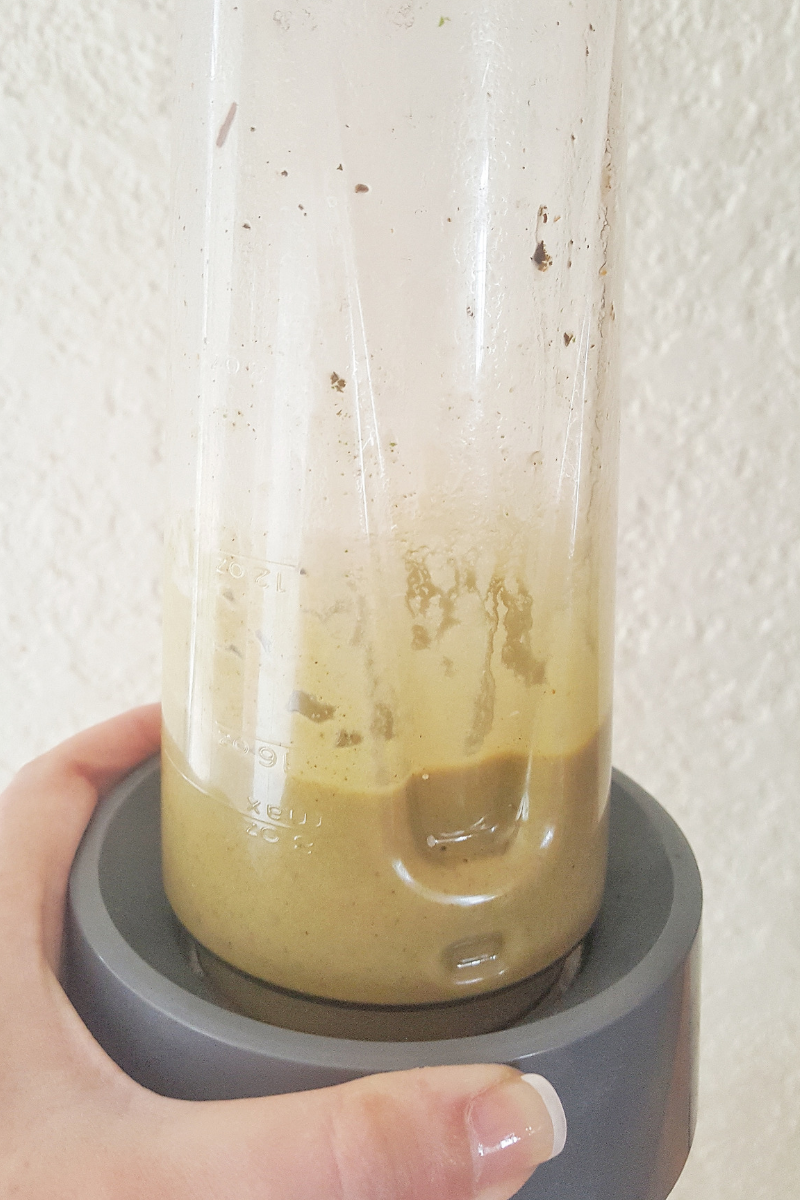 After 20 minutes, I like to take a soup ladle full of pigeon peas and add that to a blender, together with the onion, bell pepper and cilantro (fresh coriander) and blend that up.
Then, add it back to the pot and cook for a few more minutes. This will make the Pigeon Peas thicker and more stew-like.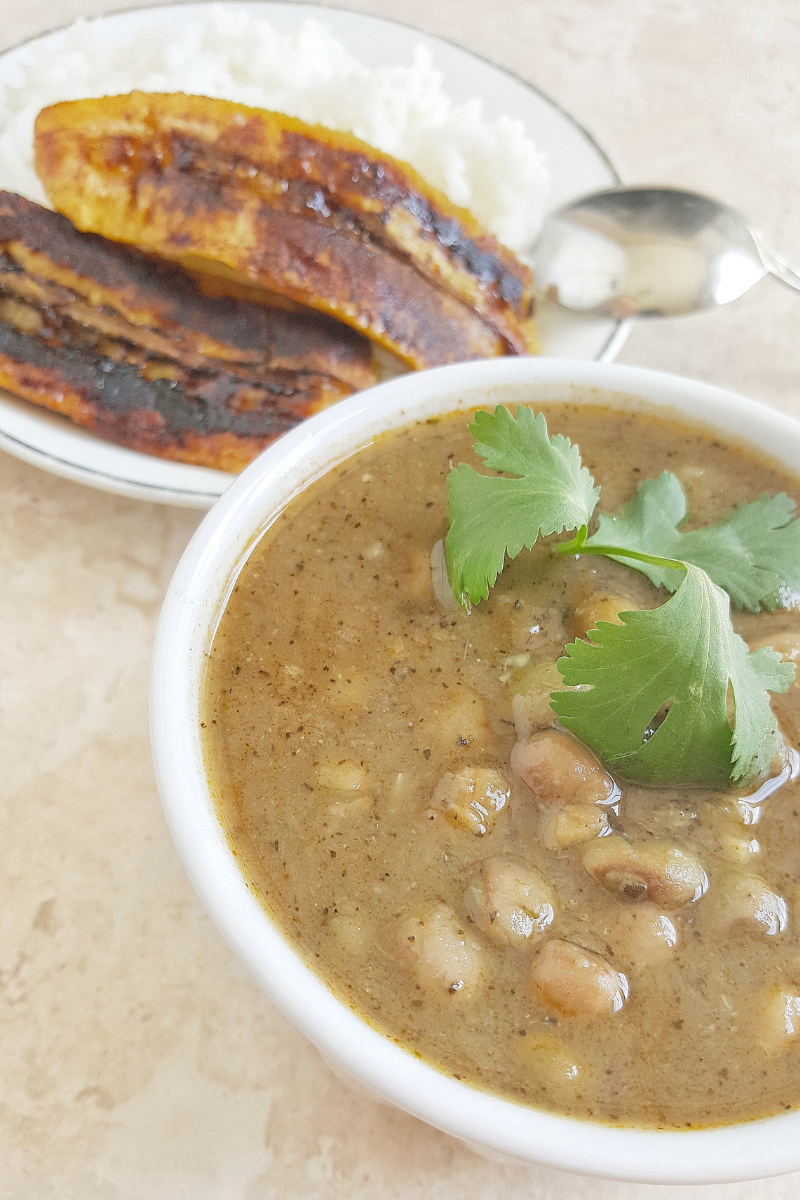 Caribbean Style Stewed Pigeon Peas is often served with white rice, some sort of fish (either bacalao – cod fish, deep fried pargo, or fish in coconut sauce) and pan-fried ripe yellow plantains.
Have you make this recipe or any other from the blog? Use the tag #kasheribbean to share on social media and, don't forget to follow on instagram and pinterest to keep up with our easy recipes from us and the blogosphere!

Ingredients
1200gr Pigeon Peas, canned
15ml (1 Tbsp) Extra Virgin Olive Oil (I used Badia)
20grs fresh garlic
10grs dried oregano
50grs yellow onion, cut in half
1 Green Bell Pepper, cut in half
10grs Fresh Cilantro (also known as Coriander and Chinese Parsley)
Salt to taste
Instructions
In your mortar and pestle, crush garlic and dried oregano with a pinch of salt, into a paste.
Add the olive oil in the pot and cook the garlic-oregano paste on low flame until fragrant.
Add the canned pigeon peas, and the rest of the ingredients, except for the salt. Cook on medium with the lid on for 20 minutes.
Remove the lid, with a soup ladle take one full spoon of pigeon peas and add to a blended. Also add the cooked onion, bell pepper and cilantro and blend into a fine paste (you may add a little liquid to make it smoother)
Add the thickened mix you just made back to the pot and let it cook for a few more minutes, . Rectify the salt.
Serve and enjoy!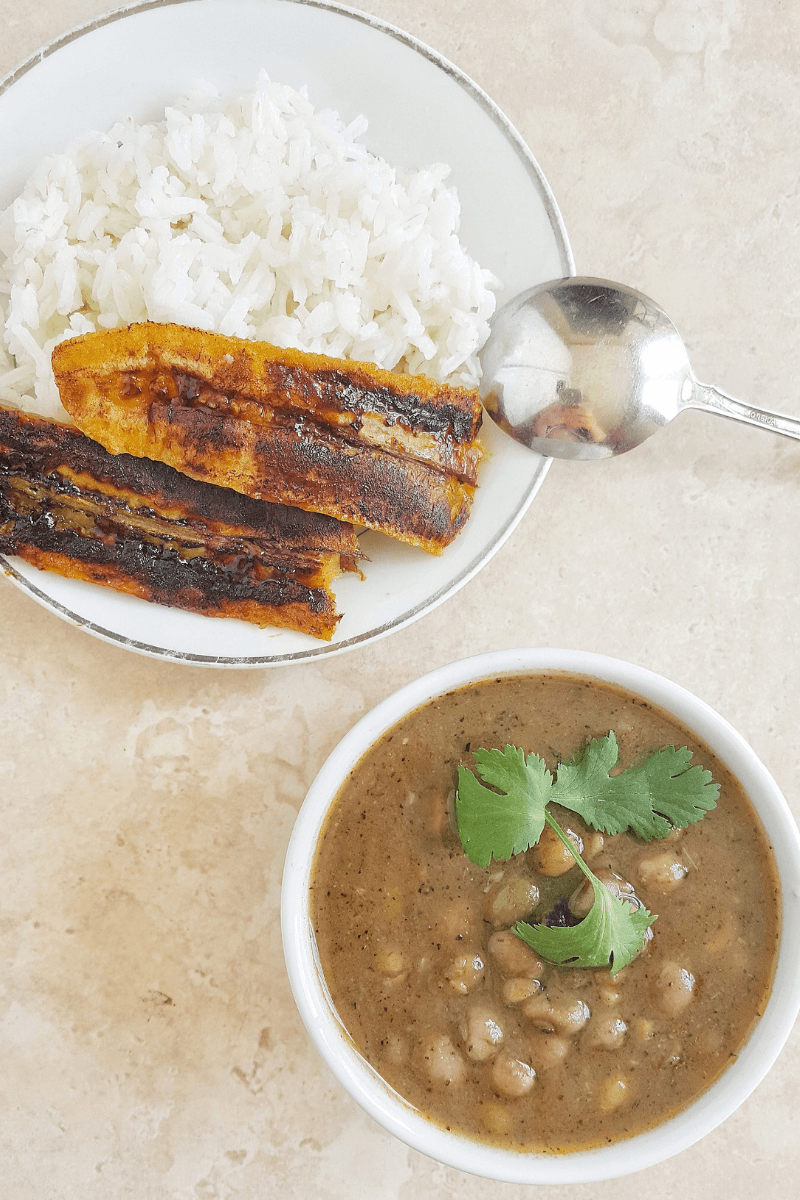 No matter how far away you are, you now can make this delicious Caribbean Style Stewed Pigeon Peas and feel like home. What else will you serve this stewed pigeon peas with? Let us know in the comments!
Until next time! 😉