Jump to recipe
A few weeks have passed without posting as I was feeling a little bit "weird" (don't even know how to describe my own emotions) but hopefully those days are coming to an end, so today, I am coming out of my shell and I want to share with you a yummy casserole I prepared for shabbath.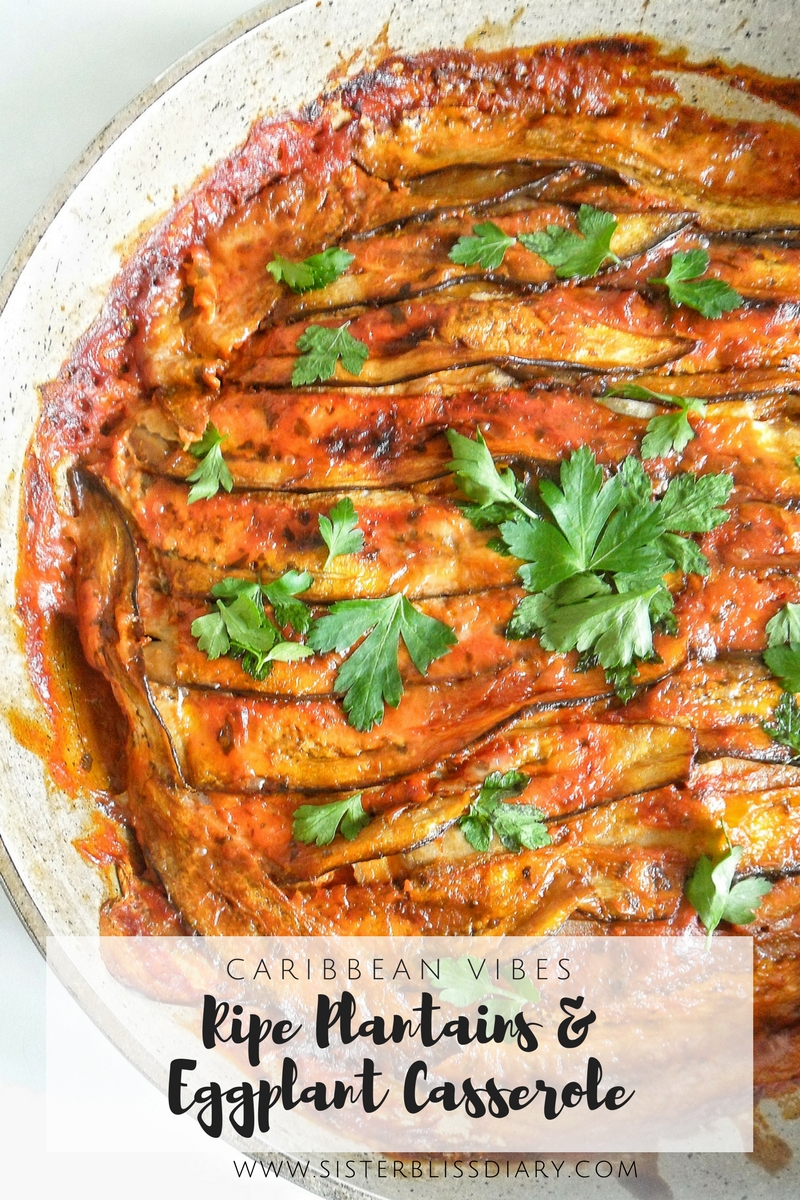 UPDATE: Photos for this posts have been updated so they are not "ugly" anymore, but still I am letting the blog post intact in terms of the writing, except for an update for what you can use instead of ripe plantains. Thank you to all of you who reached out to see how I am doing. I am doing much better now 🙂 
When things go wrong
This is not the best picture on earth [Photos updated March, 9] but I will go out of my comfort zone here by publishing this far from perfect post. I want to share with you my passion for cooking even though I am not "perfect", I don't have the perfect tools and I don't take the perfect pictures, and sometimes things simply go wrong.
For some reason I lost all the step by step and final pictures for this recipe and to be honest, I feel like losing all motivation to continue, BUT, I have decided to publish no matter what, because I am not going to let any of that refrain me from sharing my recipes with you, even though it is so hard at times.
Dealing with my emotions
Yesterday I got to the point where I just needed to vent and I opened up about my emotional struggles and depression with a dear friend. I have being ignoring my feelings for months, and those feelings mixed with a "perfectionism syndrome" let me totally paralyzed and full of anxiety. And, all those feelings doubled when I realized all of the pictures for this recipe were lost.
Thanks to her words and the support of my family and my dearest friends I finally opened my eyes and understood I don't have to feel guilty when I feel sad, and I don't have to fear accepting my own emotions. I understand that it is OK to feel sad sometimes, it is OK to be vulnerable and it is OK to not be where you want to be yet as long as you don't let that stop you from become a better version of yourself. After all, we are humans, we are all on a journey. We are suggested to change. We evolve.
(And, this is the very moment is when I think: "Why are you writing all this for all to read?" but I am going to continue… I want to share my recipes, and I also want to be me and show you the person, the human being, behind those recipes…)

What is happiness for real?
I realize that happiness doesn't necessarily equals a smiley face all of the time and that you can be happy and grateful and still don't feel "euphoric" or "elated"… It is so unfortunate that nowadays a lot of people think they need to be in a constant euphoric state and if you don't feel that way you are immediately labeled as "ungrateful" and "unhappy".
No wonders why many people think that this is how happiness "feels". I am not doing the same mistake anymore. Even when I don't feel euphoric I make the decision to be happy everyday, and grateful for everything that I've got.
Today I appreciate more my friends who ask me: "How are you feeling?" and "what can I do for you?". It really means a lot to have such friends and it is a relief to know that you all have my back. Thank you so much for your support. You know who you are.
…
Phew! That was long!
… Now that this is out of my chest, let's go to the beautiful-dish-with-ugly-picture recipe, inspired by the flavors of Dominican Republic. You won't believe how easy it is! but it is not just easy, it is also free from gluten, dairy, nuts, eggs or grains!
The plantains – Eggplant Combo
To make this dish you will need a mandoline or at least a potato peeler in order to make the slices super thin.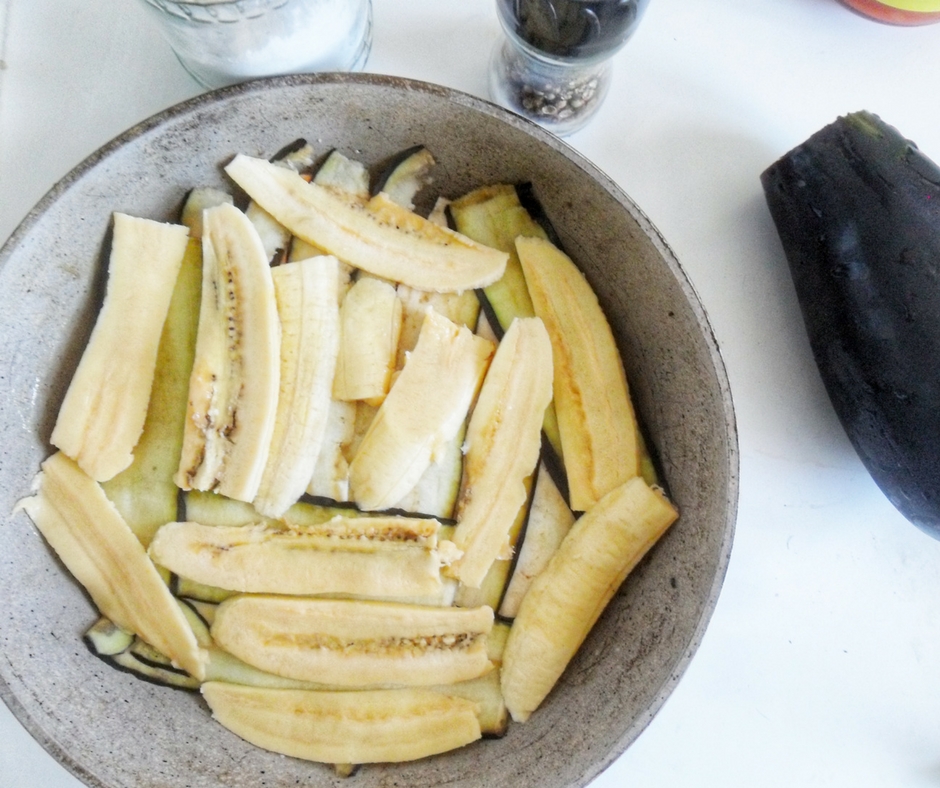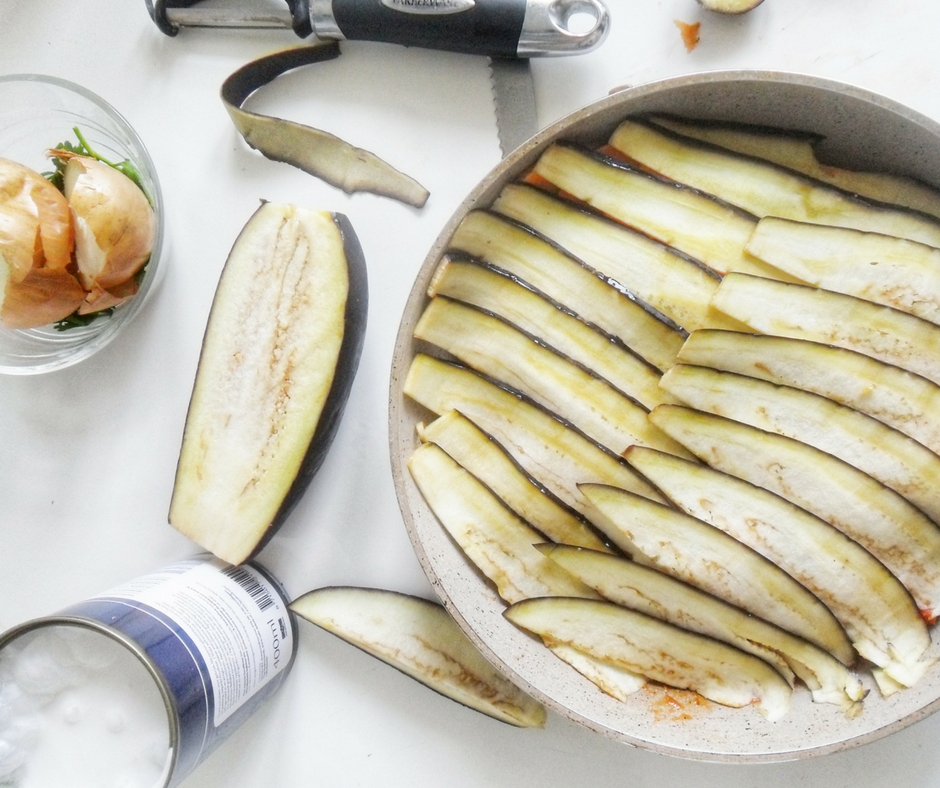 UPDATE: Alternatively, you can use sweet potato instead of ripe plantains (I know it may be difficult to find in some places and can get a bit pricey). The flavor will be still very similar because the sweet potatoes are also naturally sweet.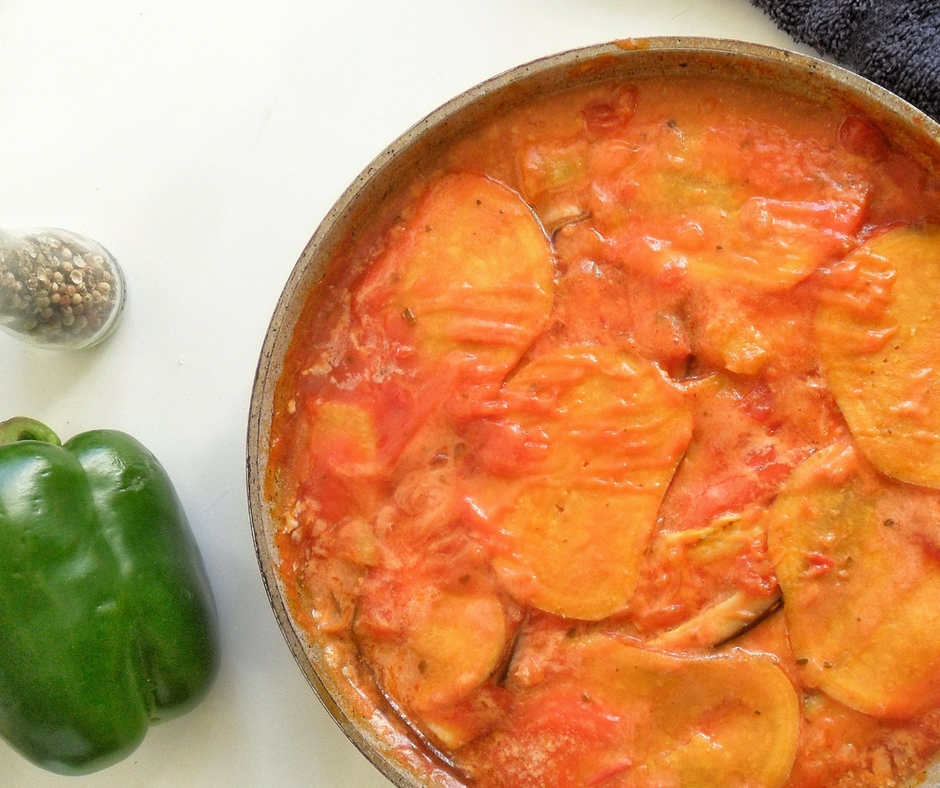 For this casserole you'll need:
Notes
- As you know, eggplants oxidize when cooked. If it really bothers you, drizzle with a little bit of sauce and highlight with a touch of green here and there before serving 😉
- Sometimes the plantains are yellow on the outside but are still a bit green.  You want them to be ripe, with black spots on the peel. They are perfect when the peel come off easily when pulling with your hands.
- I make my tomato sauce very simple for this dish. Just 1000gr canned tomatoes, 1/2-1 tablespoons of ground bay leaves, depending on your liking, salt, pepper to taste and a pinch of sugar. Cook for 20 minutes on medium low and it's done.

Ingredients
4 Ripe Plantains (the yellow ones), thinly sliced
4 eggplants, thinly sliced
250 ml Tomato Sauce (I use homemade but you can easily use store-bought)
150 ml Full Fat Coconut Milk (1 can)
Salt & Pepper to taste
Instructions
Preheat your oven to 220°C (425°F)
Slice plantains and eggplants very thin. You may find a mandoline very useful for this, but, if you don't have one you can use a potato peeler. It is important you slice both very thinly because you want eggplant and plantains to cook well.
Add a 1/4 cup sauce at the bottom of your baking dish and start placing eggplant and plantains, tomato sauce and coconut milk, adding salt and pepper on top of each layer of eggplant and plantains.
Finish with some sauce and coconut milk on top.
Decrease your oven temperature to 180°C (350°F), place the casserole in the oven and bake for 30 minutes or until the plantains are cooked through.
Let it rest for a few minutes to set, before serving.
Let us know when you try this humble recipe. Hopefully you'll try it soon despite the ugly picture, lol. You won't be disappointed. If you try it, don't forget to tag us #kasheribbean on instagram. We will love to see your pictures. And, don't forget to get social on instagram and pinterest.
Until next time!
Hannah