Jump to recipe
Hello there! Today, I am sharing with you the most amazing Spicy Roasted Potatoes. Super easy to make and super flavorful. Spicy Roasted Potatoes are the best side dish for any occasion and team up really well with any dip or even salad.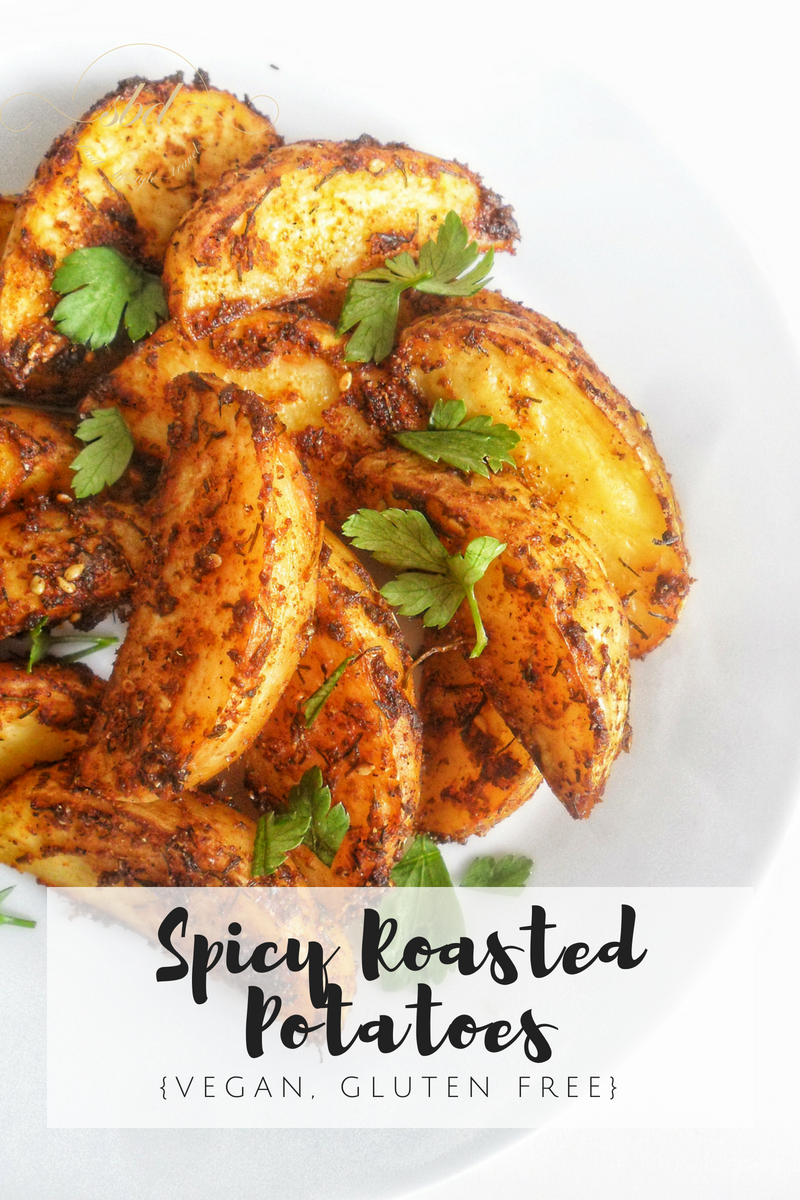 Let me start by saying, I LOVE Roasted Potatoes! They are so versatile and can be paired with pretty much anything you please, and even though, potatoes have to deal with some criticism for being "high" in carbs, in the end they are not so different than sweet potatoes!
Let me continue by saying that even though I am not a person who loves (or even can eat) spicy food, this spice blend bring the whole potato game to a whole new level!
Check out other side dishes from the blog: Stuffed Onions with Kale & Onions,  Moroccan Carrot Salad & Ripe Plantains and Eggplant Casserole.
I went to a Morrocan shop
The other day, I went to a Morocco shop and while looking for za'atar, I found a shawarma blend.
This blend has chili powder, onion powder, garlic powder, all spice, oregano, cinnamon, nutmeg and cloves. My first thought was using it for some chicken but a few days later, it happened…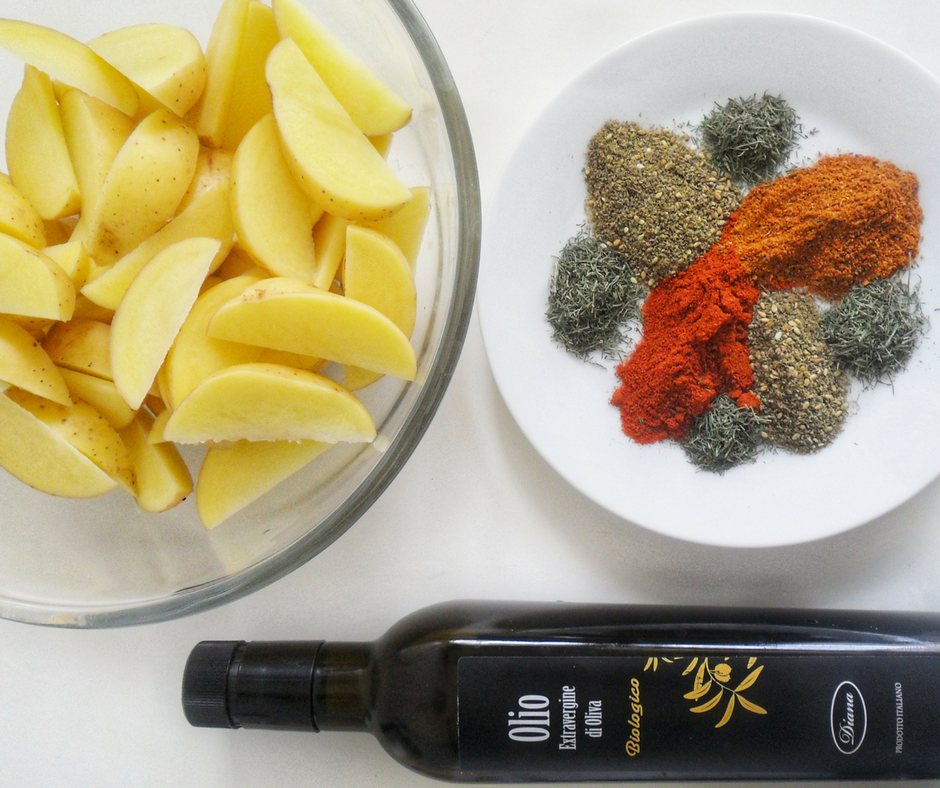 We already pointed out, I am a fan of potatoes specially those with Za'atar (a middle eastern blend made of sumac, thyme, oregano, lemon zest and roasted sesame seeds). I usually just sprinkle the za'atar over the potatoes, drizzle with a little olive oil and salt; and to the oven they go.
But, this time, when I was about to enter the potatoes in the oven, it hit me: why not to add shawarma blend to the potatoes? So, I did. It was so incredibly good, the next day I tried again to take notes and take some pics 😛 Between those two days I certainly had a potato overdose 🙂 but it was oh-so-worthy!
The Spice Blend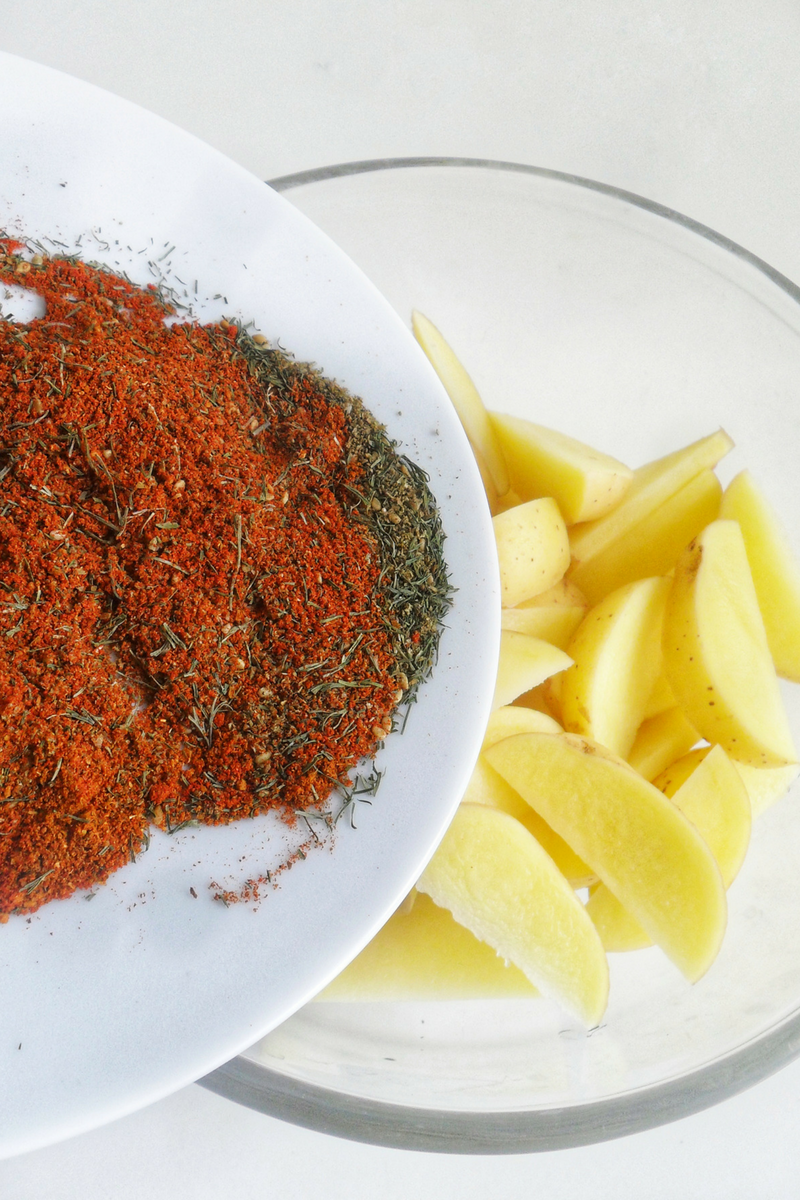 To make these spicy roasted potatoes I used two blends: za'atar and shawarma mix, but don't panic; you can always make those blends at home with the right ingredients.
As I mentioned before, za'atar is a delicious mix of sumac, thyme, oregano, lemon zest and toasted sesame seeds (at least the one I got from Israel). I haven't personally made this myself as I haven't had the opportunity to find sumac but, you can easily find za'atar seasoning already prepared in middle eastern shops or in the ethnic section of some supermarkets.
The shawarma mix, is easier to make as the ingredients are more common. I found this recipe for shawarma mix with similar ingredients of the blend I bought, although it doesn't contain garlic or onion powders, but you get the idea.
I also added some paprika for color sake, some dill weed I dried myself, just because 😉 and, of course, some salt.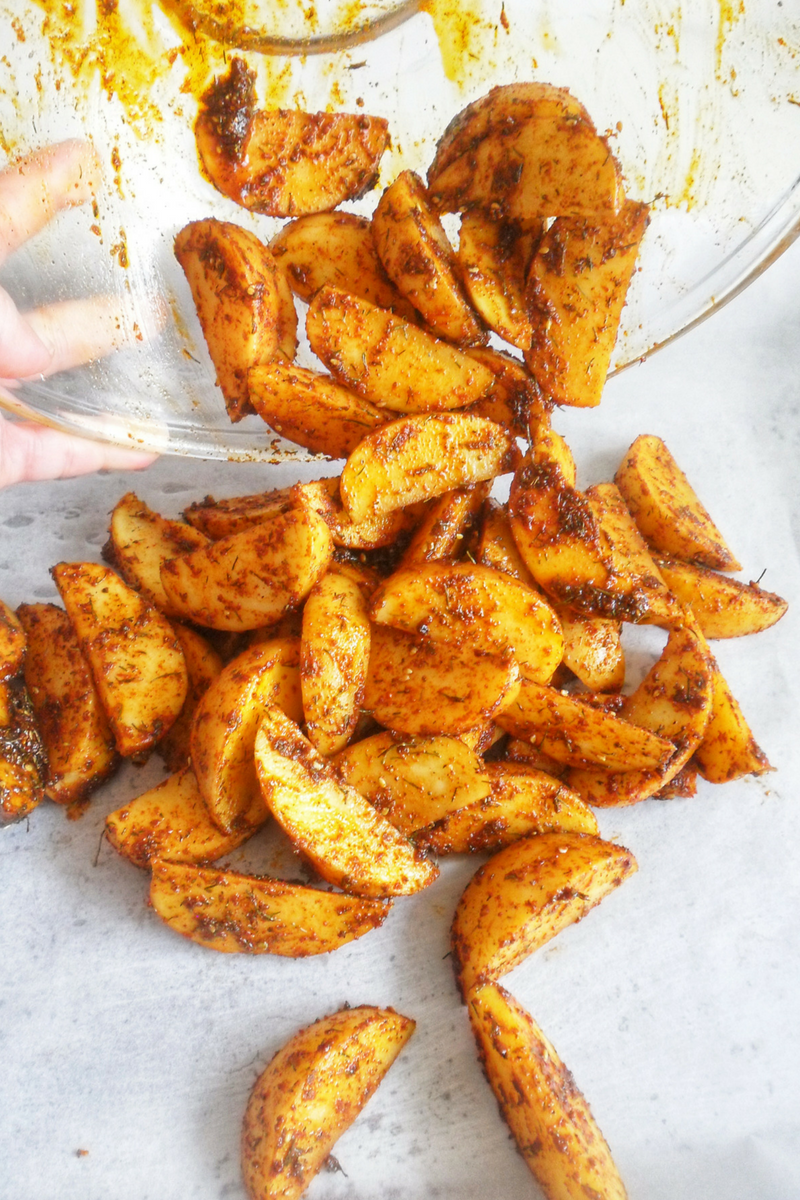 What potatoes to use?
To be honest, I don't know much about potatoes. The most I know is that I want these spicy roasted potatoes to hold their shape well, be crusty on the outside (this is one of the reasons I leave the skin on) and soft (but not mushy) on the inside.
For those reasons mentioned above, I usually go for Yukon potatoes for  roasting or I will just pick up any kind of potato as long as is not russet (because I find those too starchy, and the final texture is too mushy, so not the best for roasting).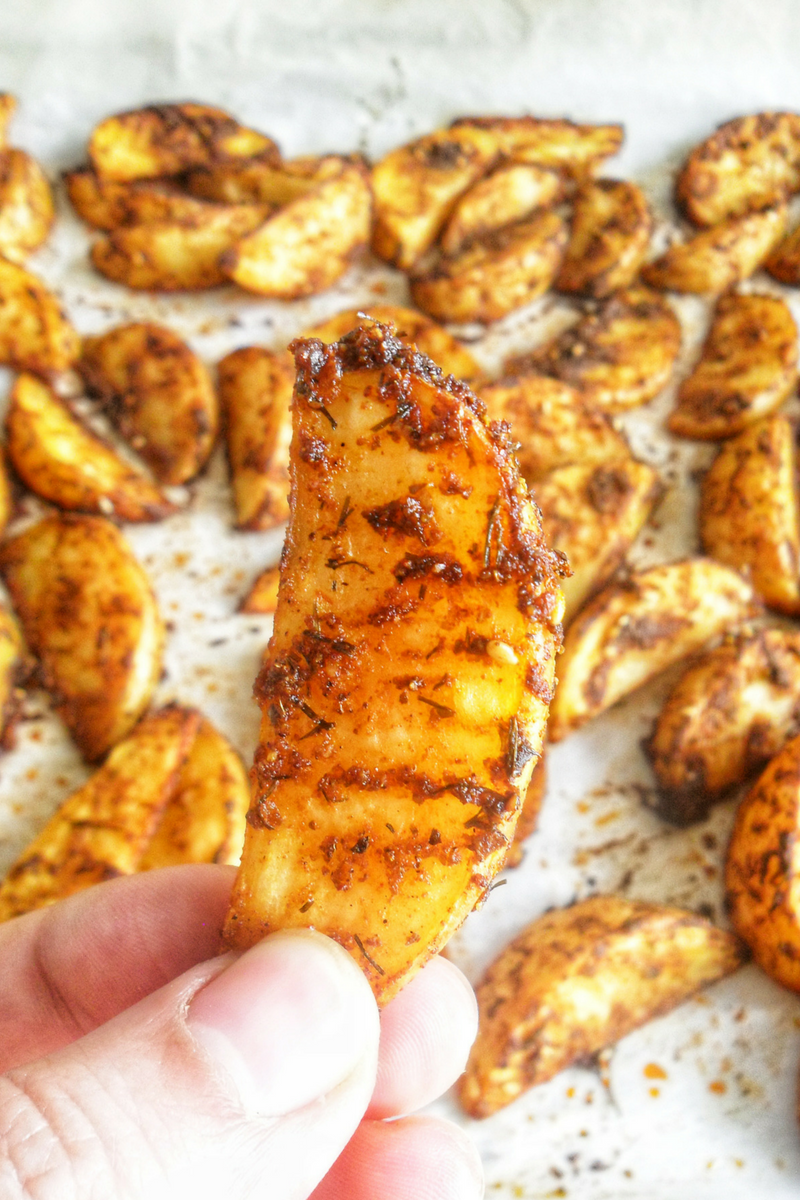 Once you've got your potatoes, you know how it goes: mix in some spices and herbs, add some olive oil and bake.
I added a great deal of spices, so the potatoes ended up with spice "clusters" all over so to speak, but it was awesome because they were like little bombs of flavor in your mouth. So good.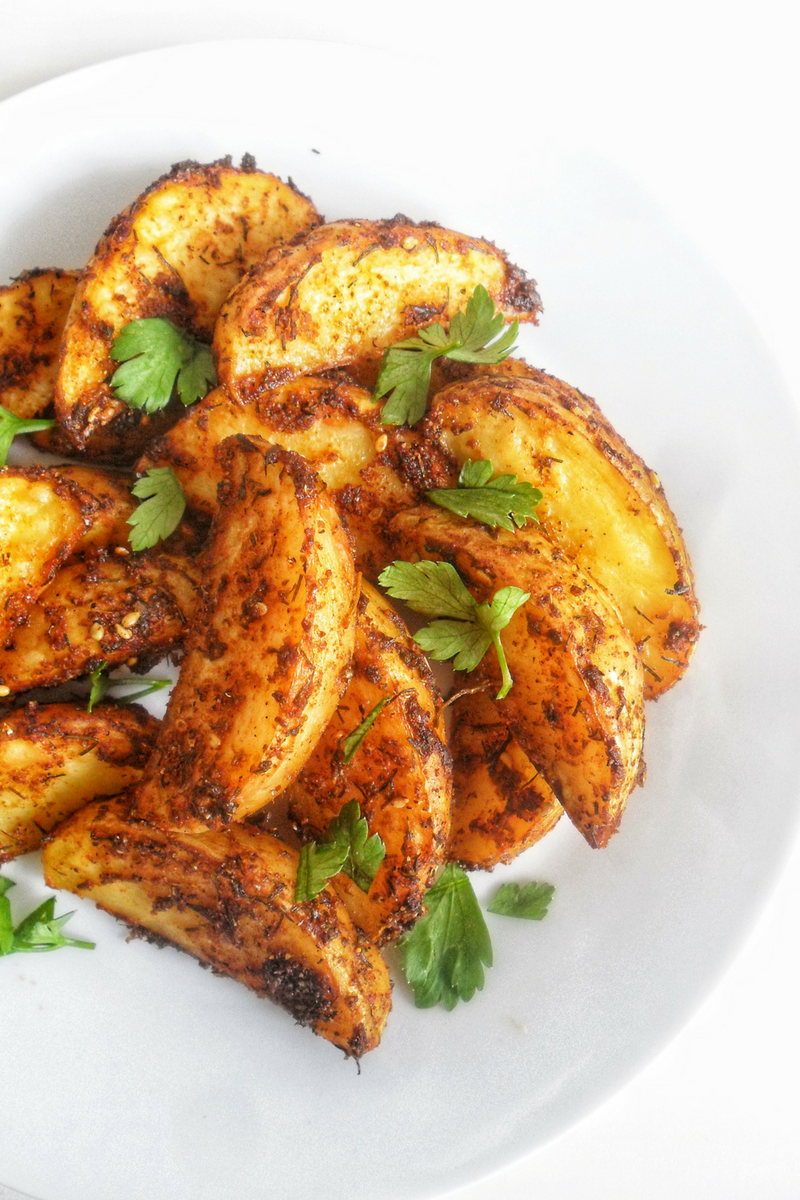 Ingredients
1 Kg Yukon potatoes
1 Tbsp Za'atar
1 Tbsp Shawarma Mix
1 Tbsp Paprika
1 Tbsp Dill Weed
1/2 tsp Salt
4 Tbsp Extra Virgin Olive Oil
Instructions
Clean the potatoes with a brush to remove any dirt. Cut in wedges.
Add in the spices, dill and the olive oil.
Mix well with your hands.
Bake in a preheated oven at 220°C (400°F) for 30 min (time may vary slightly depending on how thick the potatoes wedges are)
Enjoy!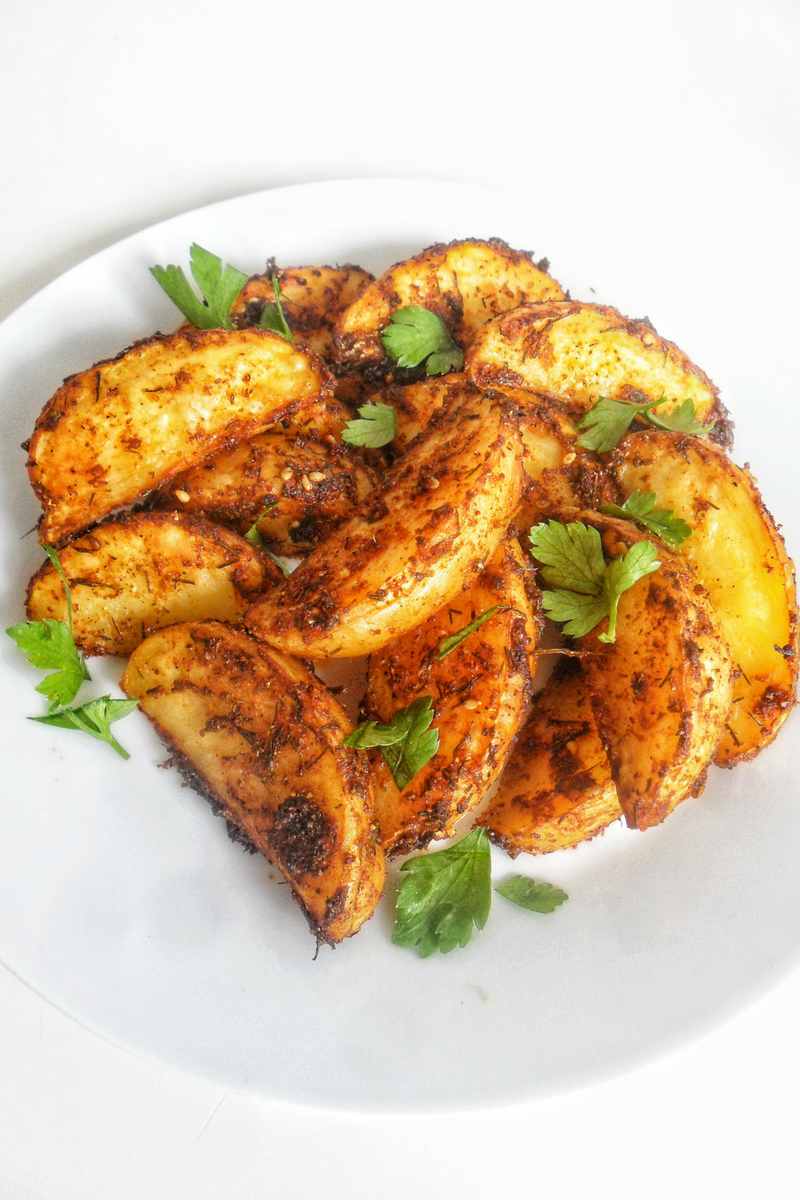 Do you love recipes like this? Let us know across social media! We are on instagram and pinterest sharing our favorite quick and easy recipes!. Don't be shy and also share with your friends and family. We really appreciate it!
Until next time!