Jump to recipe
Today we are making Stuffed Peppers!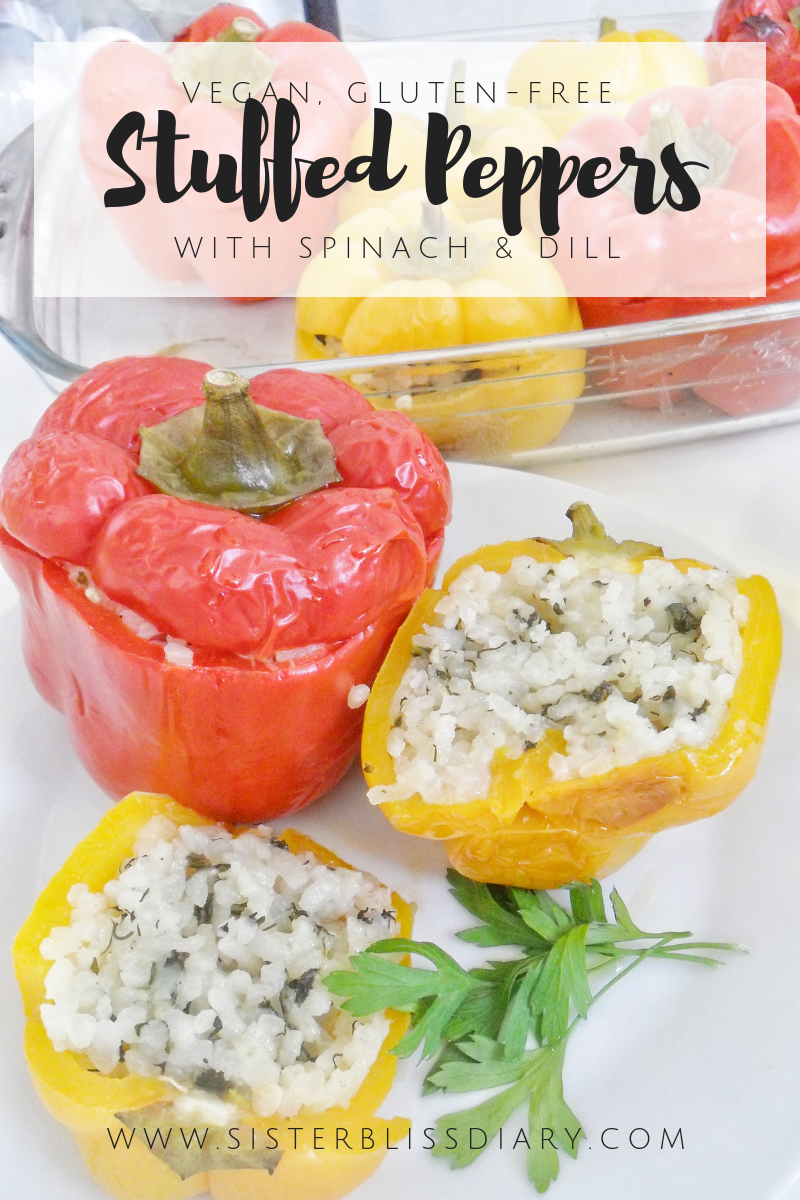 I tried Stuffed Peppers and I failed miserably
Somewhere in May, one random ereb shabbath, my creative energy was not flowing AT ALL. After a while I decided I was going to make Vegan Stuffed Peppers for shabbath, since I had what I needed: Peppers and rice. Right? Wrong!!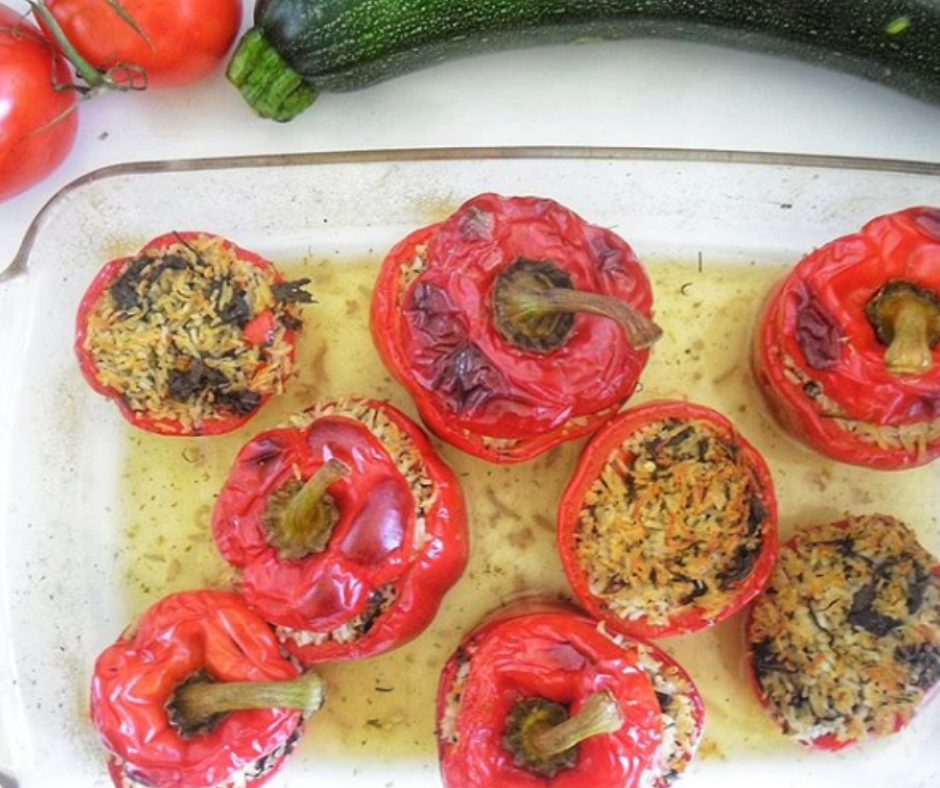 Usually, when people realize that I "can cook" they automatically assume all I do is good and perfect from the first time, but the truth is good food is a beautiful leaning process. Some get it easily the first time, and other after a few tries. You are now a witness; the first time I made stuffed peppers it was for sure a total disaster. For some reason (maybe all those 30 seconds insta videos are guilty lol) I believed stuffed peppers was about just peppers and any rice, so I tried with basmati and I failed miserably.  

I love Basmati rice. It has beautiful aroma, cooks easily, fluffy and separate which makes it perfect for salads and pilafs, but definitely not so good for stuffed peppers. As you can see in the picture above, the rice looks dry (it was actually crispy) and it was not holding together, as it should when making stuffed peppers, so the perfect rice to make stuffed peppers (and also dolmas, stuffed cabbage, and more) is risotto rice. 

Want more risotto rice recipes? Check out our Vegan Beer & Almonds Risotto 
The Basics of Stuffed Peppers
The good thing about Stuffed Peppers is that, apart from the rice, there is really not "basics"…. Well, maybe there are a few "must", and they are: 
Add salt and pepper to the interior of your Peppers: this can be easily forgotten but it is so important! Just sprinkle a little salt in the interior of each pepper and you are good to go. 


Always keep your Pepper tops!: They would act like lids and will prevent a crust on the top of the rice . 


Cut a little bit of the bottom, so the peppers stand on the baking dish.


Pack the rice tightly in each cavity. If you don't want to serve too much rice, use smaller peppers. 


Place the stuffed peppers tightly in the baking dish. This will help the peppers hold their shape while baking.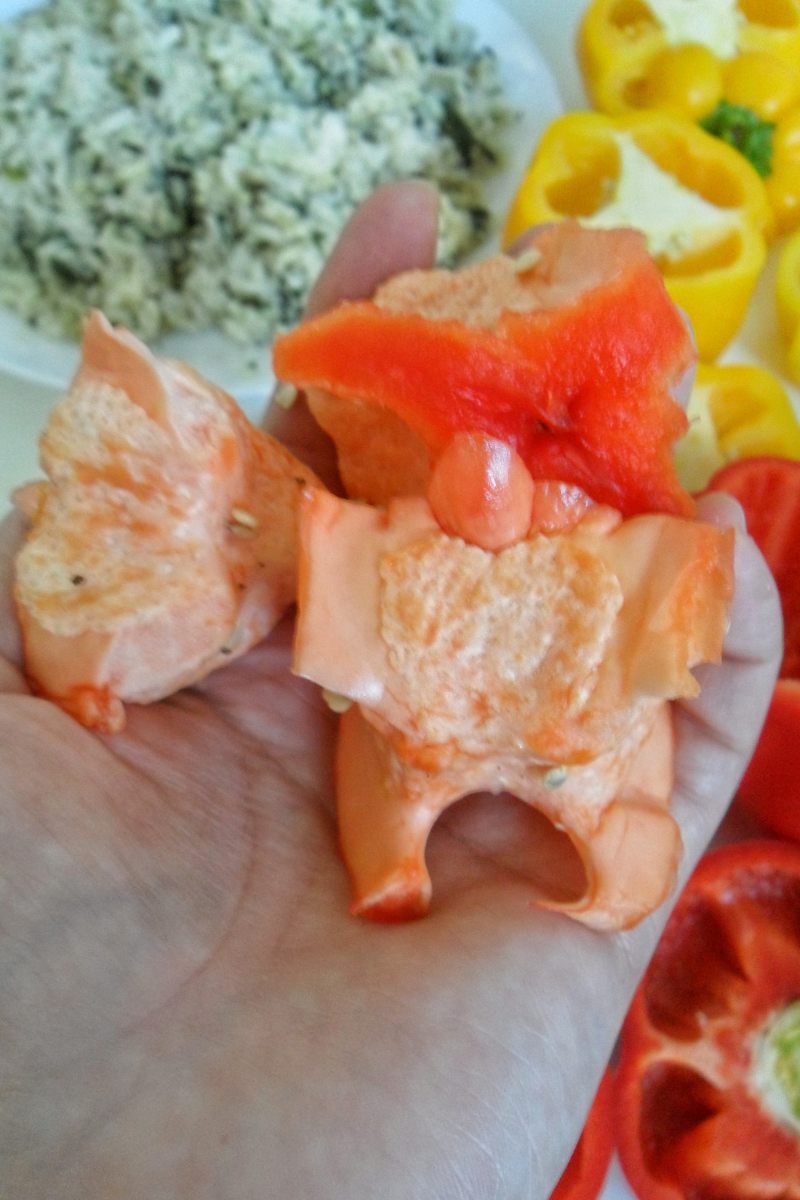 Bonus Tip! Don't throw away the peppers core! Remove the seeds and store in the freezer on resealable bags. They give amazing flavor and aroma to any stew, specially stewed kidney beans. Nom nom!  
How to Make Stuffed Peppers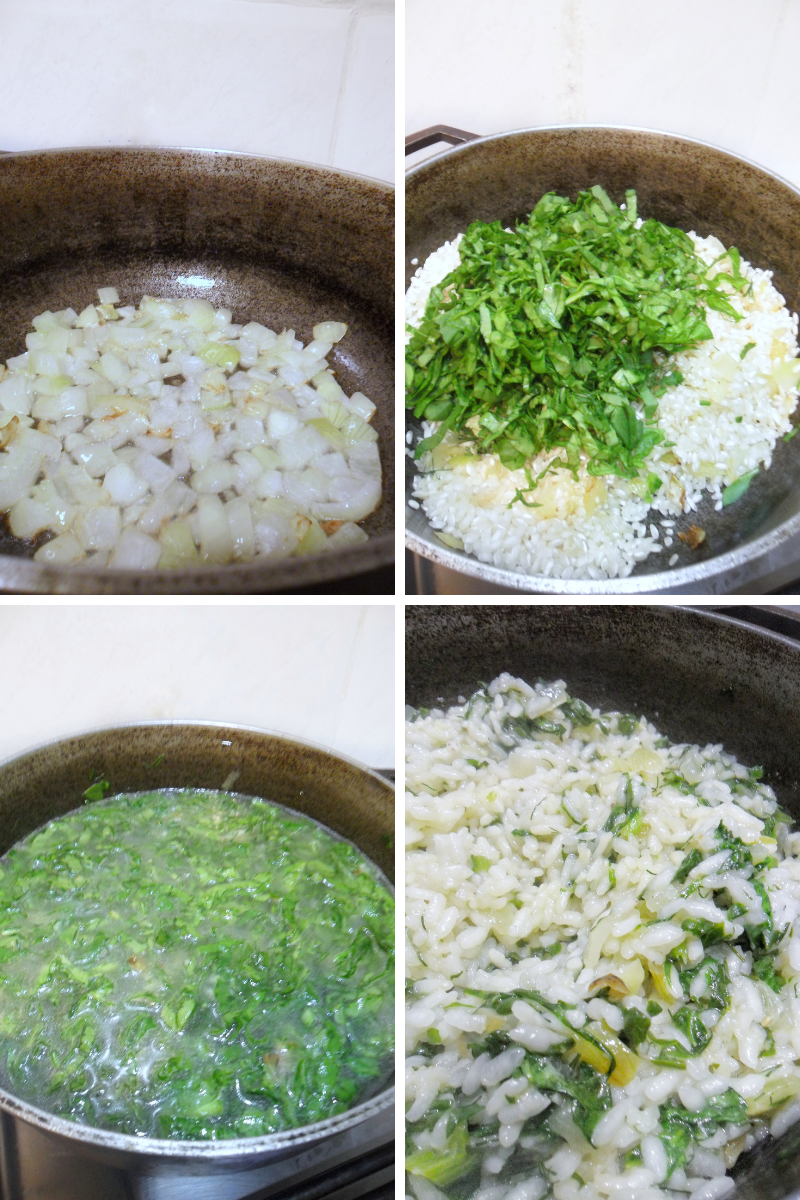 Because this is a very basic Stuffed Peppers recipe, I used 3 simple ingredients for my rice: onions, spinach and fresh dill. 

Basically, I sauteed the onions until lightly golden. Added the risotto rice, spinach, dill and salt to taste. Cook until most of the water is absorbed. Then, cover with the lid and cook on low until the rice is al dente.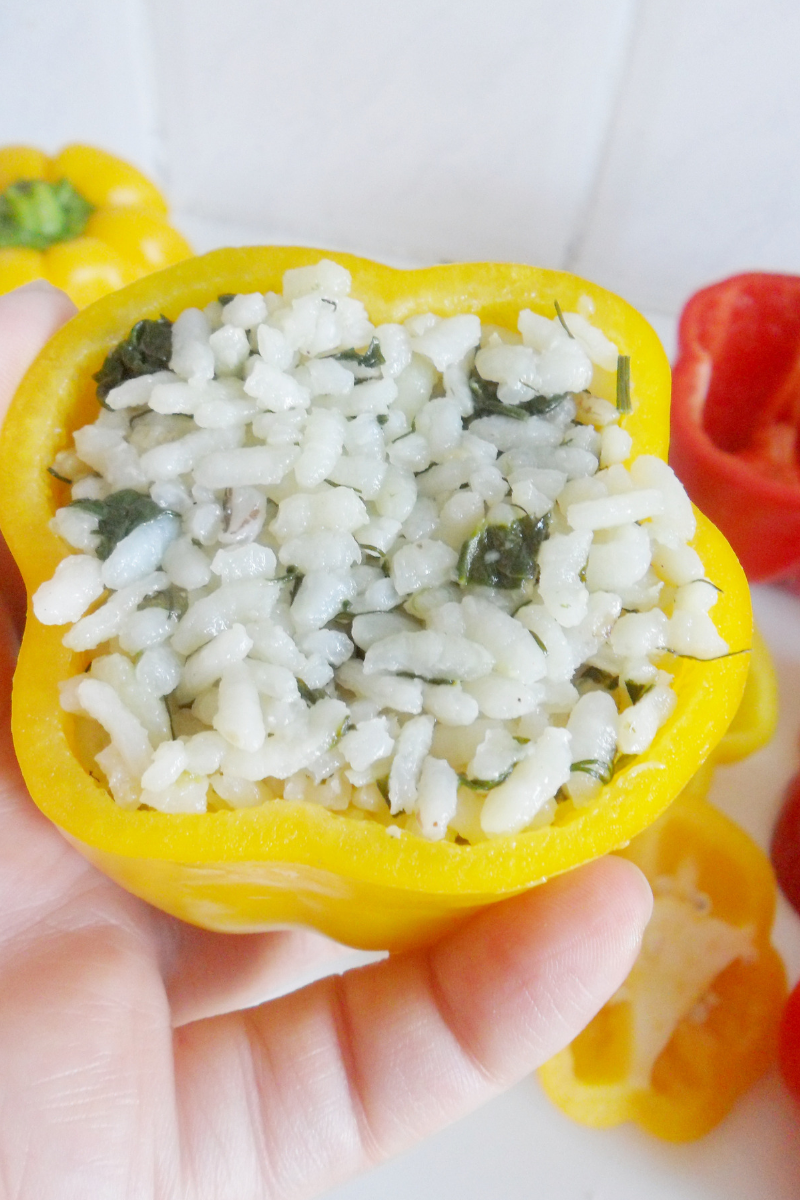 What you need to do next is to stuff the peppers, place the pepper caps on top, and bake until the peppers are tender.  
When you make this recipe or any other from the blog, use the tag #kasheribbean. And, don't forget to follow on instagram and pinterest to keep up with our easy recipes from us and the blogosphere!



Ingredients
350gr arborio rice
1 Lt. vegetable stock or water
150gr spinach
2 cloves garlic, minced
50gr onion, chopped
2 stalks fresh dill weed
2 tbsp olive oil
1tsp salt
¼ tsp ground pepper
Instructions
Preheat your oven to 375°F
Clean the peppers, separate a cap, remove the core with the seeds. Salt the interior and set aside.
Saute the onions with a pinch of salt until translucent and lightly golden.
Lower the heat, add garlic, pepper, dill, chopped spinach and rice. Mix well.
Add the stock or water. Cook on medium high, uncover for aprox 10-12min or until the liquid is mostly absorbed. The rice must be "al- dente".
Turn off the heat and cover with a lid until is ready to go to the oven.
Stuff the peppers with the prepare rice. Place the caps on top.
Place the stuffed peppers on a baking dish. Cover with foil and bake until tender, 40-60 minutes.
Enjoy!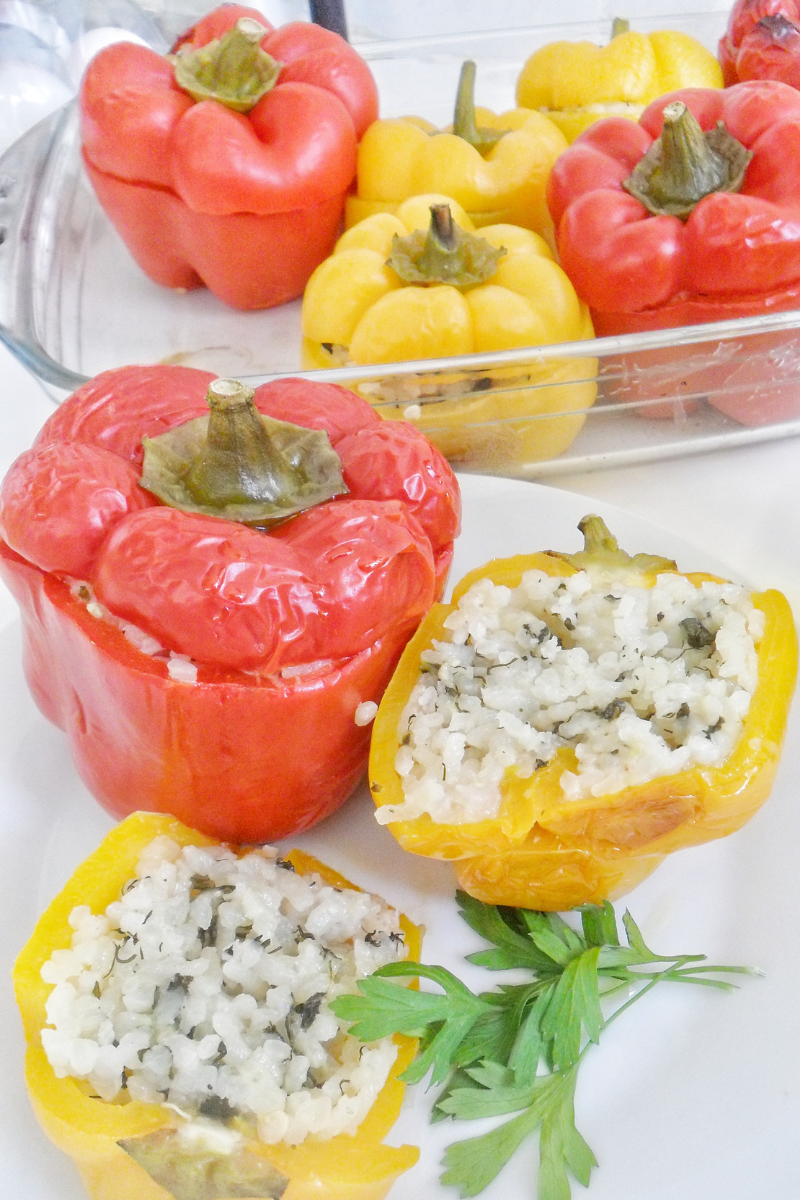 As you can see, Stuffed Peppers are easy to make and you can play with the fillings as much as you want, so the combinations are endless. Play around with your favorite ingredients and let us know the most exciting combos you come up with! 
Until next time! 😉