You read that right; you just need 4 ingredients to make these Peanut Butter Hamantaschen.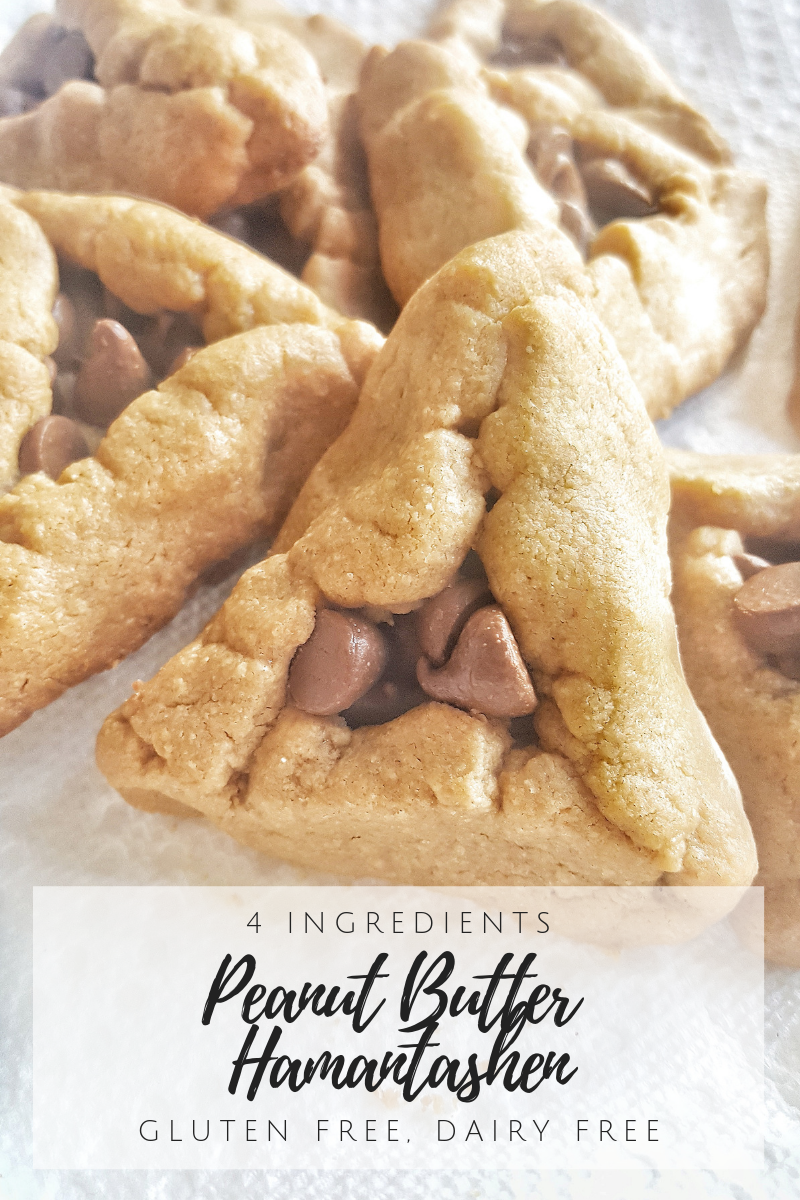 A few days ago I was taking care of my son and niece, and they wanted not just to eat cookies but to make them; and the easiest cookies I could think of was the Classic Peanut Butter Cookies.
Mid-way to the process of gathering the few ingredients I thought, why not to make them "purim style" in the shape of hamantaschen? So… we made Peanut Butter Hamantaschen with Chocolate Chips as filling.
To be honest with you, I felt like cheating because this is pure and simple the old peanut butter cookies with a new shape, but this is one of those "oldie but goodie recipe" and if you are looking for something quick to do, you might find this twist useful.
How to make the Peanut Butter hamantaschen
To make these Peanut Butter Hamantaschen you'll need peanut butter, eggs, sugar and chocolate chips (or your filling of preference). The process couldn't be easier, just mix peanut butter, sugar and eggs in a bowl and mix with a fork until it forms a thick batter.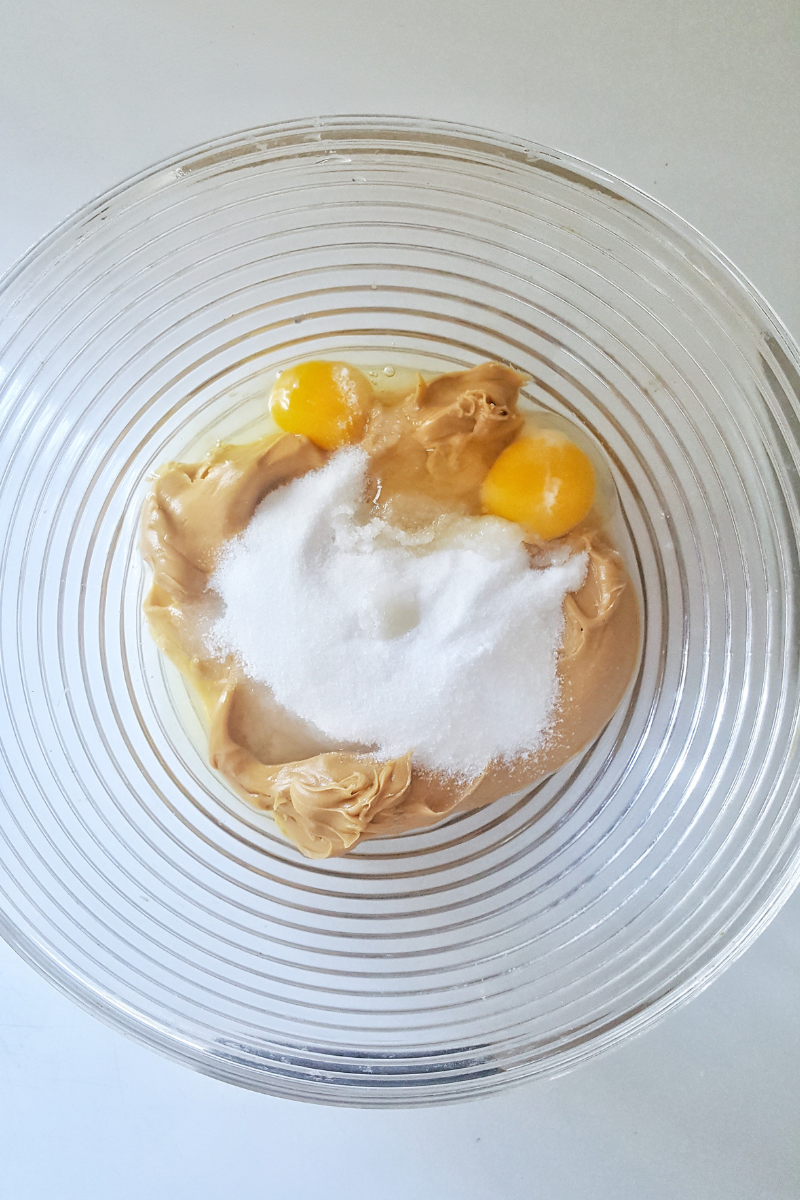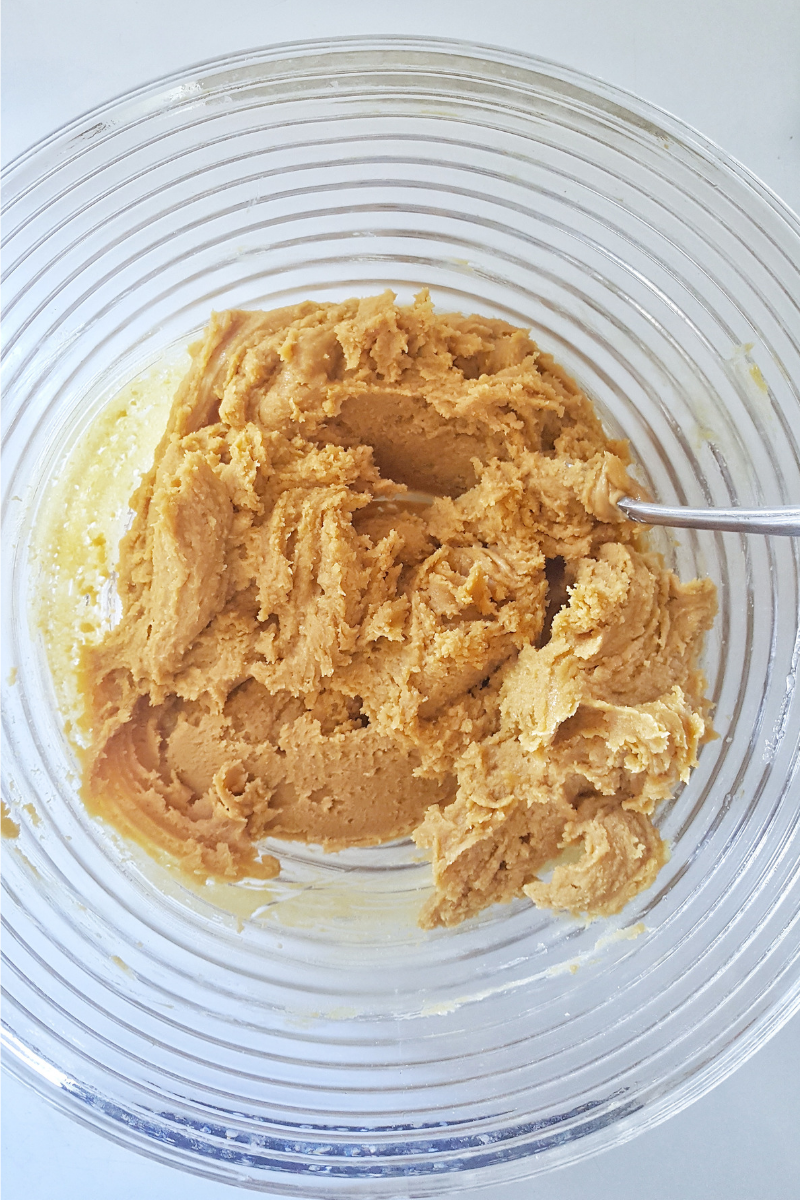 Then, scoop out your portions (I weighed mine 25 grams each) and you are ready to shape.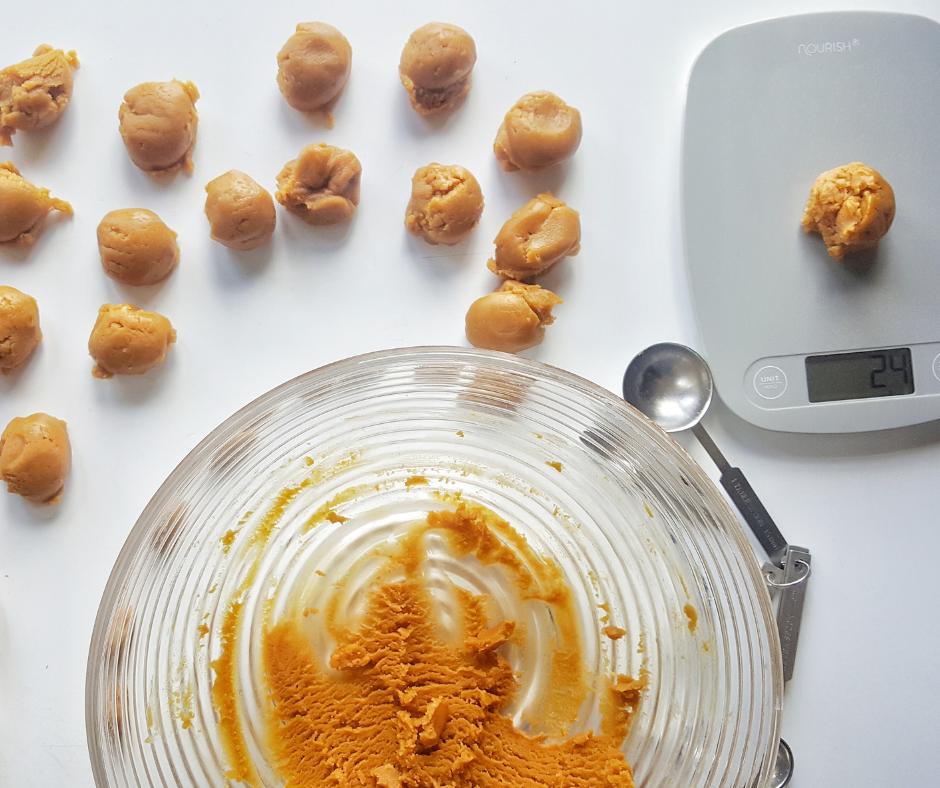 To shape the hamantaschen, take one portion of your cookies dough and flatten it out the better you can as a circle. Then, pinch the center with a fork and place a few chocolate chips in the center. Finally, fold in the edges until you have a triangle.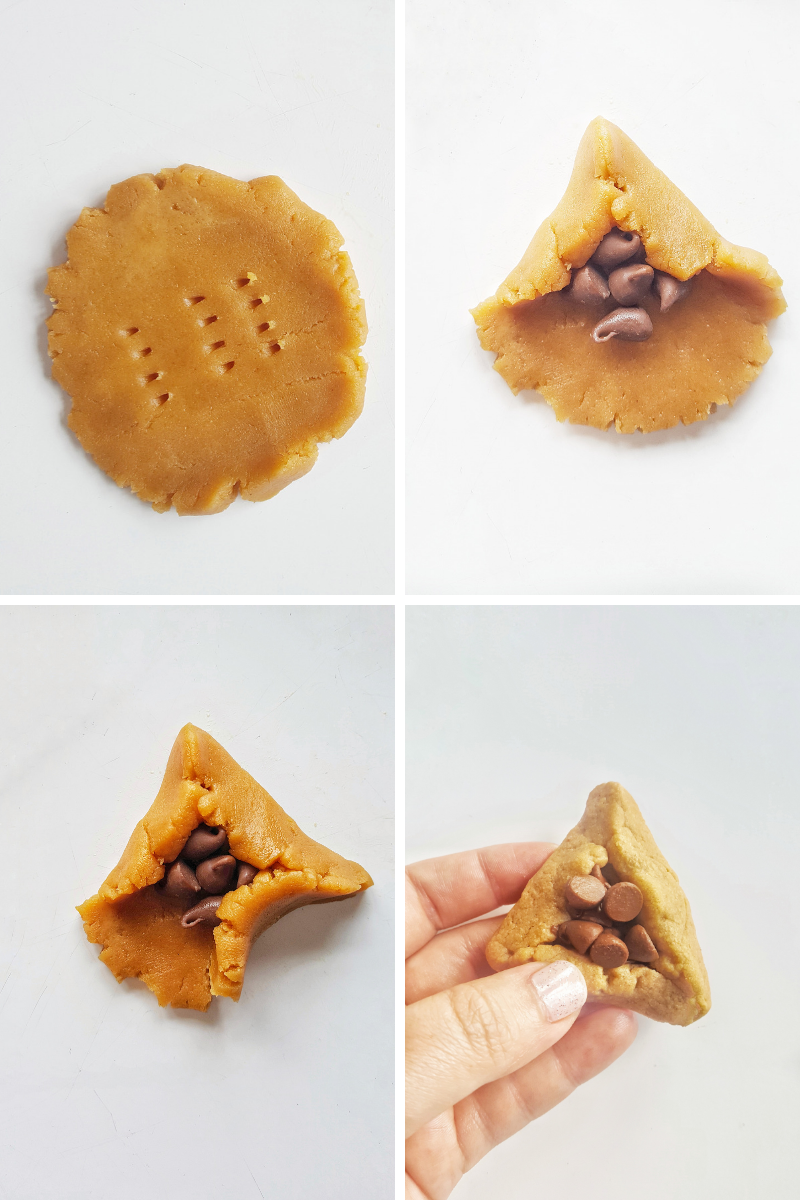 What you need to do next is to bake these goodies over parchment paper and enjoy! 🙂 Bake at 180ºC (350ºF) for approximately 12 minutes, or until the bottom is lightly brown. Let them rest on the baking sheet for a few minutes before munching!
When you make these Peanut Butter Hamantaschen, don't forget to tag #kasheribbean on social media and, don't forget to follow on instagram and pinterest to keep up with more easy recipes!
Ingredients
400 gr Creamy Peanut Butter
100 ml Eggs, lightly beaten
100 gr Granulated Sugar
200 gr Semi Sweet Chocolate Chips (to use as filling)
Instructions
Preheat the oven to 180ºC (350ºF) and line a baking sheet with a silicon mat or parchment paper.
In a bowl, combine peanut butter, sugar and eggs and mix well with a fork until the mixture thickens
Scoop out balls of 25 grams each (you can make them smaller or bigger as you please), flat them out and pinch the center with a form.
Add the chocolate chips in the center and shape the cookies into a triangle by folding in the edges.
Place the cookies on the prepared baking sheet and bake in the preheated oven for 12 minutes (keep in mind that the baking time may vary depending on the size of your cookies)
The cookies are done when they are firm on top, and lightly brown at the bottom.
https://kasheribbean.com/peanut-butter-hamantaschen/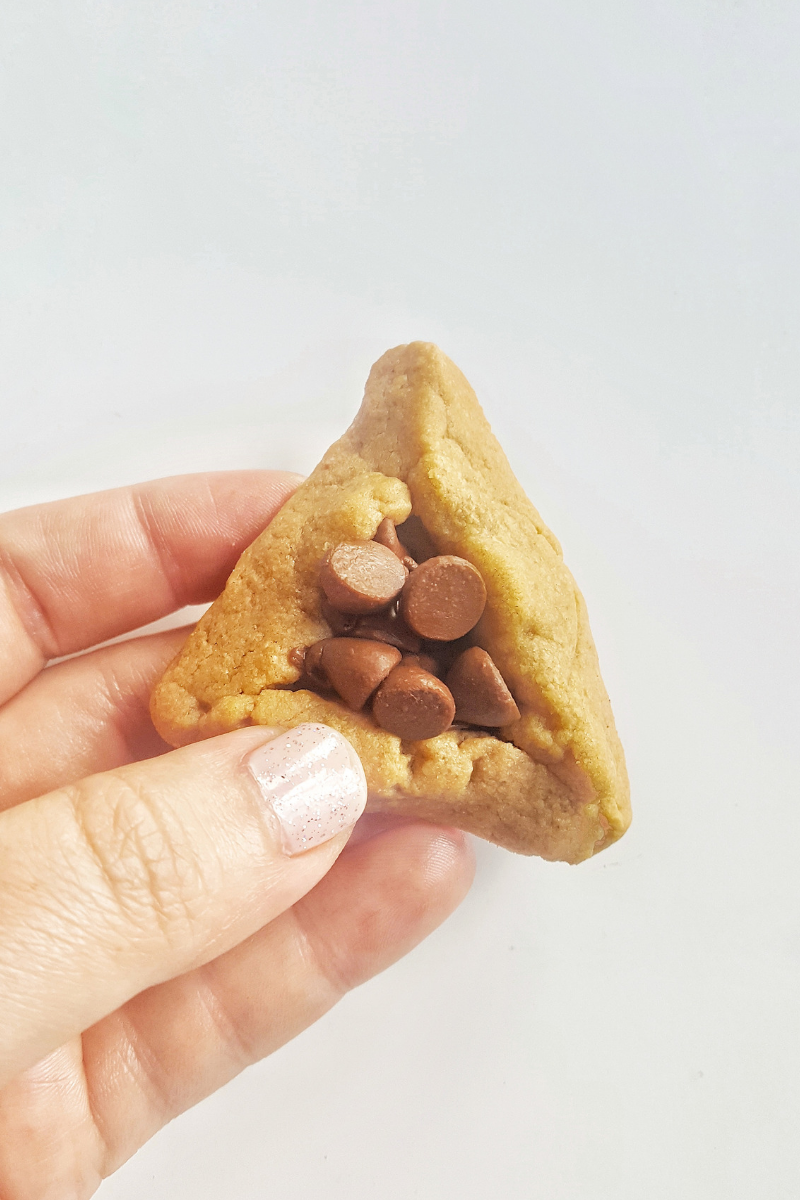 If you are short on time and your kids love peanut butter, or if you are simply looking for an easy recipe to do with them, this would be perfect for you. Even though these don't look super pretty, I really enjoyed my time in the kitchen with the little ones and they had fun! It was also an opportunity to introduce them to a new activity (and who knows?! They might enjoy it as well in the future!) and the cookies disappeared quickly.
Now, tell me, what other fillings will you use for these Peanut Butter Hamantaschen? Let me know in the comment section below!!
Happy Purim!! 😉