A few weeks ago I returned from another long haul flight, and because of previous bad experiences and mistakes with my kosher meals, I wanted to do things differently this time; I decided I was going to prepare my own meals to take on the plane in case there was another mistake. But because not all food can be in optimal condition for long hours without refrigeration, I needed to pick wisely. Today I'll share with you 4 travel-friendly meals that will survive your next long flight!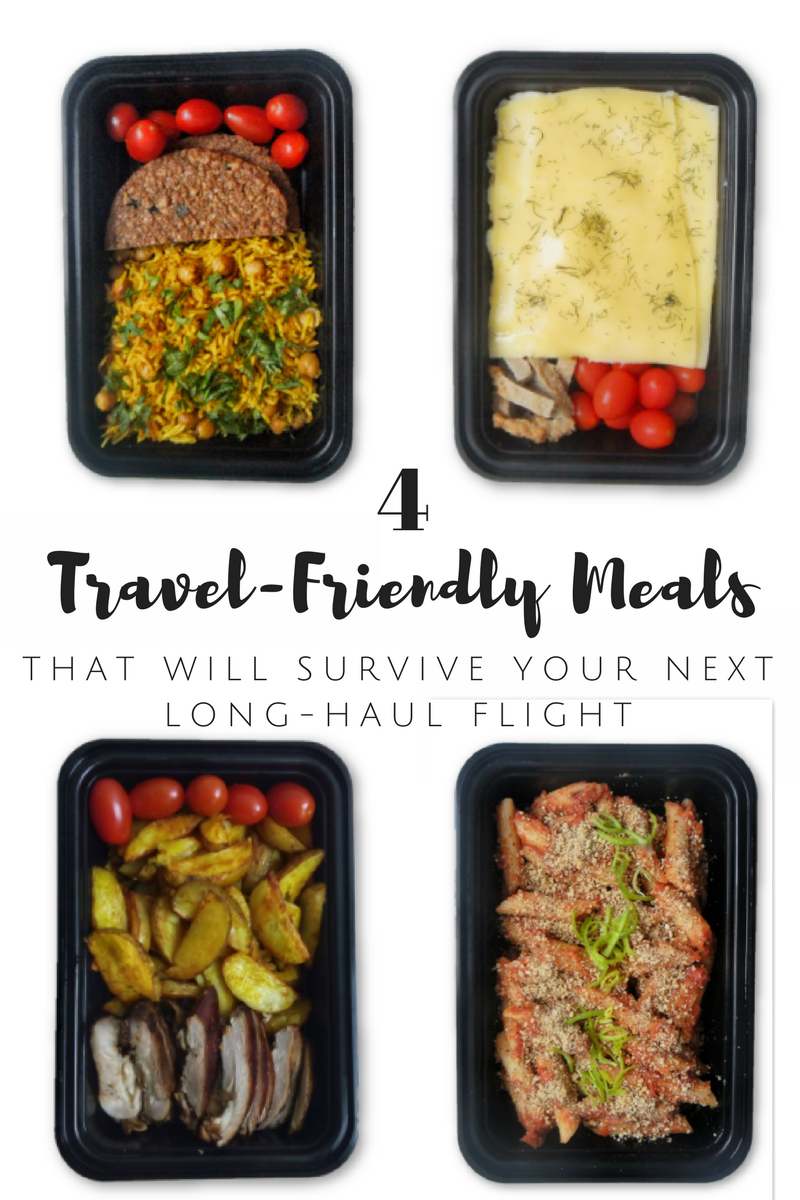 It was the third time traveling with this particular airline and they have already forgotten twice to order my kosher meal, so I planned to make food for an army because we are talking about an 8+ hours flight and I am travelling but a boy that eats like an adult sometimes. At first I wasn't sure, but when I arrived to the airport and I was told the flight was delayed almost 2.5 hours plus the voucher given to us needed to be redeemed at another area of the airport (I needed to pass security again and we were already tired!…No thank you!), I knew it was actually a good thing. We had a lovely dinner at the airport and we still had food for the plane. Yay!
You probably may be thinking, why would I bother to cook when I can just buy whatever on the airport or just bring snacks?
Well, if you follow the blog for a while you know I love to have my snacks ready for traveling (You can see what I usually pack for snacking in this post and this one) but this time I wanted FOOD (You know what I mean? I wanted salty-satisfying homemade food, not just easy to chew snacks or fruits). I bothered to cook because usually the options at the airports are very limited (usually to bread and flour in every form possible and sugary stuff), and the "healthy" food is usually just salads (something that I can make at home for 1/3 of the price!)
Things to consider when cooking your own food for the plane
There are a few things you need to consider when traveling with food:
Take food that can do well for a long time without refrigeration like pastas, rice, potatoes and some veggies like blanched or roasted broccoli and carrots as well as whole grape tomatoes.
Don't go overboard with smelly stuff: You certainly can use spices and herbs (nobody wants bland food!) but try not to use ingredients that you can smell a mile away like smoked anything, or fish, or onions and garlic.
Limit your sauces: You cannot pass liquids through security so make sure whatever you are bringing has minimum liquids and they are in containers no more than 150 ml.
Now, let's talk about the meals. So far I have tried these ones:
Roasted Potatoes & Chicken (or meat substitute)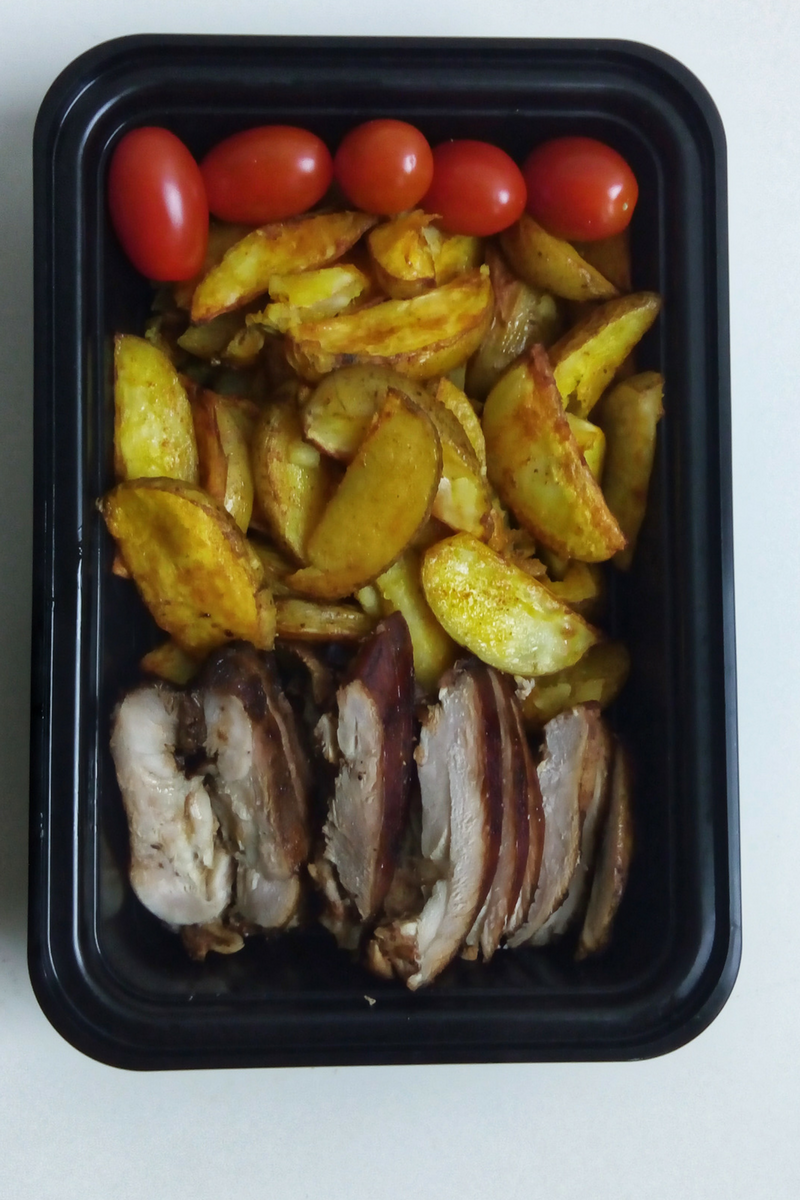 For this meal I seasoned the potatoes with salt, black pepper and turmeric and added 1 tablespoon of olive oil. I then roast the potatoes for 30-40 minutes or until they were cooked through (and I would say a bit soft). Let cool down completely and store in the fridge until ready to go. I cut my potatoes not too thick not too thin, so they cooking time may vary depending how you cut. You want your potatoes to be thick enough that they will hold the shape and thin enough that they will be soft when thawed ( because nobody wants to eat dry-cold-hard roasted potatoes that could cut your throat. lol)
For the chicken breast, I seasoned with salt, pepper, soy sauce and paprika and let marinate overnight (if don't have time just mix well and cook right away). I oven baked it this time but you can pan fried, steam it or whatever method you prefer.
This meal passed the taste very well. I even had leftovers that I ate at home once I arrived from the airport 😛
Basmati Rice & Veggie Burger (or some random meat)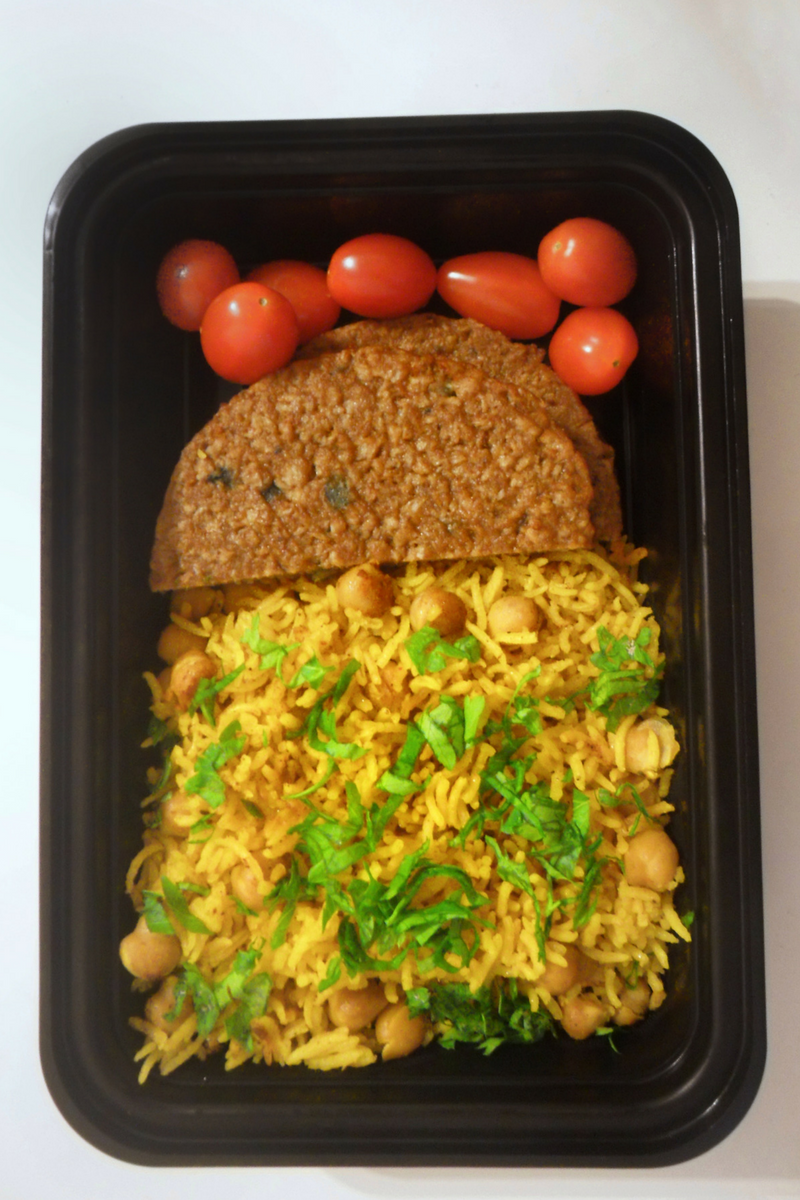 For this meal I coked basmati rice with turmeric (I love it!), curry and chickpeas and serve it with a vegan burger I found at the grocery store. I originally made the rice plain because I wanted to make sure it would last long hours, but it looked so boring and unappetizing so I ended up making another batch of this yellow rice. You can also add roasted cashews to add some crunch (I will add them when ready to eat) and I garnished with some parsley to give it a pop of color. I won't recommend making rice with certain legumes, like beans or sweet peas, because if the weather is too humid they can go bad. I like the chickpeas and cashews (or roasted almonds) for this rice because they hold very well and will make your rice delicious.
If you have on hand, you can use couscous or quinoa instead of rice and if you prefer, you can make some boneless chicken tights or chicken breast or even vegan meatballs (like Gardein) instead of the veggie burger.
Mashed Potatoes with Cheese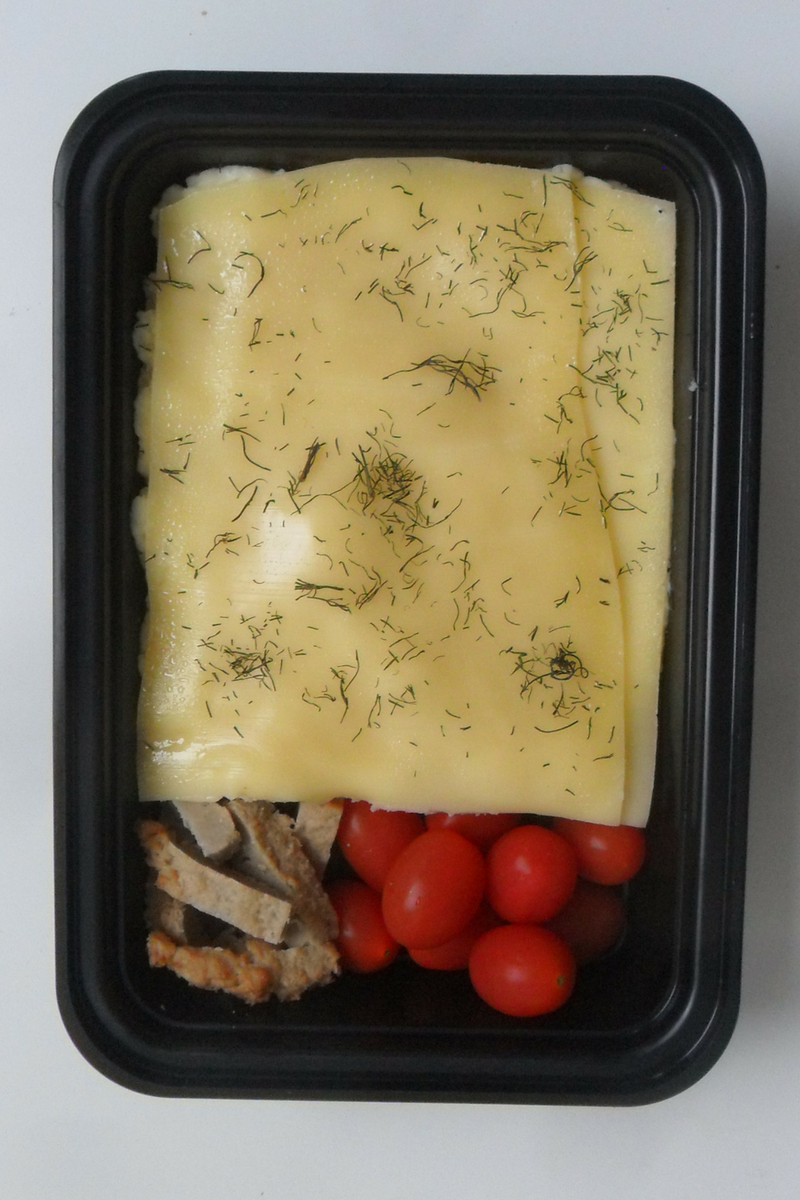 This is one of the combos that never gets old and what I personally call "the lazy combo" haha. I mashed the potatoes with cream cheese, salt, and a little bit of black pepper and topped with some cheese slices. I doesn't looks so fancy but it made my cheesy dreams come true, plus you can eat it cold or at room temperature.
Marinara or Pesto Pasta with Almond Meal (Vegan)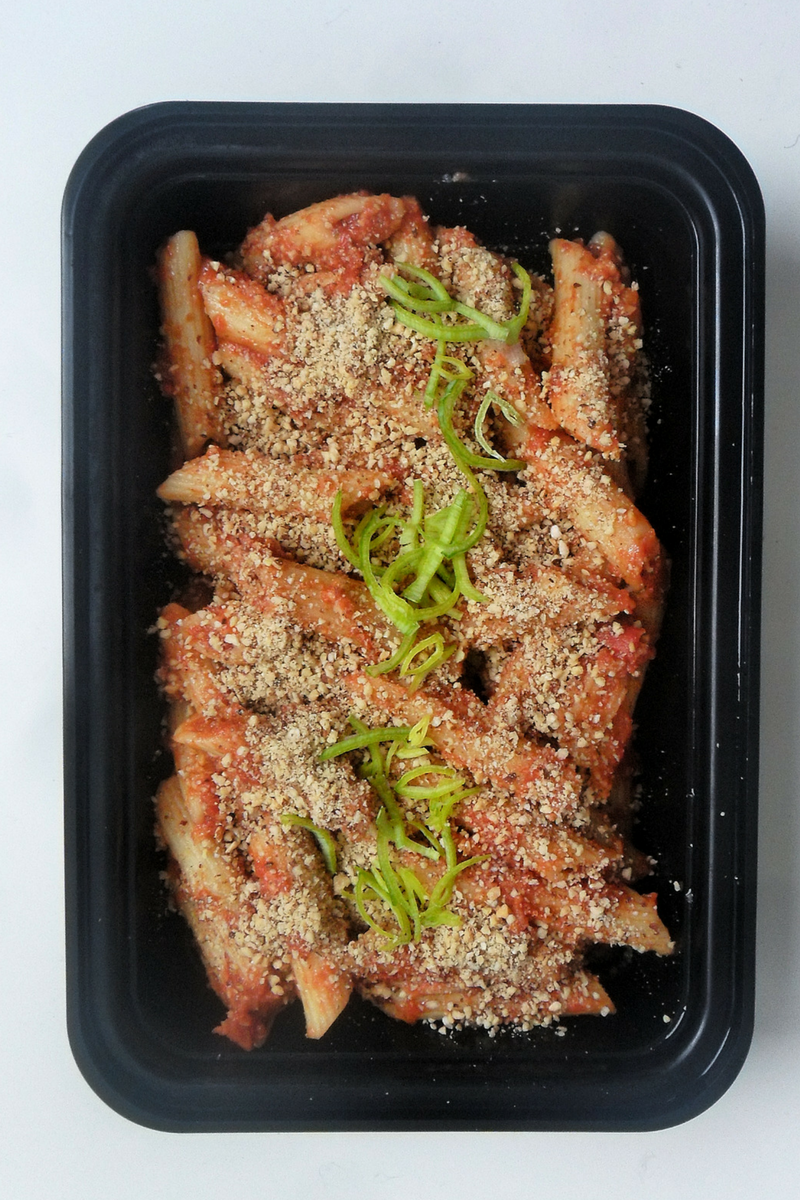 For this occasion I made the super easy Sweet Potato & Tomato Pasta Sauce to which I added almond meal. I am a fan of almond meal because it gives such a nice flavor and texture to pasta dishes (no wonders why italians use nuts in their pesto! Yum!) Also, it adds on protein and healthy fats and it makes it very satisfying. I love Anthony's Brand almond meal (have been using it for years now! Delicious!)
I like to cook my pasta al dente, add some pasta sauce (I haven't tried pesto pasta for travelling but I don't see why it wouldn't work)
Believe or not, this time the airline didn't forget my special meal but unfortunately the food was too spicy for me or my son to eat (I am allergic to hot peppers!!) I finally realized bringing my own food was a good idea; I placed my favorite over the mini table and enjoyed it while watching Sherlock Holmes.
What about you? Have you ever brought homemade meals to the airplane? What are your favorite ones? Let us know in the comment section below and don't forget to follow on instagram and pinterest. We appreciate your support!
Until next time!