A few days ago, I had the pleasure to cook a wonderful Rosh haShanah Dinner alongside my beautiful friend Shifrah. Together we prepared a simple yet delicious Vegan Dinner (well, almost vegan because we used honey!) and as I was prepping the ingredients for an apple crisp, I realized the huge amount of apple peels I was letting behind so I figured out I will make and Apple Peel and Mint Chutney.
The food waste issue…
Maybe you are wondering "why?". Why to save an insignificant amount of veggies trims or the peels from the apples. Or why even bother about making a cake for that fraction of apple crumble? Well, because 30% to 40% of all the food is wasted in the United States only! (that was 133 Billions Pounds equivalent to $161 Billion dollars worth of food in 2010 and 100 Billions in Europe in 2014) And I don't know if you've notice, food is getting more and more expensive; I cannot afford throw away 25% of my budget on food. In total 1/3 of the world food production goes to waste and I am about to cry!
– Could have helped feed families in need
– Could have being used to give you more for your money by reusing leftovers
– The resources used to produced all the food that goes to waste could have being used to help the planet not endanger it
So, when all the cooking madness finished, I grabbed my apple peel, put it in a food processor to chop in tiny pieces, added sugar, spices, mint and voilá! This made a nice addition to our breakfast oatmeal, on toasts, crackers, etc, and if you have tons and tons of peel and beautiful jars, you can give them away to your relatives and friends. It would make a nice holiday gift so you don't have to eat all by yourself 😛😛. Win win!
After cooking, I was left with 295 grams of beautiful and minty apple peel chutney (well, not sure is this is a proper chutney because it is a bit sweet, but you get the idea) 😎
This is just a simple way to use your apple peel in case you peel them for a recipe. Under normal circumstances this is not necessary for me, because honestly, the only thing I don't eat from the apple is the stick because I haven't learned how to swallow that little piece of wood 😜
For this extremely easy recipe this is what I used:
Ingredients
APPLE PEEL MINT CHUTNEY
480 grs. Apple peel, washed and chopped in a food processor.
180 grs. Sugar (you can add white, brown, whatever you have on hand. You can also use honey, maple syrup or other liquid sweetener, just adjust the quantity to your liking)
1/4 tsp. cinnamon.
Pinch of turmeric
Pinch of salt
Pinch of black pepper
Mint leaves, chopped
Instructions
Chop the apple peel finely with the help of a food processor.
Dump all ingredients into a pan with lid and let cook on medium high for 5 minutes until it starts to release some moisture (you'll see that it releases a lot of liquid)
Turn the heat to medium low and cook for about 35 minutes or until apple peel is translucent.
Let cool to room temperature and store in the fridge in a glass air-tight container.
https://kasheribbean.com/apple-peel-chutney-leftover-apple-crisp-cake-stop-food-waste/
And, that's it! Super simple, right?
Of course you can play with other spices and herbs. I kept mine simple this time.
Other ways you can reduce food waste?
1. Don't buy so much food in the first place
Certainly, many people are buying way too much food; more than they can eat in a reasonable amount of time, probably a result of the "it was on special offer" syndrome.Buying less means you will take advantage of everything you buy before it goes to waste and before you go to buy again the same food. You also will be showing some love to your pockets because wasting about 25% of the food you buy is not funny.
2. Find ways to recycle the cooked food that is already on the fridge
Instead of eating based on the "mood of the day", check what you have in your fridge first and build your menus upon that. If after this you realize you need some other ingredients, you can go to the store and buy. You will definitely be more mindful about the quantities you'll buy if you have already some ingredients at home.
Regarding the food re-purposing process; most foods I re-use are salty because I don't bake many sweet stuff these days, but last week, after Rosh haShanah dinner, I found myself with a big piece of apple crumble that I somehow needed to reuse because the crumble was not crunchy anymore. So, I mixed the apple crumble with a few ingredients and I got a nice, perfectly sweet cake, which was served as snack and dinner and nobody noticed it has leftover apple crumble!
To make this LEFTOVER APPLE CRISP CAKE I used:
The leftover: 350grs of apple crisp (that included homemade apple filling and the crumble that had oats, sunflower and pumpkin seeds, and ground almonds)
50 gr sugar (I added this amount because the apple crisp was already sweet)
3 Eggs, separated
125 gr self rising flour
Splash of vanilla extract (optional)
For this recipe I used a 6″ round cake pan, with detachable bottom, covered with baking paper.
To make the cake, I started by whipping up my egg whites, adding your sugar little by little as I whipped, until I got soft peaks.
Then, to the egg whites, I added my egg yolks and keep beating that mixture for a couple more minutes until the ribbon stage (this is where the mixture is a pale yellow color and when you lift up the whisk over the mixture, the batter falls forming like a ribbon that holds its shape for a few seconds).
At this point, I added my flour, a third at a time, sifting it over my egg mixture, and mixed it with a folding motion into my egg mixture. Finally, I added my leftover Apple Crisp. Pour the batter into my prepared pan and baked at 350ºF (180ºC) for 25 minutes (if you are using this recipe as a reference to use some fruit leftover take into account that it may take longer or fewer time in the oven, depending on what type you are using. A good rule of thumb is check your cake with a toothpick inserted in the center after 25 minutes. If it is done, your toothpick will come out clean, and your cake should at least have some color on top)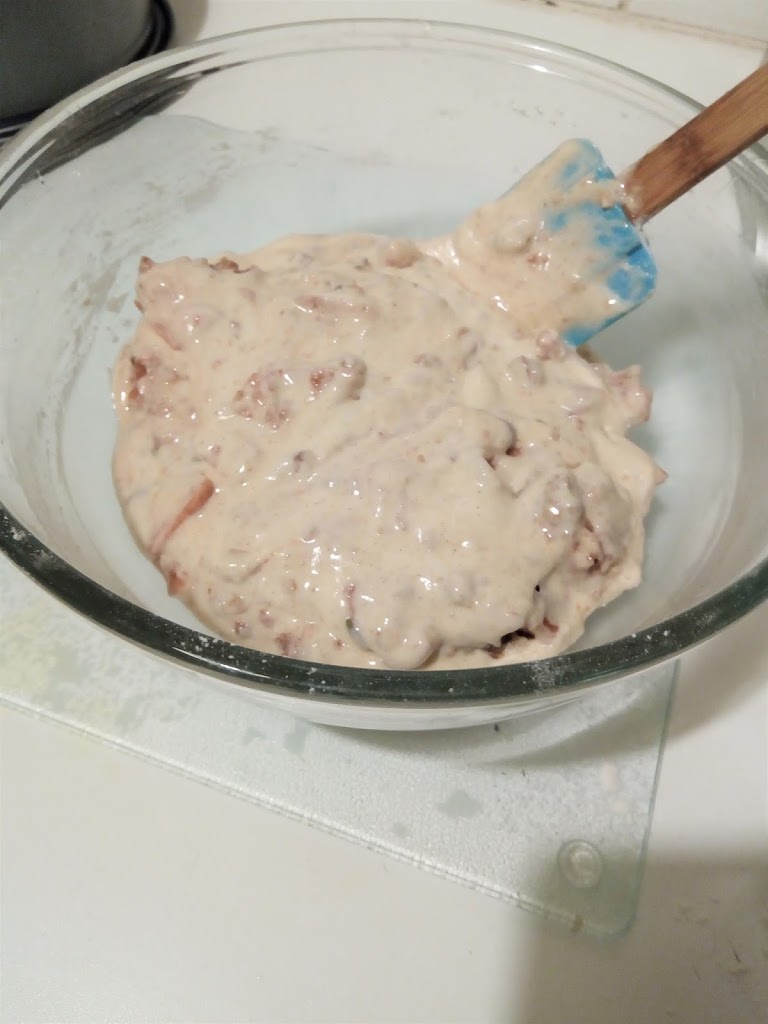 Take out of the pan immediately and let cool in a wire rack.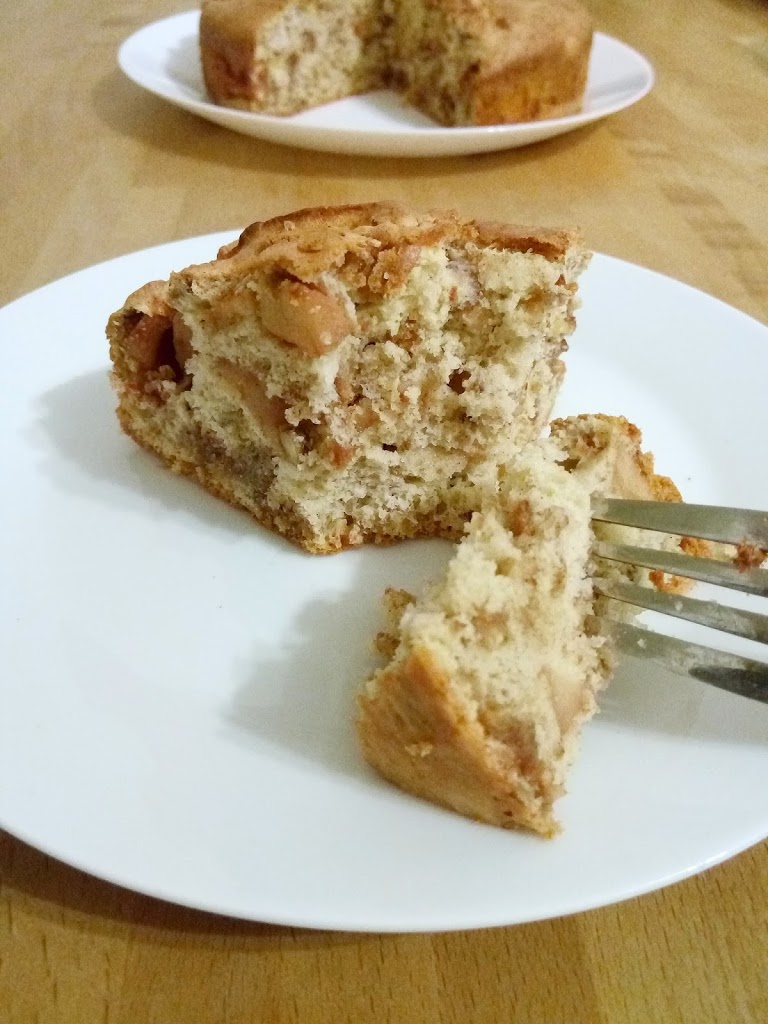 This simple cake was delicious and spongy and not too sweet, so perfect for breakfast, plus the oatmeal, seeds and ground almonds of the crumble gave a nice texture to the humble cake. I certainly loved the result so much that I am now trying to recreate this recipe from scratch. Wish me luck!
3. Give away
If you have something you know that you won't eat, just give the food away to relatives, friends or even random people. There are so many people in need, no matter the country where you live in.
One way you can do this is preparing some food with those ingredients you wont use and go near public places where you know there are homeless people and hand in some cooked food . They will be forever grateful. Also, look in your area for websites or Facebook groups of a sharing food or stop food waste initiatives. There is a Facebook group for pretty much everything these days!
As you can see, there is always a way that we can save more money, waste less, help people and the planet. It is important that we open our eyes and realize how much we waste in order to reduce all this madness, starting with our kitchens. We still have a big holiday to come, Sukkot; we can be more conscious and do it, just have to start somewhere, and now you have few ideas of what to do with your peels, leftover and extra food in case you have them so, no excuse!
Have other ideas on how to reuse and recycle your food and how to stop food waste? Let us know in the comment section below, pinterest or instagram! We have a dedicated Pinterest Board to collect all the excellent ideas out there and we will love you to have you there pinning!l! Just let us know if you are interested by sending us an email to kasheribbean@gmail.com and we will add you as soon as possible.
Tizkú leshanim rabboth!