Shabuoth is coming soon and also Mother's day in Dominican Republic and I will celebrate with this Luscious Chocolate Ganache Ice Cream. Yay!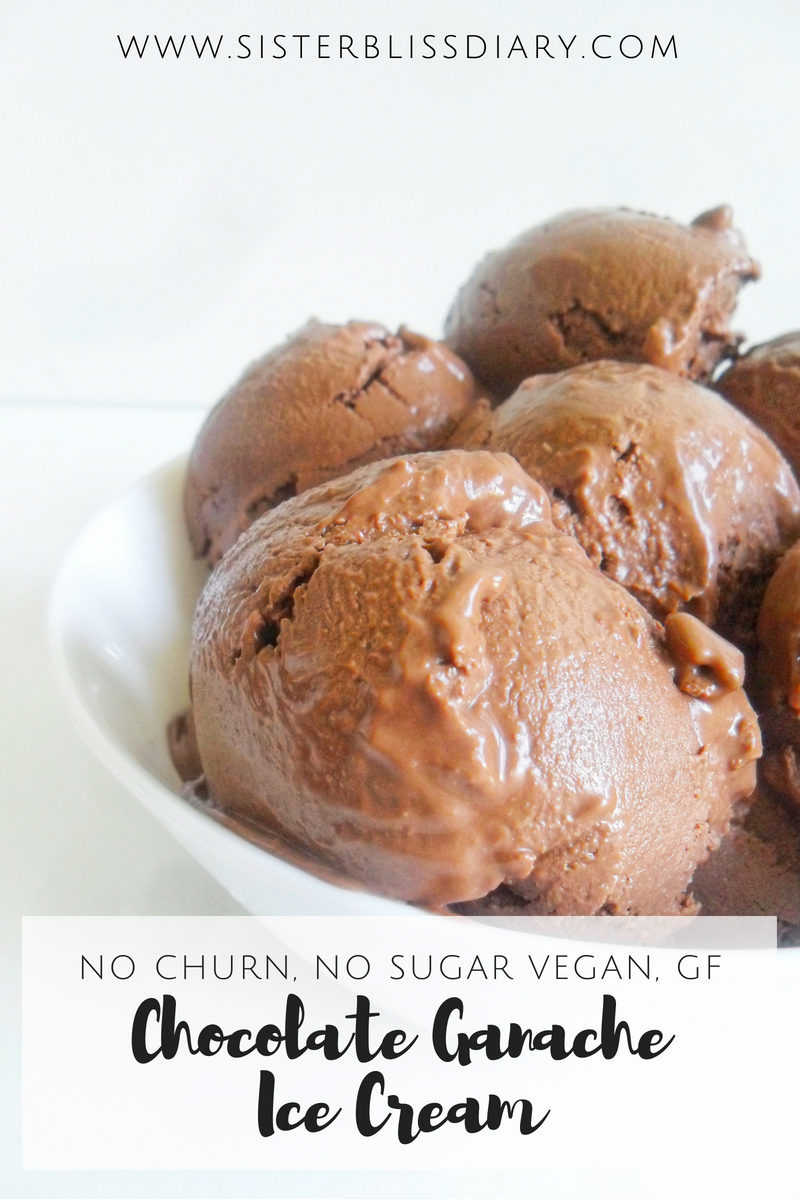 Looking for more Shabuoth ideas? Check out 3 Full Menu Ideas for your Shabuoth Table & 20 Side Dishes to Bring more deliciousness to your Shabuoth Dinner
Chocolate Ganache Ice Cream?
Chocolate Ganache? Is that right?… Yes! In my quest to make a vegan, creamy, chocolaty ice cream, made without an ice cream maker and with minimum ingredients, this is the best version I could think of. (You tell me in the comments if there is any other that doesn't involve frozen bananas!)
I have read about all of those methods for making ice cream without and ice cream machine, but I didn't have the time or energy to make ice cream with such a hassle. If it wasn't easy peasy I rather peel a banana and eat it, or would eat some grapes! (Now you see my level of laziness was really high!)
I was having a sweet tooth and also my 4yo so I needed this to be quick! And because ganache is one of the most (if not the most!) easy dessert on earth and it also has that thick, pudding like texture, I thought maybe, just maybe, it would turn into ice cream (or close enough).
The coolest thing about this recipe is that, it doesn't require any special equipment, it is no custard based (so, no grains or eggs), doesn't require extra bags or lots of ice cubes, or rock salt, or hours going back and forth to the fridge (unless you are actually eating it)…
I wanted to keep things very simple so I used the 2 ingredients, the basics of (vegan) ganache: Chocolate (I used 74% Cacao) and Coconut milk. That's right! This Luscious Chocolate Ganache Ice Cream (which essentially is frozen ganache! Let's say it! ) can be made with just 2 Ingredients. Talk about convenience!
A few notes on the ingredients
Go Full fat with the coconut milk and make sure it doesn't have any weird ingredient, sugar, additives or gums for best results.
I used 74% chocolate so, this is a bittersweet ice cream, but you can use sweetener if you prefer. If you use granulated sugar, mix with the coconut milk and simmer until all the sugar is dissolve. Then, continue as normal.
I haven't tested this with liquid sweeteners but I think it would work in the same way as a simple syrup added to the ice cream base. This also prevents ice crystals from forming.
If you are making for adults, feel free to add alcohol based vanilla, vodka or rum to prevent ice crystals.
How to make Chocolate Ganache Ice Cream
2 ingredients with a ratio of 1:2, Chocolate to Coconut milk. That's it!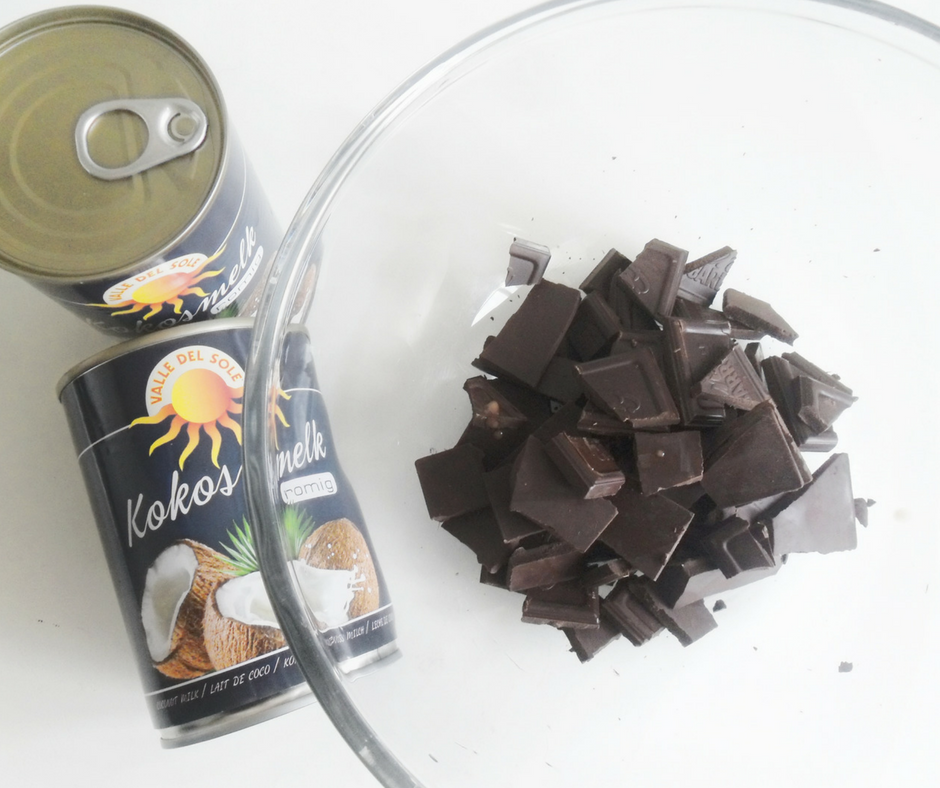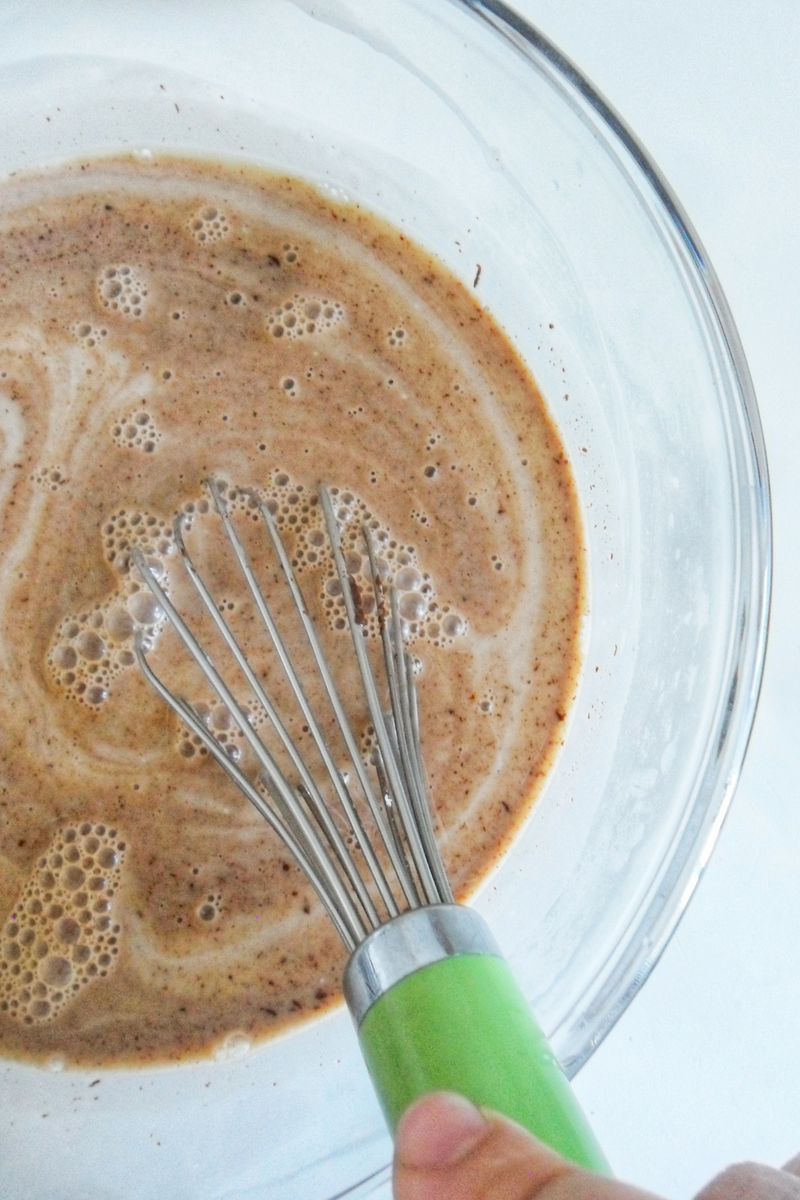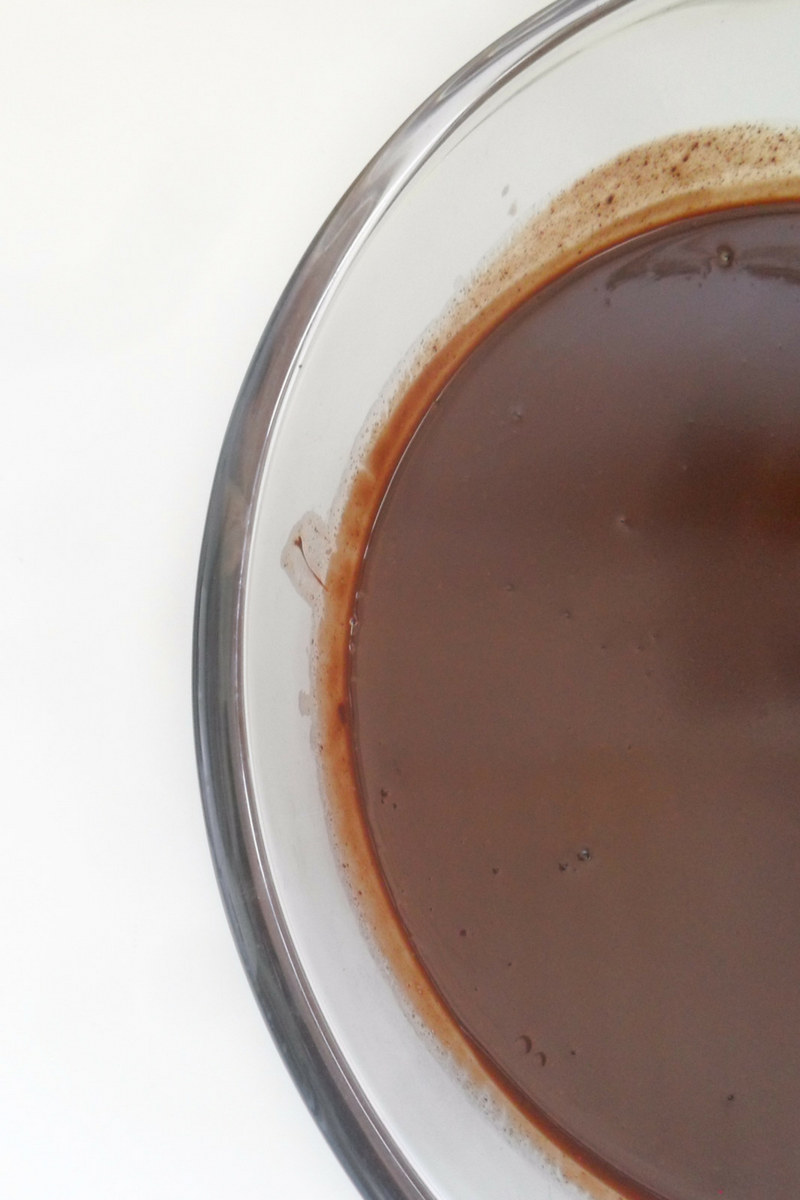 Mix the ingredients and let it rest until the ganache is shiny, thick and pudding-like.
Transfer to a deep container, cover with plastic wrap (making contact with the ganache) and let the freezer make some magic. Depending on your freezer this can take from 30 to 60 minutes.
Scoop the Chocolate Ganache Ice Cream with the help of a warm ice cream scoop, add your toppings and enjoy!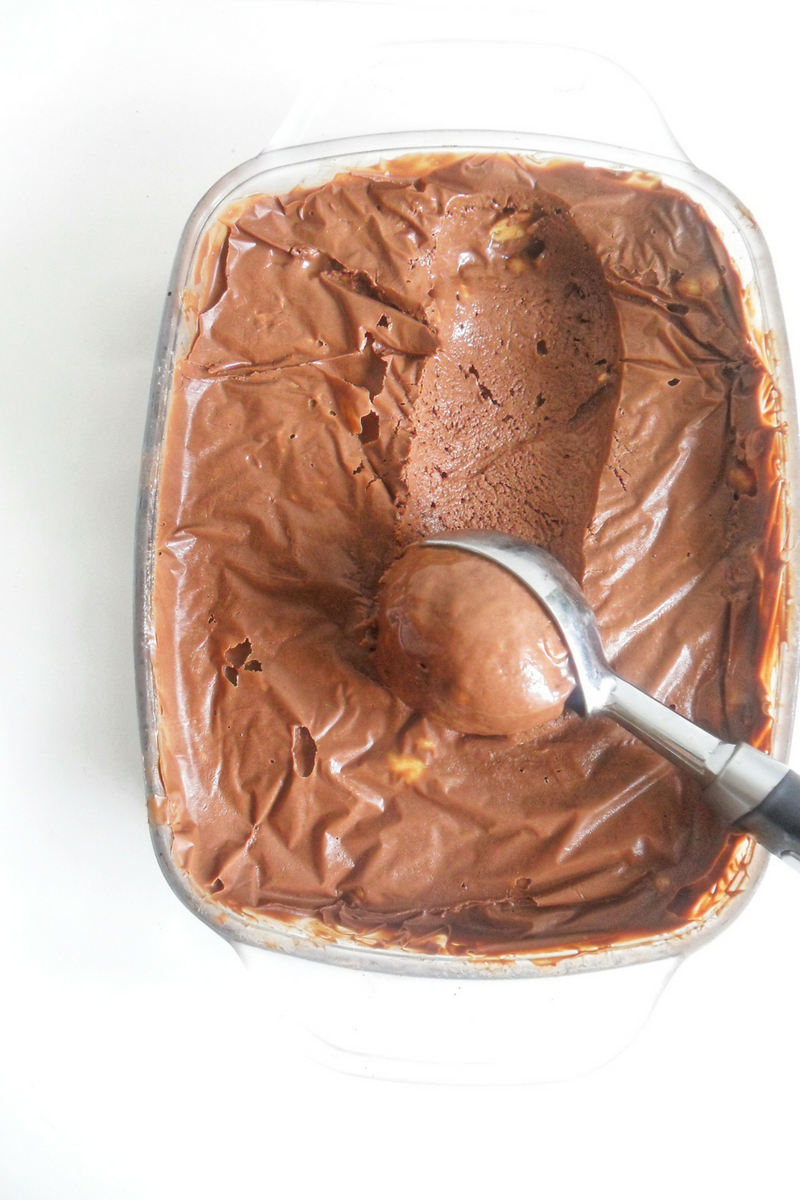 The Downside
This baby is made with ganache which means it melts in your mouth and everywhere fairly quick, so this is not the type of treat you will eat while chatting with that friend who you haven't talked with for ages. Serve and you enjoy! 🙂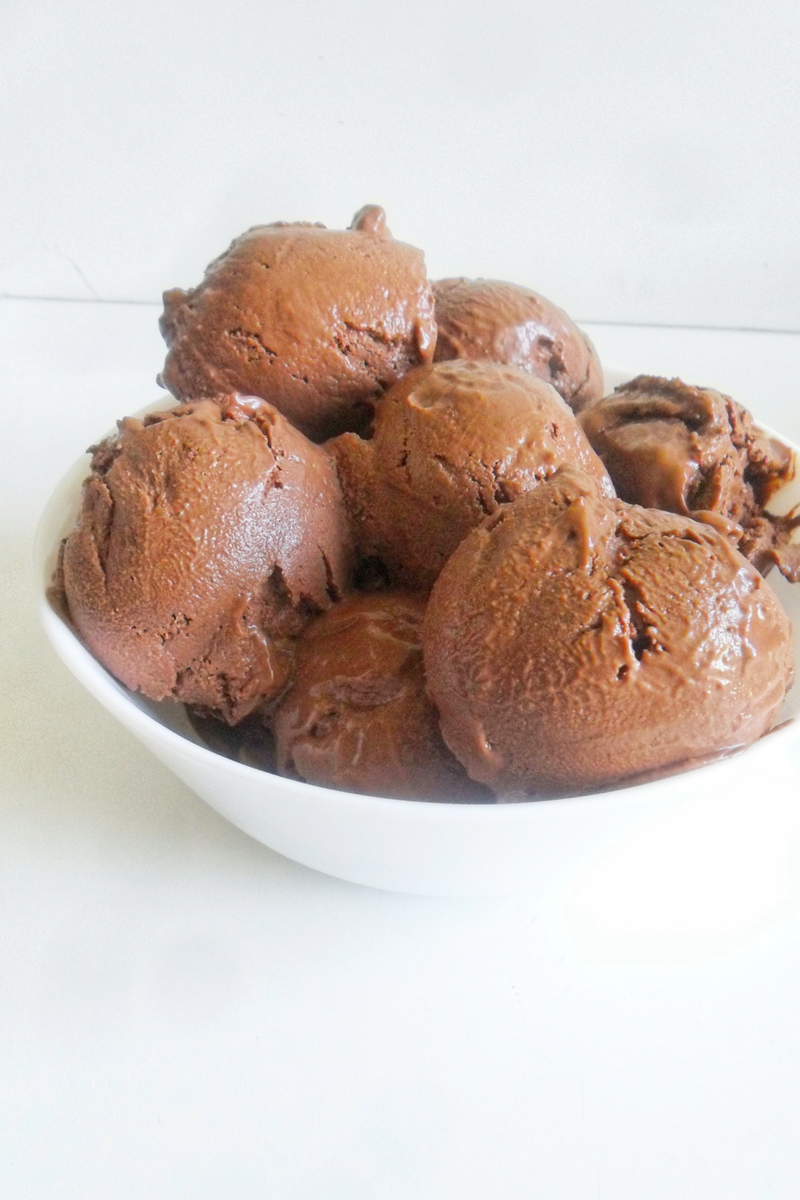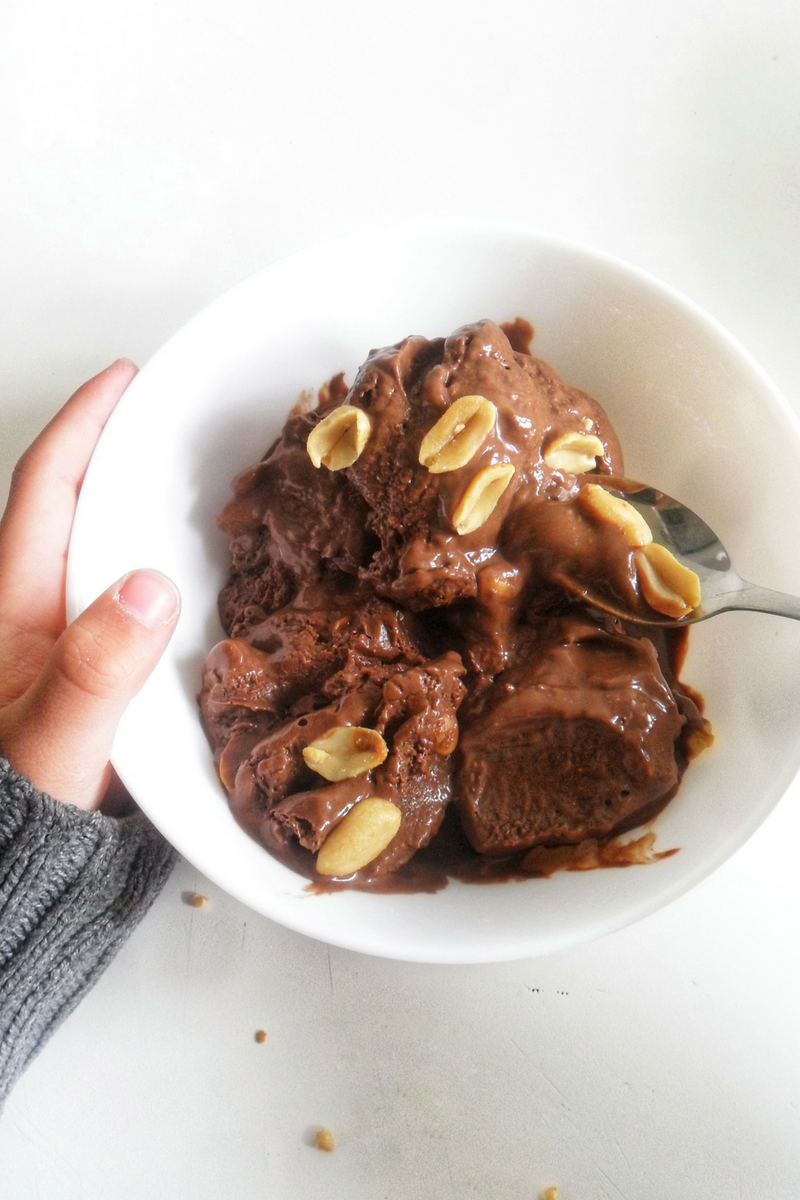 Ingredients
400 gr 74% Chocolate
800 ml Coconut Milk
Vanilla Extract (optional)
Toppings
Instructions
Chop the chocolate and add into a bowl.
Bring the coconut milk to a gentle simmer (don't let it boil) and pour the hot coconut milk over the chocolate chunks. Let sit for a few minutes until the chocolate starts to melt.
Mix everything thoroughly with a whisk, until the ganache shiny. Let it rest until is all cooled down and the ganache becomes thick, with a pudding like consistency (about 30 minutes)
Pour into a deep dish. Cover with plastic wrap and preferably a lid. Put in the freezer to set.
Sccop and enjoy!
Notes
If the weather is too hot let the ganache set in the fridge, before transferring to the freezer.
https://kasheribbean.com/chocolate-ganache-ice-cream/
Tell me, what are your preferred base flavors and toppings? Let us know in the comment section and don't forget to follow on instagram & pinterest!
If you love this recipe share it with your friends and family and if you ever make this Chocolate Ganache Ice Cream, tag us with #kasheribbean! We love to see your amazing creations!
Until next time!