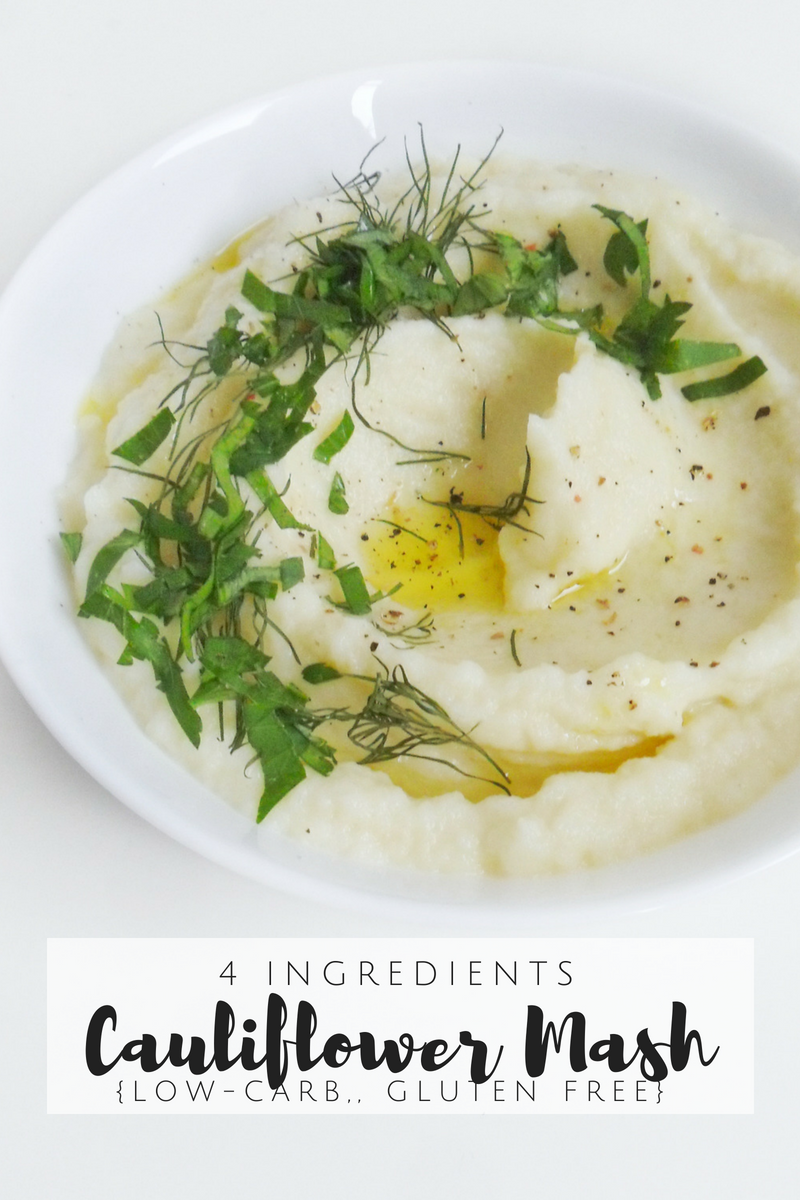 Hello dear readers! Today I want to share with you how to make a delicious and mega easy Cauliflower Mash!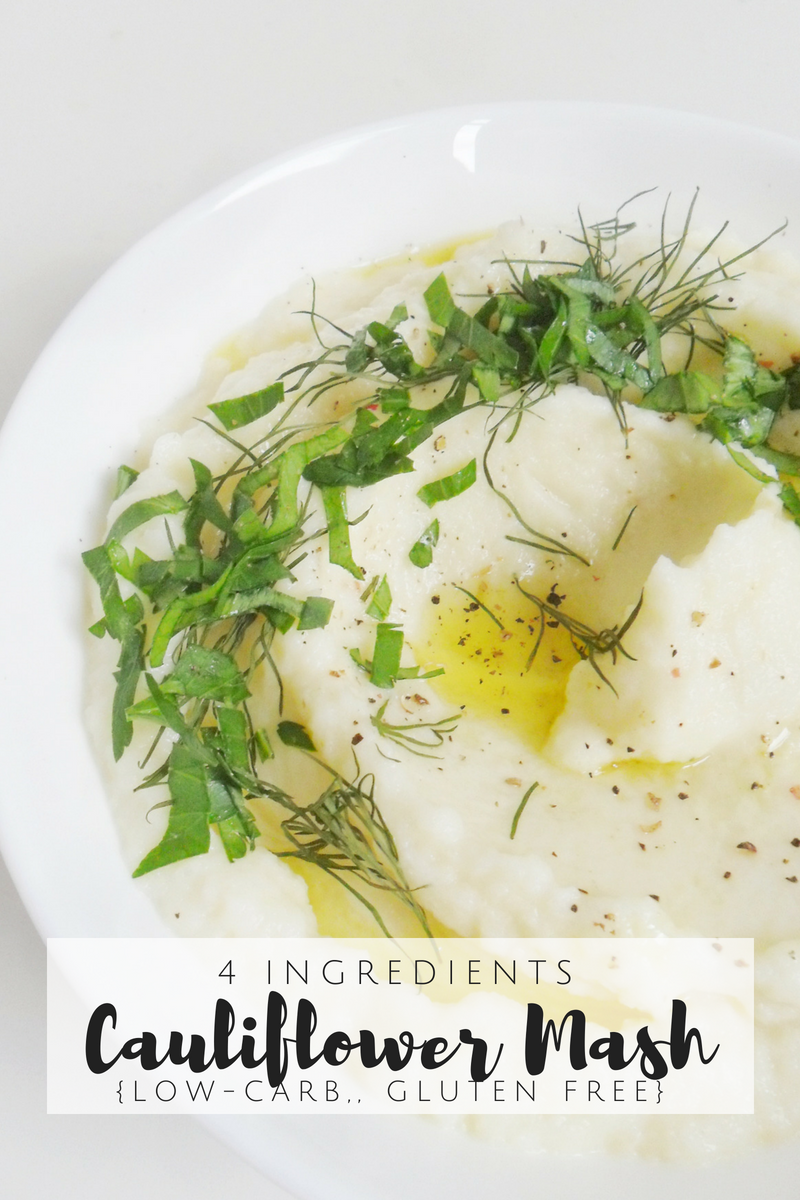 I have to confess, I am not a huge fan of puree, but when I heard about this I had to give it a try! I ended up making this yummy puree countless times in the first 3 weeks after, because I couldn't believe how much it tasted like potato mash (which I love once in a while!).
Want More GF Recipes? Check out The Ultimate Vegan Meatballs, Moroccan Carrot Salad & Roasted Beets
First time making Cauliflower Mash
I would have never believed that you can get such a luscious mash out of the almost tasteless cauliflower and with such little ingredients and effort, because last time I made potato puree, it had not just plenty of butter and half pound of cream cheese, but also required an arm workout.
Obviously, I was very skeptical; but my cooking curiosity won and I am so glad I decided to try the Cauliflower mash for myself.
Cauliflower Mash is very handy on the aftermath of a "carb overload" (like when your mother in law makes for you the most delicious high-carb Caribbean food) 😛
I am not a strict calories or carbs counter, but balance is good plus, we all have some goals to achieve 🙂
Simple ingredients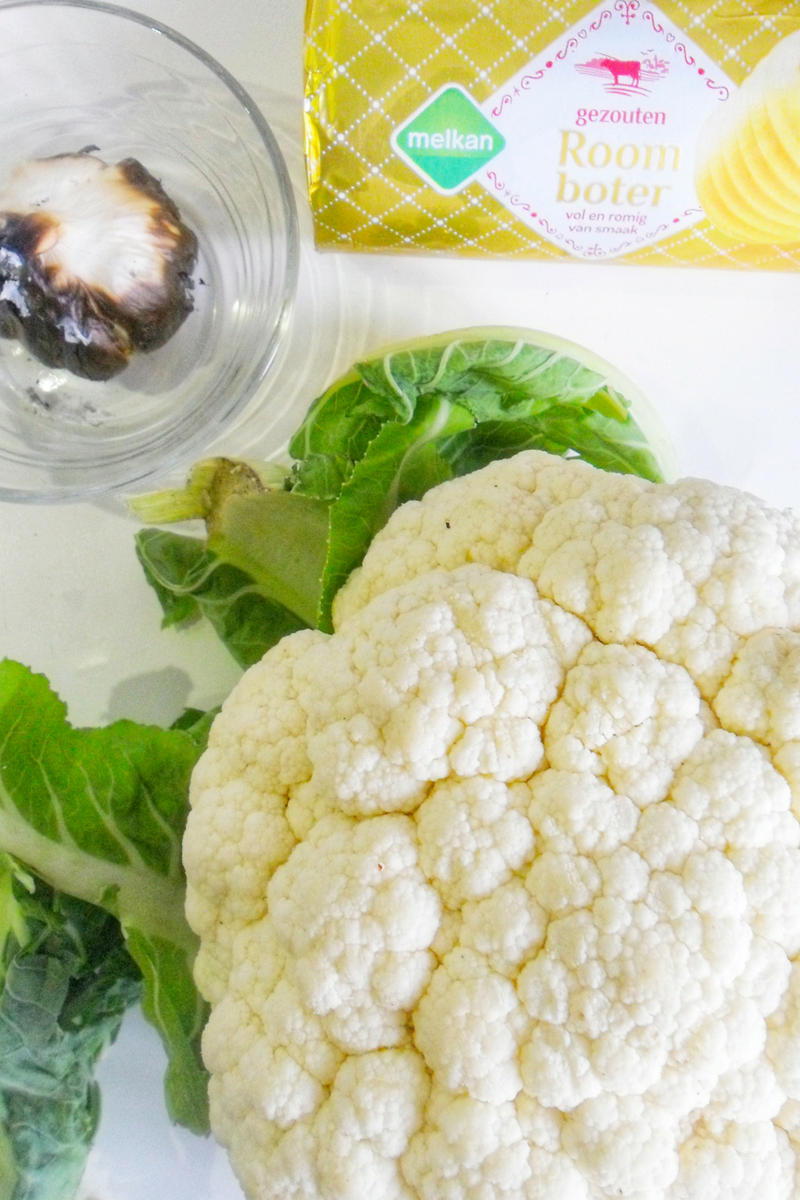 This cauliflower mash is made out of 4 simple ingredients: cauliflower, roasted garlic, butter and salt. Easily substitute with your preferred buttery spread to make it vegan.
I personally love roasted garlic for this recipe and if you are looking for a mash that taste almost exactly like its potato cousin, I highly recommend you use it, instead of raw garlic.
You can easily roast a garlic head on the stove top by placing it just as is, over low flame, for about 5 minutes, until is a bit charred. Avoid high flame or roasting for too long because the garlic can dry out really quickly and you will end up with charcoal instead of roasted garlic. Wrap the garlic head with aluminum foil to avoid any mess.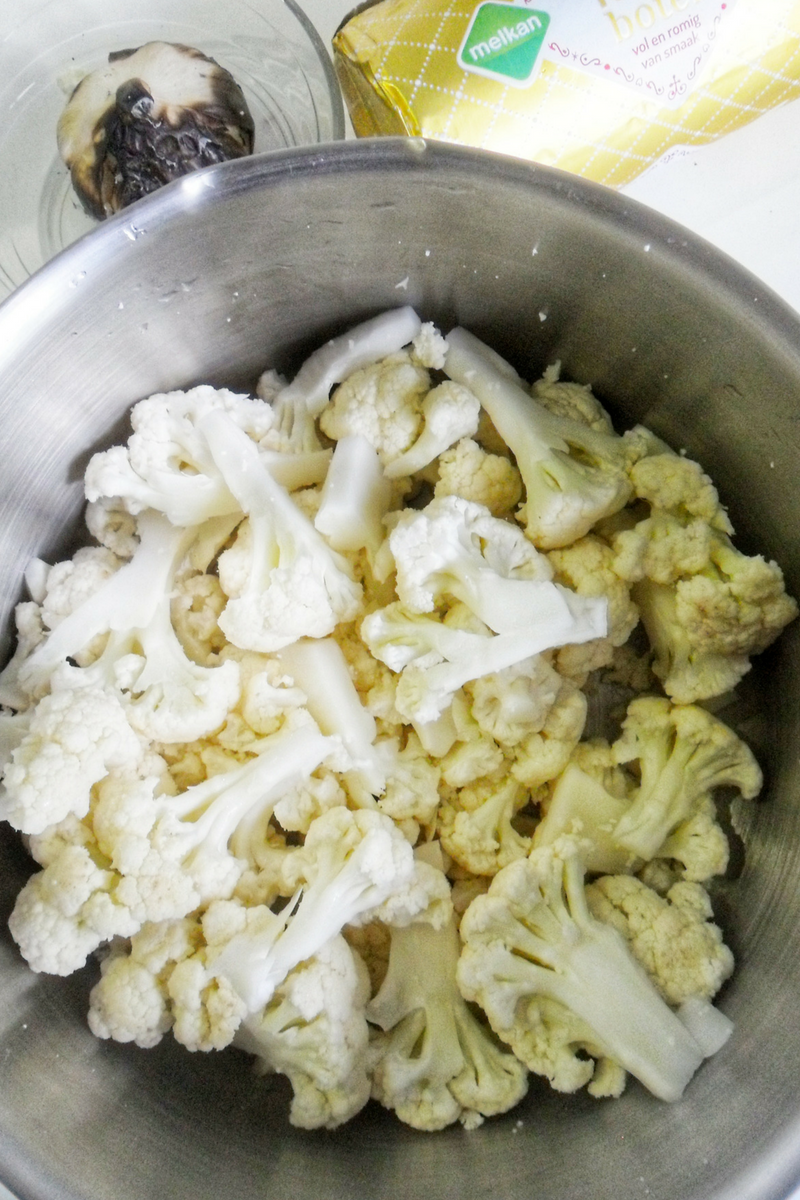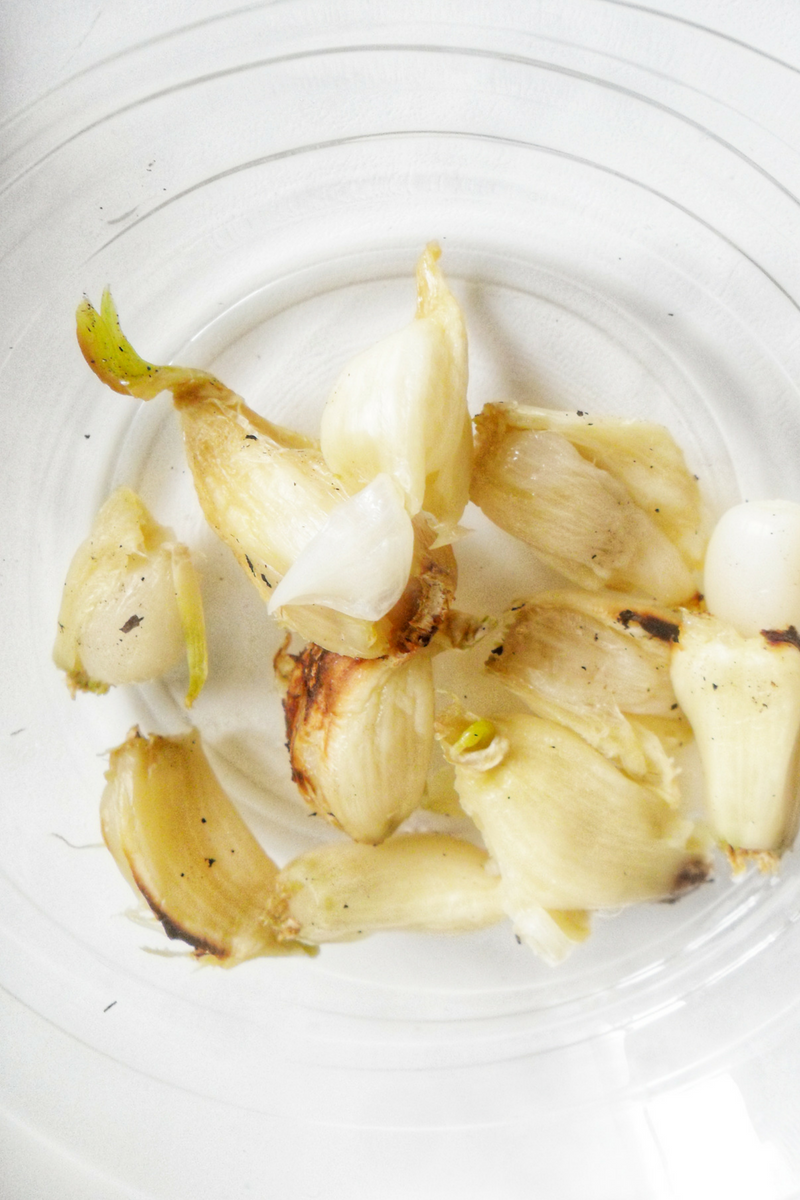 How to make Cauliflower Mash
Cut the cauliflower into florets and boil or steam for 10-15 minutes, or until the cauliflower is fork tender. Reserve a few tablespoons of the liquid (you most likely won't need it, but just in case!) and drain the florets.
At this point, you puree the cauliflower just as is, with the rest of the ingredients. Or, if you want the creamiest of cauliflower mash, take an extra step.
You'll be surprise how much water comes out of cauliflower! So, for a better and creamier mash, sautee the florets with a tablespoon of butter on medium flame, and then, proceed to puree with a food processor or immersion blender.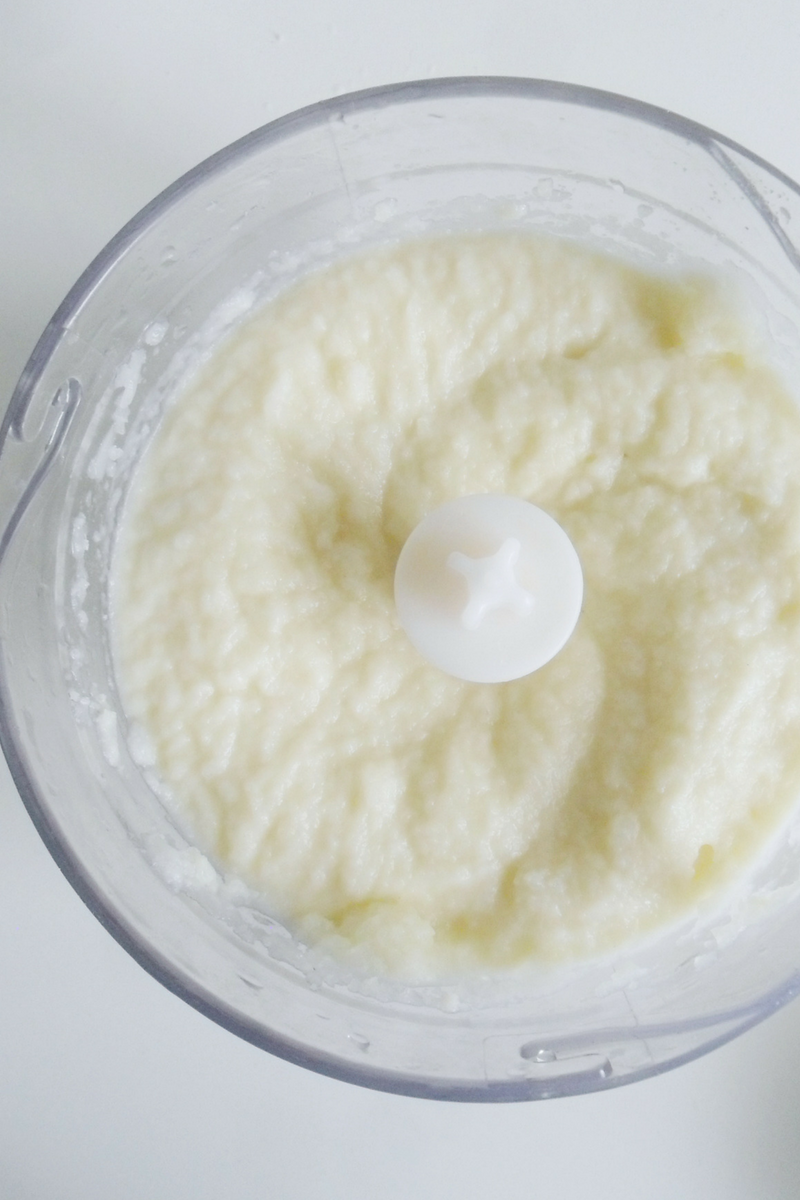 Yummy…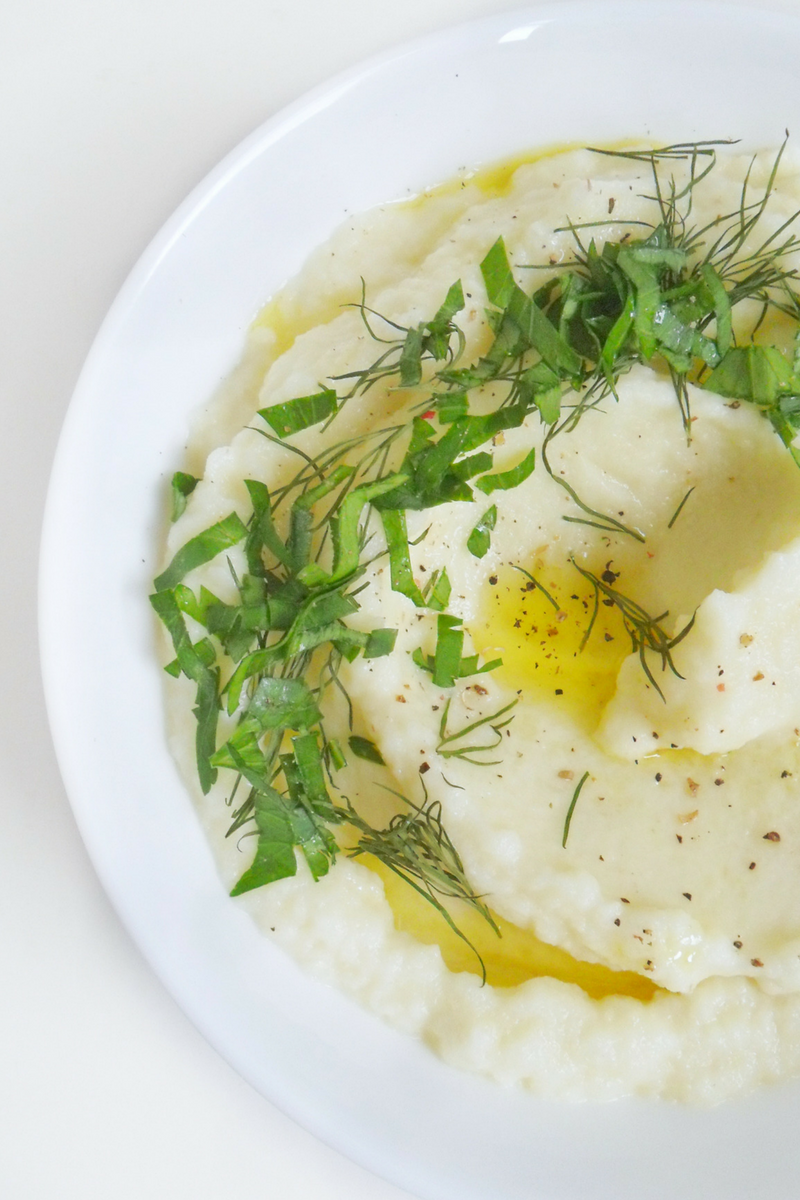 Have you ever tried Cauliflower Mash? What do you serve it with? Let us know in the comments section below! And don't forget to follow on  instagram and pinterest to show off your versions of this yummy low-carb luscious treat with the hashtag #kasheribbean.
If you love this recipe we appreciate you share with your friends and family! It really means a lot to us!
Happy cooking! ?